Self-Service Kiosk System for direct customer contact
Placing a self-service kiosk system or an attractive terminal at the point of sale is always a good measure. Take a look at our kiosk category and let the numerous friendlyway solutions work for you at first. Every sector has the right self-service kiosks in our portfolio that make the difference. Do not miss this chance and talk to your target group directly and in a pleasant way. Positive feedback will not be long in coming!
Self-service kiosks can be used in many different ways
However you want to use such a self-service kiosk terminal, at friendlyway, you have the certainty that the targeted system will be adapted to your individual needs. So make your own picture of our self-service terminals. If something is unclear or should further questions arise, you can contact us at any time. The high-quality self-service kiosks are ideal for use in the trade, supermarkets and hardware stores, in banks and also in public facilities.
We have had the experience that customers and visitors would like to find out what is offered at their respective locations. And if, for example, traders can present their products in a state-of-the-art terminal in an eye-catching manner, this is always a good thing for end-users.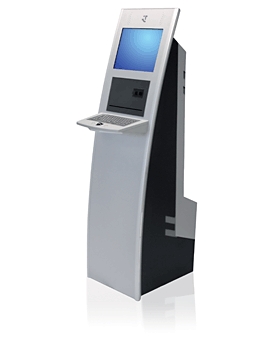 For example the friendlyway van 19
Self-service terminal for Internet applications, presentations and interactive programs
Self-service terminal in all possible versions
We offer you a wide range of applications, software solutions and POS displays that will inspire you and, of course, your customers and visitors. In the friendlyway program you have the free choice! Use a self-service kiosk solution to raise the interest of your target group. Excellent image reproduction as well as great colors and graphics ensure that your agency or brand is presented in a modern and innovative way. If you would like to know more about our attractive self-service kiosks, do not hesitate to contact us. We would be glad to answer your questions at any time! Just call us and we will discuss all the details. Various kiosks are waiting for you.