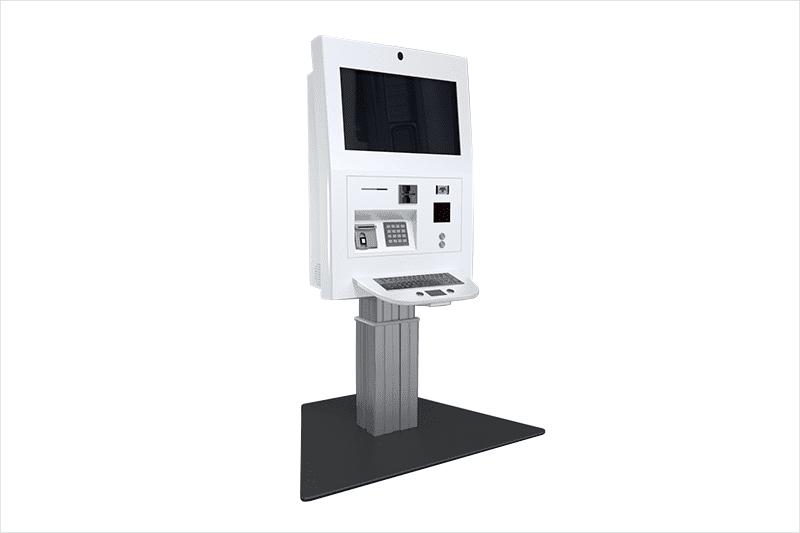 PROJECT DESCRIPTION
The transformation artist
The friendlyway butler 22 can be adjusted electrically at the push of a button. This makes it ideal for use in clinics, government offices, foyers, retail stores or tourist locations.
Despite its compact housing, it offers all the necessary options required by a user-friendly "self-service kiosk". In the version with lifting column, this kiosk is also suitable for wheelchair users. The front door simplifies the quick exchange of consumables.
This model can be purchased free-standing or for direct mounting on the wall without height adjustment.
Highlights
Stepless height adjustment
User-friendly
Robust housing
Suitable for clinics and public areas
Space-saving design
Made in Germany, Manufactured according to ISO 9001
Customer Service
Suitable for barrier-free operation
Space for the installation and operation of transaction units (cash, EC & credit / RFID cards)
You want to add components later – the modular structure of the system ensures almost any extensibility
Always the right information at the right time in the right place
Long-term use of your system, thanks to the high-quality and stable processing possible
Low operational costs due to the possibility of remote maintenance and remote content management
Application Examples
Information presentation: Active and passive advertising and information display with optional operation by the user.
Internet terminal: Internet access in public areas via tamper-proof hardware and software.
Way guidance system: Particularly suitable for orientation assistance in public areas.
Employee Information System: Output of company-internal information to employees.