Interactive Terminals With Video Calling, Digital Signage, and Navigation for Achensee – Leading Austrian Resort Destination
– Cloud Platform and Kiosk Management
70 Client Owned Custom Displays
The Achensee region, located in the heart of Tyrol, is one of Austria's most popular year-round tourist destinations known for its hiking, skiing, mountains, stunning lakes, and quaint villages. The region maintains one of the highest hotel occupancy rates in Tyrol, with over 195 days of full occupancy. Achensee Tourism serves as the region's official tourism body and welcome center – welcoming tourists to the region and providing a wide range of visitor information services.
"Achensee Tourism was looking for a solution provider with the unique expertise and capability to deliver both digital signage and kiosk hardware, in addition to software — friendlyway not only met our requirements but fully exceeded them. We needed a cloud-based solution platform that was intuitive, easy to use, and capable of offering users a modern digital visitor experience with self-service and interactive functions, and friendlyway's solution offering was the best option on the market."
Tens of thousands of visitors descend upon Achensee's various villages and outdoor attractions each year – Achensee Tourism required a modern, digital-based solution to help welcome, inform, and guide visitors throughout their stay in the region.
With growing numbers of visitors, the Achensee Tourism team was looking for a solution that would enable improved, modern visitor experiences by providing visitors with real-time, location-based information:
Hotel vacancies
Public transportation options
Weather
Hiking routes
Maps with local points of interest
Region's local and partnered businesses campaigns and promotions
Additional services available to visitors via interactive digital signage placed in key areas throughout the region
As a special feature of the solution, Achensee Tourism required an optimized visitor support process – allowing for immediate responses to visitor requests and questions via audio/video calls from dedicated self-service kiosks.
The desired solution would become the backbone for optimized business processes – enabling improved and more standardized customer service, enhanced visitor experiences, as well as enhanced operations for back office teams of local Achensee businesses.
The Client's main objective was to utilize a joint software-hardware digital signage system to welcome, inform and guide visitors throughout various highly-trafficked locations and points of interest within the Achensee region – enabling modern, engaging, and helpful visitor experiences.
Achensee Tourism wanted to meet the following business goals:
Improve customer experience by implementing a next-generation platform with interactive content management, visitor navigation, and real-time video assistant capabilities
Increase cross-sale and booking potential by structuring and promoting important sales content and increasing visitors awareness
Optimize operational costs by reducing/automating manual functions and standardizing processes
Optimize personnel costs
Client's Choice - friendlyway
After considering various providers, Achensee Tourism selected friendlyway as its exclusive solution partner, due to friendlyway meeting the following project and partner requirements:
Germany-based provider of true end-to-end software and hardware solutions
Decades of experience in developing and implementing industry-leading digital signage and kiosk solutions
Capability to provide off-the-shelf solutions while having the capacity to develop custom-tailored hardware and software based on client needs
Cloud-based platform capable of creating and delivering a wide variety of modern and engaging visitor experiences – wayfinding, real-time information, video and audio calls, and custom content
Integration-ready software and hardware
First-rate network of distributed partners
The Project Scope for Achensee Tourism included implementation of the following friendlyway solutions:
Outdoor Tamper-Proof Regional Navigation and Information Services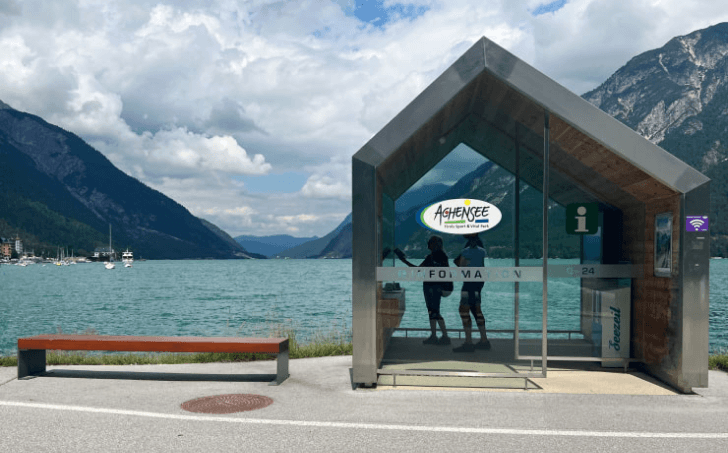 Weather-proof and tamper-proof friendlyway outdoor kiosks are placed at key points throughout the region to assist visitors with the following services:
Directions, wayfinding, and navigation to attractions and points of interest across the region
Live, real-time video and voice calls to the Achensee Tourism Center for assistance with information, questions, attractions, and reservations
Search and view detailed information on points of interest, accommodations, transportation, and attractions in the area
Booking and reservations
Notifications and announcements
Real-time weather updates and forecasts
Tourist Information Office Achenkirch | Navigation and Information Kiosks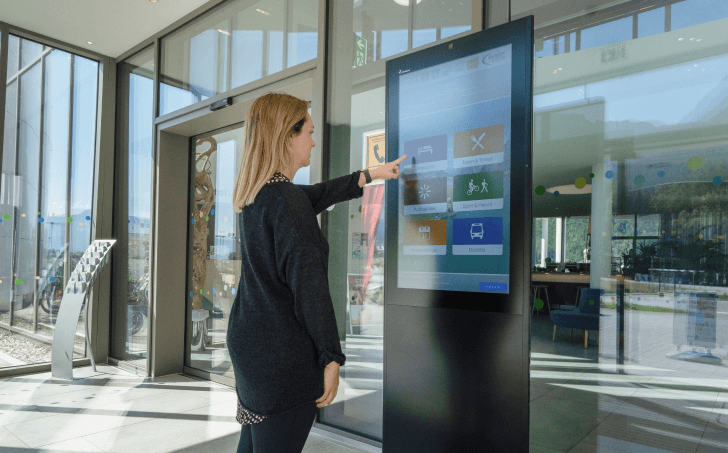 Achensee Tourist information center is equipped with friendlyway Impress 43" kiosk allowing visitors to:
Browse service offerings by partnered resorts
Receive directions to navigate throughout the entire region using a wide screen map with listed attractions
Search and book events, reservations, restaurants, and attractions across the area
Make instant video calls to call center representatives
Welcome Area and Gift Shop | Digital Signage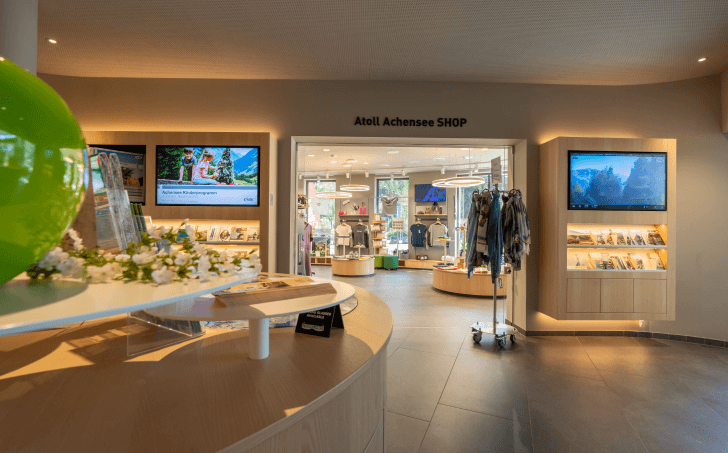 Multiple types of friendlyway wall mounted screens are used to display the Client's content, which is created, published, and managed remotely via the friendlyway.NEXT Cloud Platform:
Advertisements
Media playback
Local, real-time weather forecasts
Guidelines, notifications, and announcements for visitors and employees
The complex houses several different buildings with numerous friendlyway displays, all of which are managed from a central source – the friendlyway.NEXT Cloud platform.
Atoll Achensee Recreation Center | Navigation and Information Kiosks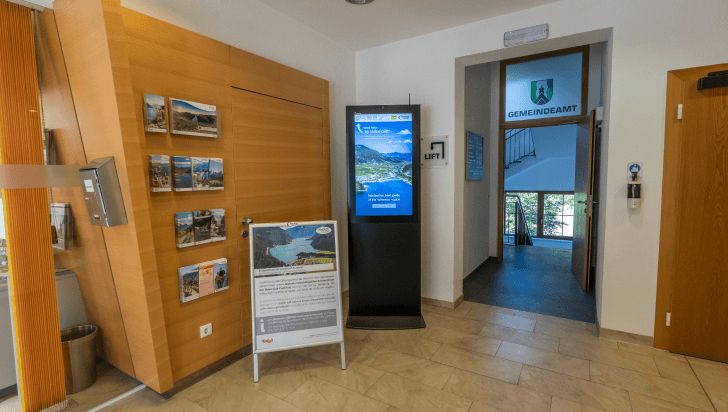 Achensee Recreation Center complex is equipped with 2 friendlyway Impress 43" kiosks allowing visitors to:
Browse service offerings by partnered resorts
Receive directions to navigate throughout the entire region using a wide screen map with listed attractions
Search and book events, reservations, restaurants, and attractions across the area
Make instant video calls to call center representatives
Hotels and Regional Points of Interest | Navigation and Visitor Information + Video Call Kiosks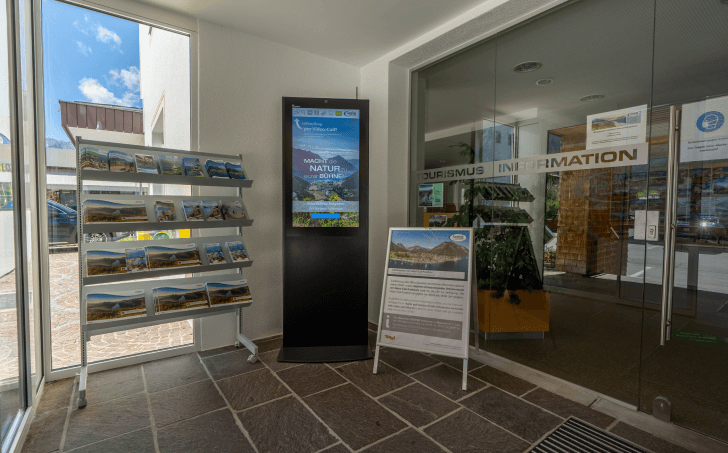 Hotel lobbies and high-traffic areas throughout the Achensee region are equipped with friendlyway Impress 43" kiosks, providing the following functionalities:
Browse service offerings by the area hotels, venues, and attractions
Navigation and wayfinding through the region, utilizing wide screen maps to provide directions to listed attractions
Book events and make reservations across different attractions and restaurants in the area
Kiosks are equipped with high resolution, wide screen, top-quality touch screens, video, and sound equipment to provide visitors with the ability to place real-time video/voice calls to the Achensee Tourism Center.
Video Calling With Auto-Dialing System for Self-Service Kiosks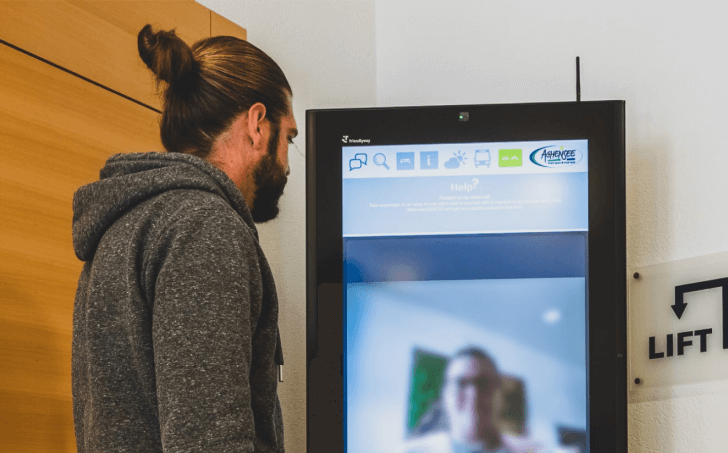 As a special feature, Achensee Tourism leverages our automated video call system – providing customers with immediate, person-to-person help at any of the friendlyway Impress kiosks equipped with video and audio capabilities.
This allows visitors to instantly connect with a call center representative for information assistance, real-time services, bookings, and general questions.
If one number is not accessible, the system automatically dials other numbers in the list to immediately connect the visitor with a service agent.
friendlyway and Partner's Hardware
friendlyway.NEXT Cloud Platform: How It Works
9 friendlyway screens, kiosks, and digital signage hardware, and 70 Customer owned wall mount screens connected to the friendlyway.NEXT Cloud Platform, are leveraged by Achensee Tourism to deliver modern, engaging visitor services to the Achensee region's large number of tourists, visitors, and guests. By utilizing friendlyway.NEXT, Achensee Tourism is able to manage their entire fleet of digital signage devices – as well as create, edit, manage, and publish all of its content remotely via the web using our centralized, all-in-one cloud platform.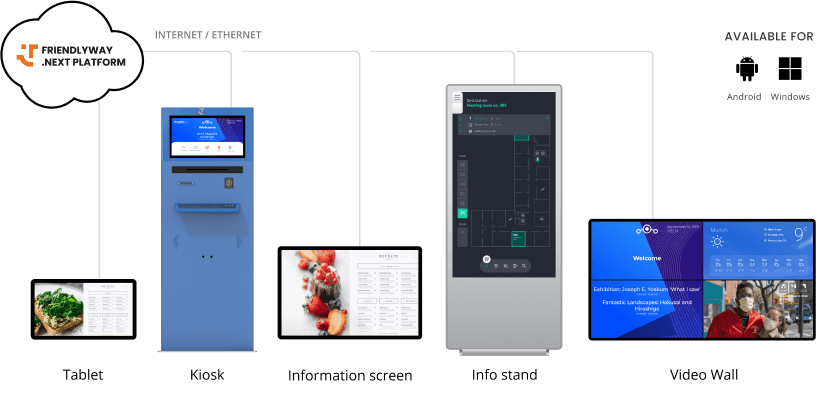 As the Achensee region's official visitor services provider, Achensee Tourism is responsible for welcoming, informing, and guiding tens of thousands of annual visitors – friendlyway's successful implementation of this project has transformed the way Achensee performs its role to the region's countless annual visitors.
By utilizing our off-the-shelf digital signage hardware and software products, as well as having the capability to implement custom solutions, friendlyway was able to successfully deliver Achensee Tourism's desired hardware-software system – providing the region's visitors and tourists with seamless, engaging, and interactive digital visitor experiences.
Following the implementation of friendlyway digital signage kiosk and connecting custom built wall mount screens, powered by the friendlyway.NEXT Cloud Platform, additional successful outcomes of the project include:
Highly improved visitor and customer experience (CX) via implementation of friendlyway's hardware and software solutions – providing Achensee with interactive content management, visitor navigation, and live audio/video customer service calling.
Improved potential for cross-selling and increased bookings through structured and promoted sales content, enhanced visitor awareness.
Optimized operational costs through the reduction and automation of manual processes and standardized functions.
Optimized personnel costs and increased staff productivity.
Ability for Achensee Tourism to provide visitors with fully digital and engaging content experiences.
Digital wayfinding, navigation, and interactive regional maps
Ability for visitors to book accommodations, reservations, local events, and attraction passes
Real-time notifications, announcements, and weather forecasts delivered via signage and kiosks
Advertisements for partnered businesses displayed on screens and kiosk hardware
Ability for visitors to place live audio/video calls at kiosks for immediate, live assistance from Achensee Tourism representatives
"As a Germany-based provider of digital signage solutions, we were proud to be able to impact and transform Achensee Tourism's visitor experience through our hardware and software solutions. Achensee Tourism now enjoys a fully modern, cloud-based visitor experience platform that guarantees positive, more efficient visitor and guest interactions for the region's tourists."
Contact Us
Please enter your contact information and any other details you feel is important for us to help you with. Once the form is submitted our team will be in contact with you shortly.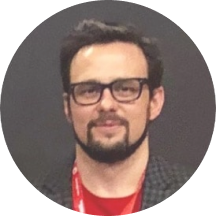 Dmitry Koshkin
Managing Director
friendlyway USA