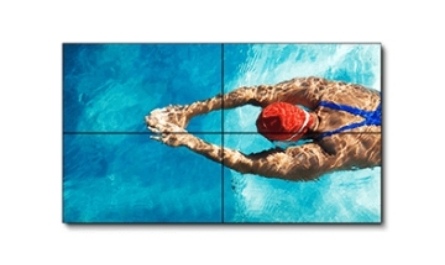 PROJECT DESCRIPTION
Customer communication times differently! Anyone who can imagine publishing company news, advertising films, slogans and other news on an attention-grabbing Video Wall should look very carefully in our portfolio. With friendlyway you can order an impressive screen wall at attractive conditions, which will impress your target group. Get a comprehensive overview and find out about all the advantages, functions and system requirements on our website.
A video wall can not be overlooked
The big advantage of a screen or video wall is that you definitely can not miss it. Friendlyway provides an easy-to-use application that lets you create and manage a video wall. The video wall software supports all image formats, the most common video formats, texts, websites, pdf documents, Flash animations, PowerPoint files and TV programs. With this oversized marketing display, a professional digital signage presentation is quickly and easily compiled, delivered with a schedule and provided for dynamic playback. If you would like to use these impressive Presentation Systems from the house of friendlyway, you should look for a conversation with us. Ask for an individual offer today!
Screen wall with different contents
The friendlyway Video Wall can be divided into several areas so that different contents can appear in every sector. Transition effects, customized objects and music can be easily added. In our portfolio, we provide a complete, user-friendly video wall solution with numerous design possibilities for you. They save on implementation and maintenance costs as well as a lot of time since the programming and design effort is low. With the 5×5-meter video wall (25 screens), you get the greatest attention from the audience with high-quality Digital Signage content – from simple texts to high-quality flash animations and TV broadcasts. With this screen we give you a very efficient marketing tool.
Are you interested in this form of Instore TV in a large format? On our website you will find all the important information about this. Please do not hesitate to contact us, if you still have something unclear. We are here for you and would like to help you to communicate important messages through a friendlyway Video Wall in a remarkable way.
If you are looking for exceptional presentation systems of a special kind, you can count on us.
Use
Get the complete, user-friendly video solution with many options.
A multimedia source for one to 5х5 video walls (25 screens).
Save implementation and maintenance costs.
Save time, since no additional training is necessary.
Gain public attention with high-quality digital signage content from simple texts to flash animations and TV broadcasts.
Advantages
Best value for money on the market:
Because it is not necessary to connect the screens to multiple sources, the price of the complete solution is significantly lower.
Minimal effort and the shortest learning curve on the market:
Compared to competing products, friendlyway requires much less IT, programming and design effort.
The best playback quality of popular file formats:
The friendlyway Video Wall is the only software package on the market that allows high-quality playback of multiple combinations of different media formats. This makes them stand out clearly from competing products that reduce the number of supported media formats and their combinations in order to ensure acceptable playback quality.
How it works
1. Create content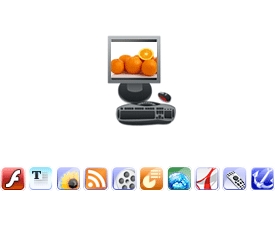 A presentation is created on the basis of different media files in the editor.
2. Distribute content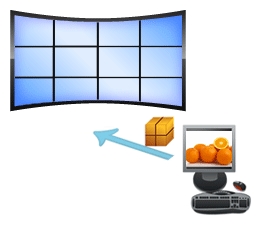 The player connects to the workstation and downloads the contents package.
3. Play content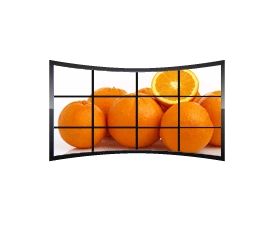 The player plays the downloaded project.
4. Monitor the playback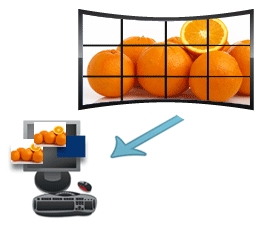 The video wall is controlled via network services.
Functions
Easy configuration of the video wall:

Define the number of screens in the video wall as well as the screen resolution with a few mouse clicks.
Preview of the Video wall configuration:

The overview of the screen matrix with pages.
Show Grid:

There is a way to display the grid so that the user can see the boundaries of the screens when designing the page.
Easy transfer:

Each project can be updated via network folders as well as via USB or other removable media.
Support for the TV standard ATSC:

The software supports both ATSC TV and European TV standards.
Split the page into several areas:

The user can divide each page of the presentation into several areas and determine the content of each area.
Images:

All image formats, including formats with a transparent background and animated image formats.
Videos:

WMV, MPEG1, MPEG2, DIVX, MPEG4, MOV, as well as streaming and HD videos.
Microsoft Power Point:

Support for Microsoft PowerPoint presentations created in Microsoft PowerPoint versions 2007-20016.
Adobe Flash:

Support for Flash animations with transparent background and Flash files placed online.
RSS and Text:

Texts and RSS feeds are supported as sliders and tickers.
Adobe PDF:

PDF documents are automatically scrolled according to the schedule.
Web:

You can select certain areas of the web pages and display them dynamically on the displays.
TV:

Analog and digital (DVB-T / DVB-S / DVB-C) television.
User-friendly interface:

Significantly reduce the learning curve by using a user interface that meets Microsoft's guidelines.
Schedule:

The display duration of the media objects is displayed as a diagram and can be easily adjusted using the mouse.
Dynamic sequences:

The program automatically mixes the playlists automatically based on the repetition frequency or selected periods in which the spots are to be displayed.
Control program:
Content sequences can be assigned via a calendar function to certain times or events (similar to MS Outlook).
Media search service:

Search for media on the DVD or corporate network.
Backgrounds:

It is possible to use colors, color transitions as well as pictures as background.
Background sound:

Music or audio effects can be assigned to separate media elements.
Visual effects:
Possibility to assign slide or fade out effects to whole pages or individual media objects.
Performance:

Special technology ensures seamless playback of media objects without visual misfires or loading effects.
24×7 Playback:

The player software is designed to ensure a 24 × 7 playback.
Player monitoring:

The Video Wall is monitored around the clock. In case of a failure, the contents are immediately re-played. Information about current failures is sent by e-mail or SMS to the appropriate service person.
Visual control:

The screenshots of all displays are periodically sent to the server and are available for visual control at any time.
Smart content distribution:

Media projects are also passed directly to the Video Wall with reference to download and validity time.
videowall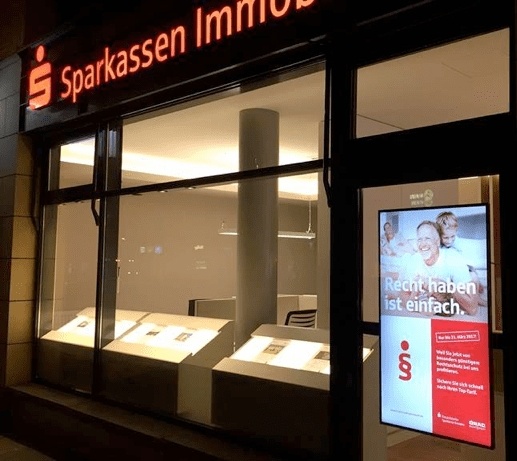 Video wall software provides video content with content
A first-class Video Wall Software is required to place advertising films and corporate news on a screen wall in an eye-catching manner. The experienced experts of friendlyway have developed such software and give you as a company the possibility to go completely new ways in customer communication. The good thing about this is that once contents are available, they can be put into operation quickly and easily managed. If you want to expand your marketing mix, you now have the opportunity to do so. If you would like to order a video wall with 25 screens as well as the Video Wall Software, we are there for you at any time.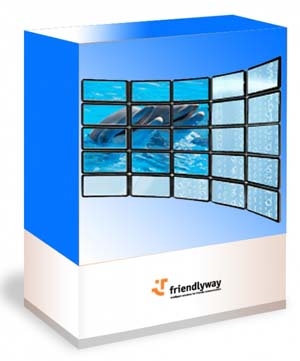 Excellent video wall software cheap order
With video wall software, all common video and image formats, websites, flash animations and pdf documents can easily be displayed on a monitor wall. And if you want to make a difference between advertising films and product and company news, it is possible with our video software to record different TV programs. At the latest, when there is a lot of variety on the screen, many people will stop and look. This not only applies to the target group, but also to those who come into contact with your company brand for the first time.
If you have questions about our product, which is also available as Digital Signage Software, please do not hesitate to contact us. On this occasion, you can also find out more about the Wayfinding Software, Touch Screen Software and the various Kiosk Software solutions from our portfolio.
Special presentation systems from friendlyway
The exclusive Presentation Systems from friendlyway generate lots of attention. If you want to benefit from our software know-how, we are at your side immediately. The fact that a video wall, which is provided by our video wall software with content, a very special presentation system at the POS, is because you can not easily overlook it. Use this efficient marketing tool for your purposes and leave an impression on existing and designated customers.
Our terminals, displays and software solutions help you achieve targeted advertising goals. With the friendlyway video wall software, you can be sure when you want to get the most attention with an impressive video wall.
System Requirements
Commercial PC with Windows 7 SP1 32/64-bit;
2 GB of RAM;
Graphics card with DirectX support;
Network card.