INTELLIGENT SOLUTION FOR FRIENDLY COMMUNICATION

Internet, Smartphones & Tablets have greatly strengthened the position of the customer in terms of product know-how, price transparency and alternative sales channels.
Nowadays we speak of a buyer's market. And it is up to his free decision which sales channel – whether counter, online, self-service or mobile via smartphone he chooses. And last but not least – whether he buys his product from a dealer/branded product – or not.
With this sweeping change, branding and whole trade chains are practically forced to think about new technologies, to develop alternative concepts and further sales channels. In particular, it is important to inform customers where 70% of all purchase decisions are made – directly at the product shelf – at the shop – at the point of sale (POS).
Forward-looking banks, commercial and telecom companies are already in the midst of implementing a multichannel strategy (multi-channel sales strategy) in order to increase sales, customer satisfaction, and efficiency in the long term.
The modern customer expects relevant information and the possibility – whenever and where he wants it – to initiate and successfully execute his transaction in the self-service process.
The innovative concept of the digital branch, the networked shops, the multichannel distribution, and the completely virtual shop with the "endless product shelf" opens up enormous market potential.
In this context, friendlyway offers proven-and-tested, easily scalable standard products and solutions to significantly improve efficiency at the point of sale, with authorities and municipalities, and generally in the public environment.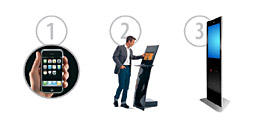 What makes friendlyway special?
friendlyway has developed a range of Best Practice Use Cases in the self-service environment, which provide the end-user with outstanding benefits in terms of comfort, speed and time savings as well as price and premium advantages.
Easily scalable Kiosk & Signage standard software
Premium Self Service Kiosks & Totems (Terminals)
Transaction systems (including complete payment transactions)
Virtual store with endless product shelf "Endless Shelf"
Wayfinding & In-Store Navigation
Interactive product consultants at the point of sale
Video Consulting – Customers & Sales Support via live video
Operators of the friendlyway solutions enjoy increased efficiency, increased sales, higher profits, and significantly improved customer loyalty.
Reliable & fast
friendlyway is able to offer both hardware and software and all the necessary services from a single source. friendlyway solutions can be implemented much faster and with lower installation and runtime costs.
Our experience for your success:
friendlyway has over 20 years of experience in the self-service kiosk market
Sales standard products in excellent premium quality
friendlyway composer software is scalable as a standard product from one to thousands of displays and systems
friendlyway offers "everything from a single source": hardware, software, solutions & services
Wide selection of finished and tested complete solutions
Windows or Android: we choose the right platform for you
Sustainable security for your investment through comprehensive service contracts
Successful implementation with 500+ national and international customers