Digital Signage and Automated Visitor Navigation for Munich Government Service Center
– Cloud Platform and Kiosk Management
Munich's Government Service Center is the city's largest government complex, comprised of seven floors and over 43,000 sq. feet of total space. The Client's primary focus with this project was the City Administration Office, the Civil Registration Office, and the Staff Training Center.
The 43,000+ sq. foot Government Service Center, officially known as the Munich Regional Administrative Office (Munich KVR), receives over 5,000 visitors per day and required an improved system for visitor navigation and displaying information, as well as improved accessibility for disabled visitors.
The client was searching for a modern, cloud-based system capable of delivering positive and efficient digital experiences to thousands of visitors per day. In addition, one of the client's main challenges was ensuring that its new digital signage devices and displays would aesthetically fit the building's design standards – requiring a provider that offers fully customizable software and hardware solutions.
The Client's main objective was to place modern digital signage and wayfinding solutions in highly-trafficked areas and points of interest within the building to welcome, inform and guide visitors – enabling ultra-efficient, seamless visitor experiences and optimizing the flow of foot traffic to decrease visitor congestion.
Client's Choice - friendlyway
The City of Munich's Government Service Center selected friendlyway as its solution partner for meeting the following set of requirements:
Being one of the only true end-to-end hardware and software solution providers in the signage industry.
Proven industry track record as a trusted and efficient hardware manufacturer since 1998.
Having the required software and hardware available as off-the-shelf solutions while maintaining the capability to customize and create new solutions as needed.
Capability to implement a full end-to-end solution utilizing a cloud-based, integration-ready platform, off-the-shelf software modules, and customized hardware display devices.
Distributed partner network of industry-best service providers, offering best-in-class access management hardware and client support services.
Germany-based partner.
As a leader in the digital signage industry, friendlyway has been enabling organizations to deliver next-generation digital experiences to their guests, visitors, and customers for over 20 years. The City of Munich's Government Service Center required an experienced end-to-end software and hardware provider for this project, and selected friendlyway as its sole provider.
The Project Scope for Munich's Government Service Center included the following solutions:
Outdoor Digital Signage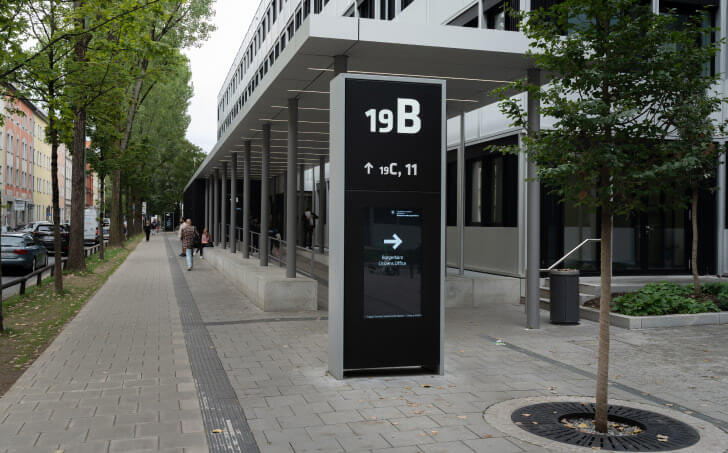 55 inches wide, weatherproof, vandal-proof, hardwired kiosks are used outside of the complex to display navigation routes, building information, building hours, and other service-related information. The outdoor displays are managed remotely via the friendlyway.NEXT cloud platform, allowing for simplified web-based content creation, scheduling, management, and distribution.
Indoor Digital Signage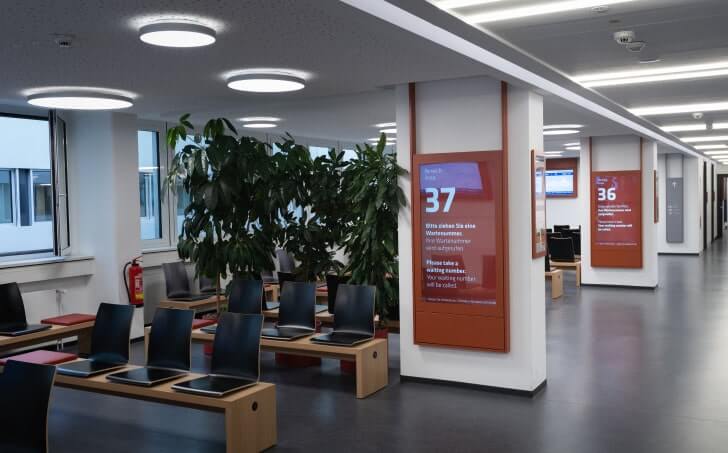 55" indoor digital signage displays assist visitors in navigating across seven floors, 43,000+ sq. feet, and numerous government offices.
Wall Mounted Interactive Displays:
Wayfinding and navigation
Visitor information services
ADA-enabled
Room Signage Displays (Non-Interactive):
Provide information on scheduled or ongoing events at a specific location or conference room.
Wall Mounted Non-Interactive Displays:
Scheduled event information
Navigation information
General visitor information
Each signage device displays the floor number, department name, and other relevant details such as event announcements. The displays are color-coded based on their location within the building for added navigation assistance.
Wayfinding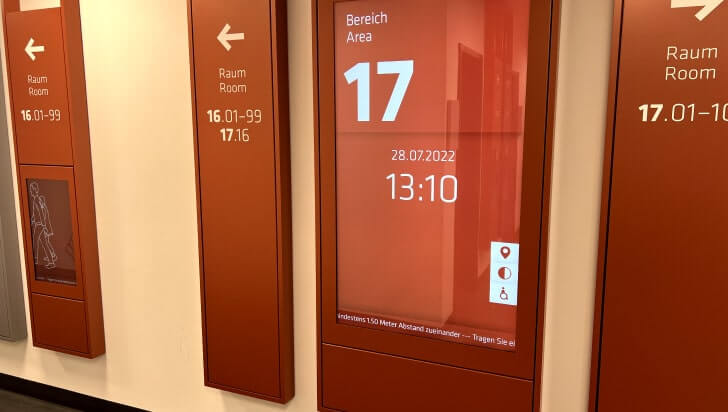 The Wayfinding solution optimizes visitor navigation within the building by providing automated, interactive directions to various Points of Interest. Displayed on interactive signage devices within the hallways of the building, the Wayfinding Module enables users to open scalable maps of the floor and interact via a touch screen. The solution features ADA support, and includes the ability to display emergency communications with directions to exit the facility.
Room Signage for Staff Training Center and Administration Building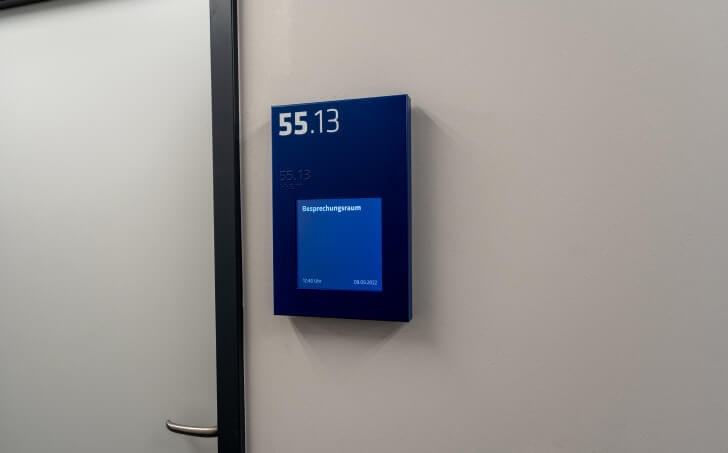 The Client's Staff Training Center provides its workers with professional development services. Training rooms are equipped with non-interactive digital screens located near the entrance of each room (24" and 11" screens), displaying informational media on office events, announcements, and each room's daily schedule.
Elevator and Staircase Digital Signage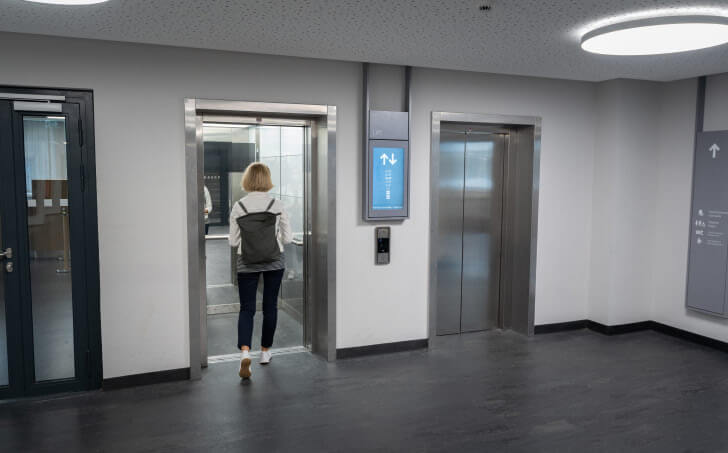 Non-interactive 24" screens placed near elevator and staircase areas to help visitors navigate through the building at highly-trafficked connection points – enabling a more efficient flow of visitors and an optimized visitor experience.
Digital Signage for Civil Registration Office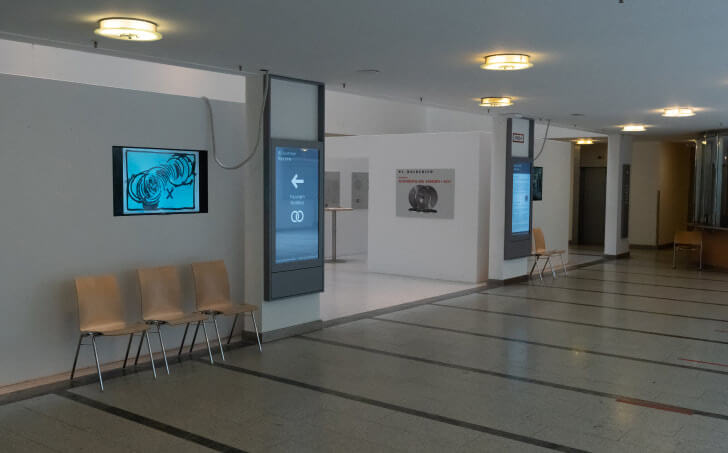 The digital signage system deployed for the Civil Registration Office simplifies the office's heavy load of visitors, helps with meeting scheduling, and streamlines various office processes – all of which save time and boost productivity for the office's admin teams. Equipped with large 55" wall-mounted, non-interactive screens, the Civil Registration Office can now easily oversee and manage its large number of daily visitors for scheduled events such as weddings and other civil procedures.
friendlyway and Partner's Hardware
friendlyway.NEXT Cloud Platform: How It Works
Munich's Government Service Center complex utilizes 294 friendlyway displays and digital signage devices connected to the friendlyway.NEXT Cloud Platform for web-based content management and kiosk/signage management.
Munich City Administration staff members manage all of the digital content remotely using friendlyway's intuitive cloud platform. Media playback, interactive wayfinding, maps, event schedules, and all other information is created, customized, managed, and deployed entirely via the web using the friendlyway.NEXT Cloud Platform.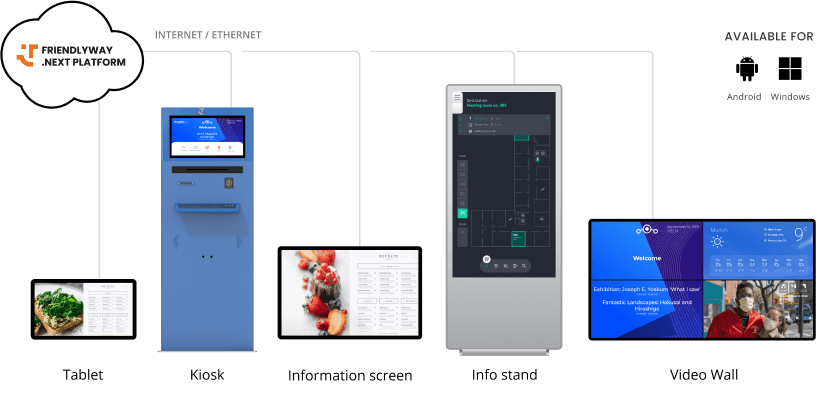 The solution we successfully developed and implemented for the City of Munich's Government Service Center complex was custom-designed to provide next-level digital wayfinding and navigation experiences to building visitors and guests – as well as streamline administrative procedures, optimize foot traffic, and improve the overall efficiency of building processes.
With the success of this project, the Munich Government Service Center is now able to deliver modern visitor experiences via our friendlyway digital signage devices and cloud-based software platform. Project outcomes include the following:
294 digital signage and display devices deployed to key areas within the 43,000+ sq. foot space
Improved building navigation and wayfinding via the friendlyway.NEXT Wayfinding Module and digital signage hardware displays
Total transformation of the complex's visitor experience
"The project for Munich's City Government Service Center featured a large-scale deployment of over 290 of our digital signage and display devices, as well as our friendyway.NEXT Cloud Platform and several of its software modules. We successfully implemented this custom hardware and software solution that optimized and transformed the client's ability to deliver modern, efficient digital visitor experiences to thousands of visitors per day."
Contact Us
Please enter your contact information and any other details you feel is important for us to help you with. Once the form is submitted our team will be in contact with you shortly.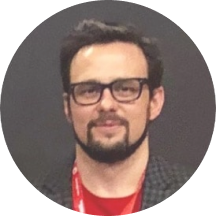 Dmitry Koshkin
Managing Director
friendlyway USA