Automated Contingent Labor Management and Visitor Registration for Millennium Print Group
– Contingent Labor Management
Millennium Print Group (MPG) is best known for being one of the largest producers of Collectible & Trading Cards and related Packaging in the US. Founded in 2014 MPG is a recognized trading card printing company with its headquarters in Morrisville, North Carolina. MPG operates over 1,000,000 square feet of manufacturing and fulfillment facilities. MPG's client list also includes leaders in the Education, Pharmaceutical, Retail and Entertainment industries. Millennium Print Group maintains a customer base of leading companies in the trading card industry.
In June 2022, MPG was acquired by The Pokémon Company International.
"friendlyway has been instrumental in introducing innovative software solutions that have been crucial for successfully managing our workforce amid growth. The friendlyway team understands our business, as well as our challenges and opportunities becoming a trusted partner today and in the future."
An established and high-volume B2B trading card printing manufacturer, MPG relies on over 1,200 daily temporary workers for manufacturing and fulfillment duties across one of its facilities. MPG leverages over 15+ staffing providers for its 24/7/365 contingent labor needs. Working with staffing agencies, the company received an influx of both new and recurring workers seven days a week but lacked a modern solution to efficiently register, check-in, check-out, and track worker activity on a daily basis.
The Client faced the following issues:
Security. Due to the temporary nature of the workforce, it was difficult to comply with the high security standards imposed by the customers, especially The Pokémon Company International. Moreover, theft was a common concern.
Tracking. There was no digital check-in, clock in, and clock out centralization and reporting, hence it was difficult to manage the temporary workforce's schedule and shift planning, and track worker activity on-site.
Cost management. There was no efficient technological solution to cross-check billing, scheduling, and worker information provided by staffing agencies.
Manage growing temporary workforce while launching new production lines
MPG wanted to modernize its largely manual, paper-based visitor and temporary workforce management processes. They needed an automated solution that would efficiently register, check-in, track, and manage the temporary workforce's work time and associated costs. This would enable up to 600 workers to be registered and accepted to work during a 1-hour shift change window with services available 24/7, 365 days out of the year.
Improve production site's security
MPG was looking for a solution that would prevent unwanted people to be in certain areas of the production facilities at certain times. At the same time, MPG needed flexibility to manage personal worker's access permissions on the fly. Such capabilities would have to be shared with Agencies for immediate change of the access permissions through the entire solution preventing terminated people from reentry to MPG's facilities.
Optimize сosts
MPG needed additional visibility and control over actual workforce allocation. This would include capturing unassigned jobs, reassigning workers between different facilities and shifts depending on the workload, and more granular reporting on who is on the production floor.
Client's Choice - friendlyway
After reviewing different offerings available on the market, the Client selected friendlyway as its single source software and hardware partner for meeting the following criteria:
Being one of the only providers of true end-to-end hardware and software solutions in the industry.
Proven track record and reputation as a trusted hardware manufacturer and digital signage trendsetter since 1998.
Having most of the needed solutions off-the-shelf while having the capacity and flexibility to customize the solution and create new modules for the client.
Capability to implement an end-to-end solution with its robust cloud-based platform, using off-the-shelf capabilities like the visitor registration module and integration-ready architecture.
Capability to quickly assemble and introduce a proof of concept using out-of-the-box platform features and generally available off-the-shelf hardware.
Distributed partner network, providing best-in-class access management hardware and client support.
Initial project scope of the solution included the following tasks:
Implement friendlyway cloud-based platform to increase operational efficiency, bolster facility security, and streamline worker management processes.
Implement a centralized and automated contingent workforce management roster with access for staffing agencies.
Deploy self-service kiosks for temporary workers and visitors to print temporary badges for scanning at the turnstiles.
Deploy security turnstiles and integrate it with the friendlyway cloud platform to grant/refuse access to the building according to the temporary worker's status and permissions.
Implement a centralized reporting and time tracking tool to analyze contingent workforce attendance, time spent on premises and behavioral patterns of temporary workers.
friendlyway Modules and Software Components
1. Contingent labor management module
The contingent labor management module provides the client and its staffing agencies with a centralized system for managing all aspects of their large, often changing roster of temporary workers sourced from multiple staffing agencies.
The module empowers MPG to be able to effectively pre-register, plan and schedule shifts, and manage worker details while also providing their partnered staffing agencies access to the module.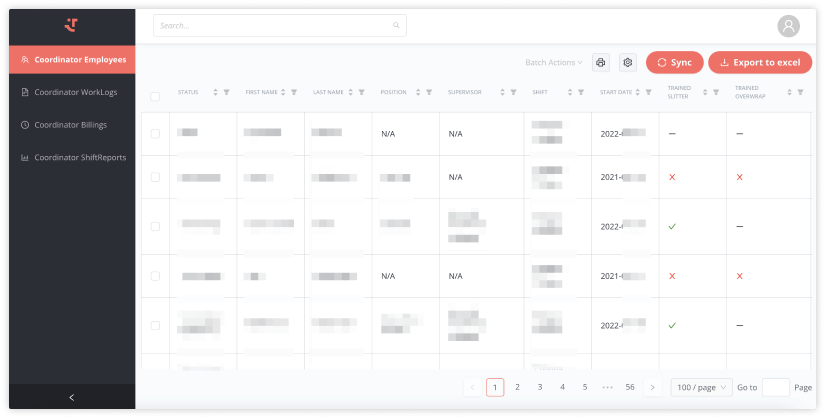 How it works: by role
Agency staffing role
Staffing agencies upload/add candidates
Orientation supervisor
Client HR approves candidates
Trainer
Client operations designates job roles, assignments, orientation times, and schedules shifts
Supervisor
System automatically assigns workers with unique IDs
Admin
All worker data for reporting and billing is accessible for agencies and client
Staffing agencies can upload worker candidates directly into the system, and the Client can then select workers, coordinate orientation/registration, and assign specific roles and job assignments. The module allows the Client to update worker statuses (e.g., terminated or active), view attendance logs, and manage reporting for billing.
Challenge it solves:
The automation of labor scheduling and shift planning for their contingent workforce.
Centralized storage for data of temporary workers, job assignments, and access permissions.
Features and capabilities:
Cloud-native app / may be deployed on-premises.
Flexible role-based access for external users and Client's teams.
Ability to manage temporary workers' job assignments, access rights, schedules, shifts and more.
Easily manage workers and visitors access rights.
Ability to upload worker schedules, personal details, and photos in bulk on the web platform.
Automation of recruiting, roster management, and onboarding workflows.
Non-client users (i.e., a staffing agency) can only access their own data.
Full integration with all friendlyway platform modules, kiosks, and security turnstiles.
2. Visitor Management Module
The overhauled temporary worker registration, check-in, and clock in/out processes are completed entirely by workers at self-service kiosk stations, which are fully integrated with the friendlyway platform and the facility's security turnstiles.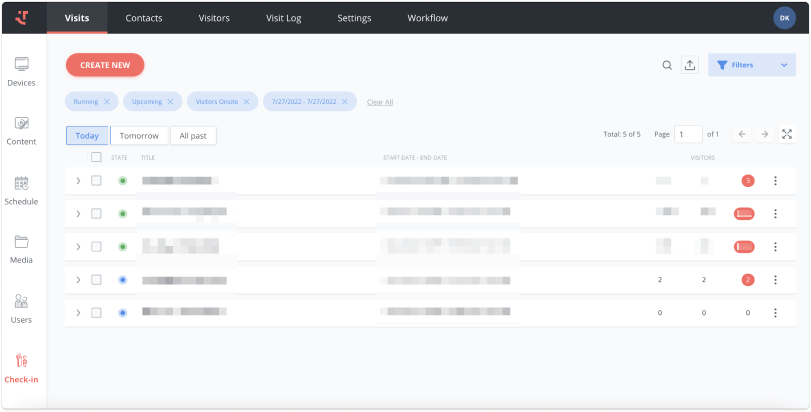 How it works
1. The temp worker arrives at the facility and checks in at the kiosk
2. Prints unique ID at the kiosk (ID is valid only for that specific day)
3. Accepts COVID forms and agrees to safety/regulatory documents (via an easy one-click process)
4. Worker moves to turnstile, scans ID badge using the turnstile's barcode scanner, and is officially clocked in
5. On a lunch or smoke break, the worker must scan their ID badge at a turnstile
6. Once the worker has clocked in and passed the turnstile, they are officially "checked in" and ready to work
7. When the worker's shift is completed, they must clock out at a turnstile
Challenge it solves:
Automation of worker registration and access management.
Features and capabilities:
Workers clock in by scanning unique barcodes at the turnstile, which are issued daily during the kiosk check-in process.
Self-service user experience providing registration, check-in, document signing, and ID badge printing.
Turnstiles connected to the cloud platform ensuring access control and recording clock-in/clock-out times.
Ability to see how many people are onsite.
3. Reporting Module
The module allows MPG to quickly and easily view and manage worker timesheets, activity reports, and billing details. The billing function is accessible to staffing agencies, which provides MPG with an efficient, centralized method to manage their invoicing.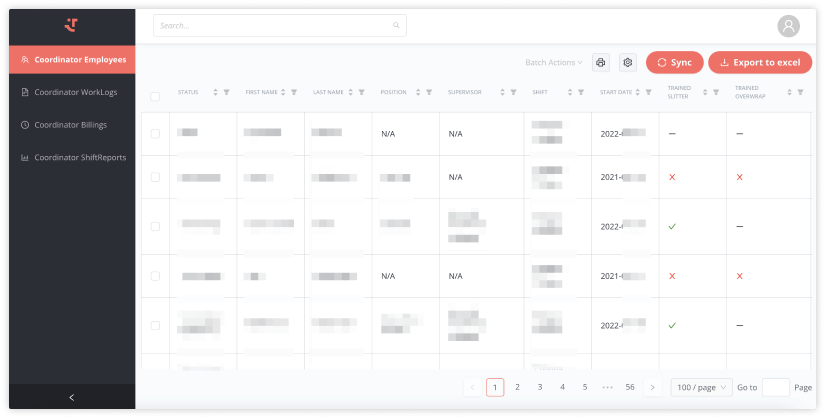 Challenge it solves:
Automation of reporting and billing.
Features and capabilities:
External users can see data relevant to only their teams.
The Client can quickly access all of its temporary labor pool's work data including hours worked, shift details, job status, and billing information.
Ability to view worker activity logs and visitor information directly on the cloud platform.
Ability to find abnormalities and fraudulent time clocking transactions, see which specific workers are trying to cheat the system.
Ability to generate and download reporting at any time.
4. Integration Module
This module supports integration with hardware, external modules, and third-party systems. As a cloud-native solution, the friendlyway Cloud Platform was built following an API-first concept, which views the role of APIs as discrete products rather than integrations subsumed within other systems. The purpose of this was to produce a set of modular, interoperable APIs that when combined create an API platform that fosters innovation.
Through our API layer, we integrated security turnstiles and other equipment to allow for immediate permission requests from the friendlyway Contingent Labor Management Module in real-time while a user is scanning their badge at the turnstile.
Additionally, API layer allows for receiving temporary and permanent employees and visitors from external systems and export visit logs and other types of data to 3d party systems.
Challenge it solves:
Integration with 3d party software and hardware
Features and capabilities:
Pre-built capabilities to receive visitors and events data from external systems
Ability to send visit logs, clock-in/clock-out information and other data captured by kiosks and integrated hardware to external
Ability to integrate turnstiles, security locks, parking solutions and other physical access systems to friendlyway Cloud platform
Ability to extend and customize
5. friendlyway Cloud Platform
The friendlyway Cloud Platform serves as the backbone for multiple solutions, including MPG's successful implementation of the Contingent Labor Management system. friendlyway provides digital signage content management, kiosk content management, and interactive self-service experiences. The solution is deployable via the cloud or on-premises and enables you to manage your entire fleet of signage or kiosk devices in just a few clicks.
The platform supports fully remote creation, editing, customization, and scheduling of custom digital experiences, as well as the collection of user interaction data. Basic features of the platform include integration with friendlyway and third-party self-service kiosks and peripheral hardware, content management, content scheduling, user management, and activity logging.
Our Visitor Management, Contingent Labor Management, Reporting, Wayfinding, eReceptionist, and Integration modules are all built on top of our cutting-edge friendlyway platform – friendlyway enhances the way your visitors, guests, and workers engage with your brand.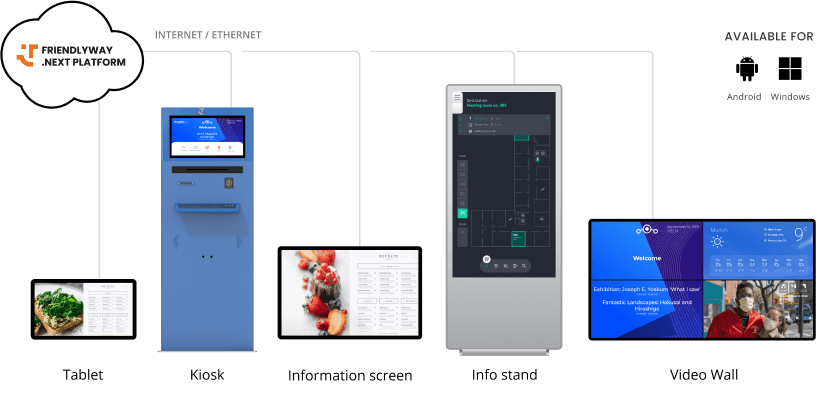 friendlyway and Partner's Hardware
To deliver this scope, the friendlyway team designed a solution that included three friendlyway cloud modules with off- the-shelf and custom features, 161 friendlyway kiosks, and twenty-one partner security turnstiles.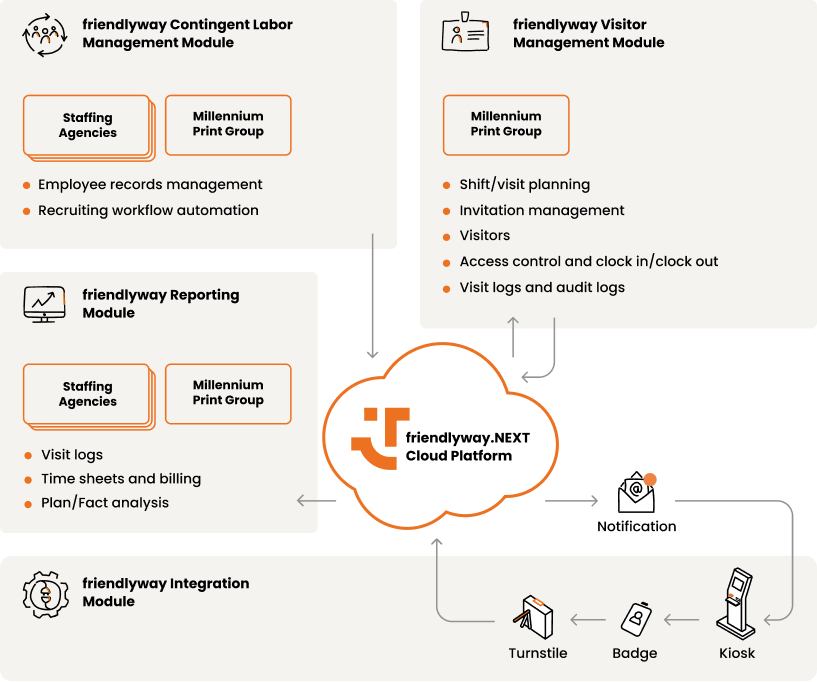 Through the combination of our proprietary friendlyway Cloud Platform and modules, self-service kiosks, turnstiles and ability to integrate with third-party software and devices, MPG's temporary workforce and visitor management process has been completely modernized and transformed.
Instead of relying on a manual, complex, resource-intensive process, the Client now has a fully streamlined temp worker and visitor management system that's managed entirely from the web via our intuitive, robust, and feature-rich friendlyway Cloud Platform.
Staff inefficiencies have been replaced with user-friendly self-service kiosks, security has been greatly improved, and MPG now has an easy yet powerful way to manage and track all aspects of its large temporary workforce – from shift scheduling, facility access, and onboarding, to invoice management, hour tracking, and clock in/out.
"Millenium Print Group has been a very creative and demanding Client. By taking our off-the-shelf solutions and modules, adding new features, and leveraging friendlyway's extensive partner network, we were able to launch this unique solution as a scalable and flexible platform supporting the Client's growing business. Very proud to be a part of this engagement."
Contact Us
Please enter your contact information and any other details you feel is important for us to help you with. Once the form is submitted our team will be in contact with you shortly.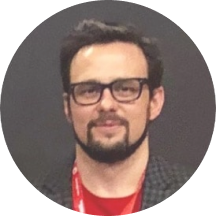 Dmitry Koshkin
Managing Director
friendlyway USA