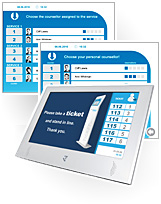 Queue Management is a system that controls queues in a modern, highly efficient and flexible manner.
The system allows banks, institutes and public health, social and educational institutions to manage customer calls simply and efficiently. Statistics and evaluations provide information on the number, duration and further details of the completed transactions and are therefore important tools for optimizing procedures.
For customers, a selection is offered between the fastest possible call or the reservation for a personal advisor. The human factor, which plays an important role in the customer relationship, is therefore also an integral part of the electronic ticket system.
Features
Structured and efficient management of the queues of individual switches and services
Display of brands and services
Personal advice: the customer can choose his preferred one among several consultants
Search function by product range, brands and services
Optimize resources and increase switch efficiency
Reduction of waiting times by intelligent handling of the waiting loops
Reduction of the perceived waiting time for the customers by entertaining and informative content besides the ticket calls on the displays in the waiting area
Monitoring the waiting times and evaluating detailed statistics
Advantages
List of services or personal consultants on a touch-screen system
Automatic assignment of the ticket number and printout of the ticket on the terminal printer
Functions for breaks and substitutions for employees
Statitistic evaluation of processes, number of visits, utilization of employees
Flexible allocation of employees to the services
Visual and audio calling messages for visitors
Presentation of internal information or advertising on call screens