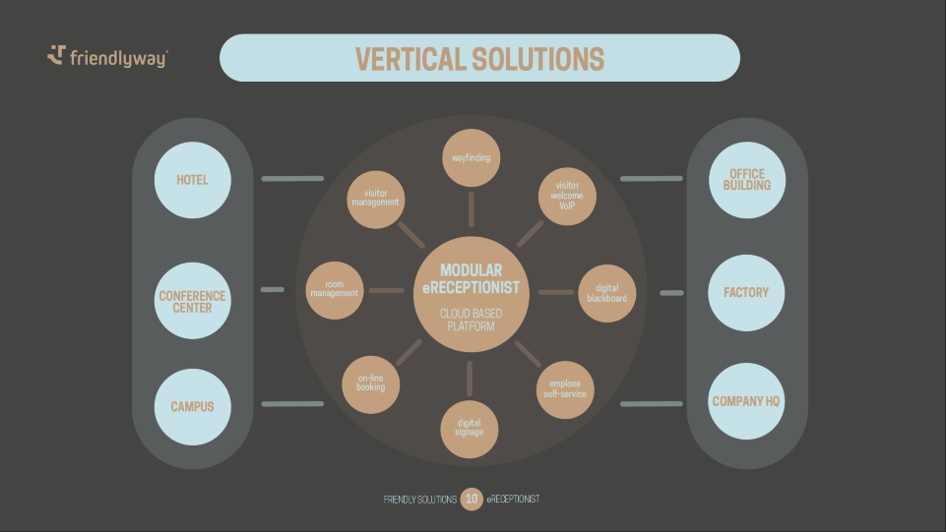 What's the issue with current, paper-based reception processes?
Staff-intensive for organization
Time consuming for visitors
Prone to human errors
No real-time overview over current visitors, no reports
Language barrier: not every language supported
Modules of eReceptionist self-service solution
Register visitors
Personalized visitor greeting
Safety instruction in several foreign languages
Mobile check-in via smartphone or printed QR code
Verify Passport, ID card or driving license
Print visitor ID / badge
Route (buildings and campus)
Touch telephony to employees, automated phone book update
Pre-registration of visitors, personal mail with QR code (Outlook-based)
Attractive company presentations (interactive)
Secured kiosk user interface
Content Management, Dashboard and Analytics
Kiosk Hardware
The eReceptionist software runs virtually on any current kiosk hardware offered by friendlyway. However, to enable a quick and cost-efficient rollout, it is recommended to use one of the main eReceptionist kiosks, shown below.
Which self-service kiosk fits best, depends on project needs. Key factors are: prefered display size and peripheral devices required.
Highlights
Professional lobby and visitor management at your fingertips
Quick and cost-efficient rollout: standardized, customizable modules
Proven standard self-service kiosk hardware
Easy-to-use, intuitive interfaces for remote management of content and monitoring
Image–boost: premium quality kiosks and user-"friendly" design
Hassle-free operation – full service from a single source
Further information