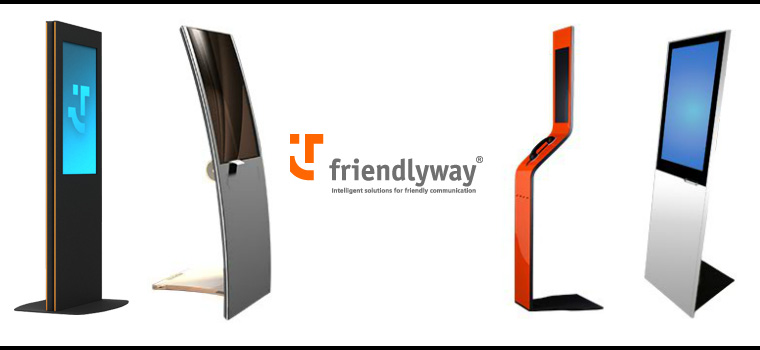 Digital steles for effective customer engagement
Anyone who wants to address potential customers in a shop, studio, restaurant or other facility should first of all draw attention directly on the spot. Digital Steles fulfill this task with bravura – the modern Displaysystems are an absolute sight. They alert passers-by to your product or service offer, announce up-to-date information or help you find your way. Friendlyway provides its customers with a wide range of steles and other digital information systems.
Digital steles in various designs
Our communication solutions can take a variety of forms, from the 10-inch touch screen to the two-meter high stele with a 46-inch industrial display. As a company with many years of experience, friendlyway knows exactly what is important in order to leave the viewer a lasting positive impression. In particular, our steles are designed as "Interactive Digital Signage" systems so that interested parties can control them by touch. This allows the user to bind the brand in a completely unobtrusive way.
Use the entire power bandwidth
Our portfolio includes the sale of systems and software as well as all related services – all from a single source. In addition, we are pleased to provide you with our in-depth know-how as a consultant when it comes to planning a Digital Signage Network for your application. And if you do not find a model that meets your requirements among the Digital Info-Steles infos listed here, we will be happy to find an individual solution for you.
Your advantages – our pleasure
If you want to drive your business forward and increase your sales, you have the ideal partner with us at your side. Among other things, our Digital Steles, kiosks and other communication systems in various restaurant chains deliver 18 to 20 percent more sales every day. But friendlyway terminals are also used with great success in the automotive trade as well as in the real estate service and in many other branches. Bring customized information or commercials to your customers in real-time, with low maintenance costs and high recognition. We bundle all the services we provide, so you can expect a perfectly coordinated package.