Point of Information System for rent:
Interactive media technologies offer completely new potential: multimedial productshows and attractively prepared messages. For incentives beyond the event.
We offer you:
Presentation & information media for trade fairs, events & congresses
Delivery collection
Installation & Service
And the software also comes with:
The friendlyway composer software updates and controls content on one or more screens
The friendlyway secure browser prevents access to the operating system and to protected data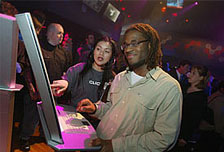 Our customers for service
CNET Networks Germany:
"The friendlyway surfing internet terminal is ideally suited for live presentations due to its user-friendliness and its very professional design."
If you want to create inspiring events, you can not miss the real infotainment. New media technologies offer completely new potential: Multimedial staged productshows, interactively processed messages. For incentives beyond the event.
For the use of friendlyway systems specific software solutions were developed. From the virtual porting function, the use of the friendlyway systems as telephone information systems, to contact management for trade fairs. On each delivered friendlyway system you will find a comprehensive software package preinstalled. With the fw secure browser to secure your infostation as well as the fw composer of the software for time and remote control of your media you get an additional value of over € 2,000 per friendlyway system included in the price.
Why not pay attention:
Delivery collection
Local service
application development
The friendlyway rental service is interesting for the following areas: fairs, events, congresses, open days, company events, concerts, vernis and much more.
Areas of application
The following features are available:
Internet access via UMTS, W-LAN or LAN
Play Powerpoint Presentations
Play videos and DVDs
Software for protection against unauthorized system changes; Restriction of the permitted Internet pages; Supports unintended access to the operating system (friendlyway secure browser)
Software for creating & controlling your digital presentations (friendlyway composer 9)
Visitor Registration
Visitor survey
Way guidance system
Measurement system information system
Contest
Live TV
Internet & TV simultaneously
Gluing in your "Corporate Design"