eKiosk Solutions provide interactive advertising space
If you want to address your target group directly at the point of sale, you should take the time and take a closer look at our various eKiosk solutions. With friendlyway you will find an eKiosk solution for every need. Take a look around the kiosk category on our website and find out about the systems and displays of the extra class. If you would like to apply your products interactively, you now have the opportunity to do so.
Customized eKiosk solution
The good news is that you and your customers benefit equally from our eKiosk solutions! Your goods and services can be advertised directly on the shelf with a video optimally. They show on the spot how the respective product can be used and create a pleasant atmosphere. In the development of such high-quality sales help, we have also ensured that the kiosk system including the display is not too big, so you do not have to spend too much of your sales floor.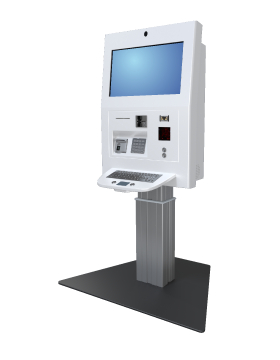 Your eKiosk solution can also benefit your customers. They are actively supported by the product selection and can obtain all information from different applications. More service is not really. If, among other things, you have a product overview system as well as a sales-supporting digital output system of multimedial content, we have exactly the right thing for you.
For example the friendlyway butler 22 (Self-service terminal with adjustable front)
Direct target group communication with the appropriate kiosk system
It is striking that not only the trade is taking advantage of our innovative eKiosk solutions. Institutions and banks also increasingly rely on the friendlyway systems and use them as a further marketing tool. Both public authorities and companies are almost obligated to attract attention in a variety of ways.
If you want to go new ways in customer communication, an eKiosk solution from our portfolio can be more than helpful. If you still have any questions, do not hesitate to contact us. We are at your disposal for a detailed consultation.