POS marketing – direct route to the customer
Targeted POS marketing is important, as this is the direct route to the customer. We have developed POS Terminals for your purposes, which will increase the interest in your company and your products. Take a moment and take a look at our promising terminals and POS Displays. Even if you have the most individual ideas of your new presentation system, the experienced experts of friendlyway are your competent contact persons. Contact us, we will show you possibilities that will impress you!
Use a high-quality Internet terminal
With an Internet terminal from our company, we raise the customer communication of your company or your authority to a new level. Use a high-quality friendlyway internet terminal at the point of sale or as an infostand in your agency and offer your target group real added value. Hotels and banks have also recognized the special benefits of our Terminals and gladly equip their foyers, entrance and business areas with the state-of-the-art presentation systems from friendlyway.
Terminals of this type also increasingly appear in shopping centers. Whether as a mall navigation, product information or as an attractive advertising platform – Internet terminals can be used in many different ways. We help you make the most of your performance and give your target group something special.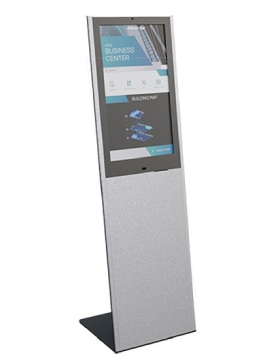 For example the friendlyway classic 32
Simple self-service terminal for Internet applications, presentations and interactive programs
POS marketing in all possible forms
In POS Marketing, it is essential to meet the needs of the target group. If a direct connection to the customer is established, it is hardly surprising that sales will increase in the future. The example of the friendlyway empire 19 shows how such a marketing display can also enrich your business environment. On our website you can see all important data about this product. For a better view, we have also added some photos. Take a closer look at this and our other terminals and displays and do not hesitate to contact us if something is unclear.
Simply use our know-how and our high-quality terminals, displays and software versions in order to be a perfect company or institution. Go a new way in POS marketing and position your message where it is accepted – at the target group.
Solve emotions with the designated buyer using our Presentation Systems, and positive feedbacks of various kinds will not be long in coming.
The right strategy at the point of sale
With our innovative systems, we have set standards both nationally and internationally for years. If, for example, you would like to use our terminals or a special POS system for a future-oriented marketing at the point of sale, we have provided you with numerous offers in our comprehensive program. Consumers want to be "picked up" at a certain point at the point of sale. If POS marketing is of great importance to the needs of the targeted customer, he will be very happy to remember your company and your product.