Attractive POS displays strengthen the company's brand
Go a new way in corporate communications and get the most attention with your targeted target group! Choose one of the attractive POS Displays from friendlyway, you decide for the targeted customer approach. Modern POS Systems are part of every marketing mix and play an important role in the generation of new customers. To find out which POS display is suitable for you, you can contact us at any time. We advise you comprehensively and provide you with great impressions of how you are positioning your target group with the system solutions tailored to your needs.
Customized POS display
The friendlyway Presentation Systems are used here and on the international stage. Take the time and get an overview of our extensive portfolio. If you are interested in specific POS displays and POS Payment Systems, please do not hesitate to contact us. We provide you with all the necessary data and information that is important to you before acquiring our reliable solutions. With our help, you can directly address your target group! Use this opportunity and strengthen the brand of your company with the new communication measures.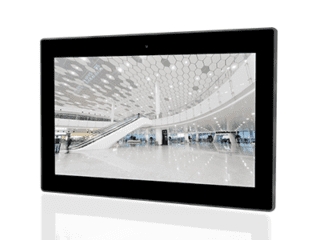 Regal display for interactive advertising directly at the point of sale
Individual displays for your marketing success
With the development of attention-grabbing POS Displays, we will show you how to reach your customers. If you place your focus on new customer generation, a modern POS Terminal from friendlyway is almost predestined for this. Check our attractive offers in the field of digital communication and start again at the point of sale. It is always possible to tailor your individual needs to our first-class POS systems. Order high quality
By friendlyway the marketing success will be fast.
Please feel free to contact us if we can help you choose the various terminals and displays. If you would like a detailed consultation, we are available for you. With our high-quality products and comprehensive services we offer you real added value, which you should use for your purposes. We would like to pass on our many years of experience and our comprehensive know-how in POS displays, so that you can generate new sales success in the near future. Do you want to start immediately? No problem, we can put your wishes into action immediately.