Customized self-service solutions – friendlyway helps with target groups
So-called self-service solutions have long been no longer exclusively at the point of sale. These attractive terminals are also available to customers and visitors at trade fairs, roadshows, airports and railway stations as well as in banks. If you want to benefit from our self-service solutions, you should not waste any time and contact us. Take a look at our website and find the POS displays, interactive software solutions, and presentation systems that you would like to have for your company or your agency. The latter has also recognized that self-service kiosk solutions are an important means of communication that should be used for themselves.
With self-service solutions to customers and visitors
The most important thing about kiosk solutions is that you get to the respective users and offer exactly what is required. This means that your customers and visitors are informed about appearance of a new product which they are interested in. If visually appealing self-service solutions can be used to motivate customers to deal with a product or a specific area, a lot has already been achieved as a trader or authority. Attract attention and profit sustainably – with the self-service solutions from friendlyway this is definitely possible.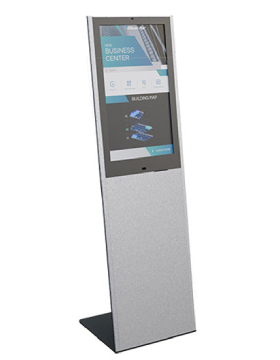 For example the friendlyway classic 32
Classic self-service terminal for Internet applications, presentations and interactive programs
With a self-service terminal at the POS points
It is also sensible to place the friendlyway terminals next to a product. Here a state-of-the-art device with a noble design as well as bright images makes a lot of, as this way customers are addressed visually. And once they stand and are concerned with the product, the opportunity is great that it also lands in the shopping cart. With our self-service solutions, we would like to help you to present yourself and your products in high quality and boost your sales.
Call us or send us your inquiry by e-mail if you would like to learn more about the effective self-service solutions from friendlyway. We are there for you at any time and advise you in detail!