Credit card terminal as a welcome service
The retail and the gastronomy are nowadays no more without a credit card terminal. From our many years of experience, we know that the provision of such credit card terminals is always welcome by customers and guests. Because: Not everyone is more like to carry a lot of cash with him and wants to go shopping or going to the restaurant simplified payment possibilities. If you want to meet your customers, we can assure you that it will not stay with this one visit. A credit card terminal is something like a special service that you should use as a retailer or a restaurateur. We have put together a wide range of offers for you, which you should check.
Using a credit card account strengthen customer relationships
For retailers and traders it should be a primary concern to achieve a high level of customer satisfaction by focusing on the service concept. If an easy-to-use credit card terminal is ready, the customer or guest is more than satisfied and will be happy to remember your store or location. As a matter of course, you have a free choice of terminals, so we are sure that you will find friendlyway at friendlyway.
If you are interested in becoming a retailer for other POS Systems and Infoterminals, you should take advantage of this opportunity and take a closer look at our attractive offers. We would like to point out that each POS Terminal can be adapted to your individual requirements. If banks and public institutions also want to further expand our range of services and provide a design-compliant Internet Terminal, we certainly have the right solution for you.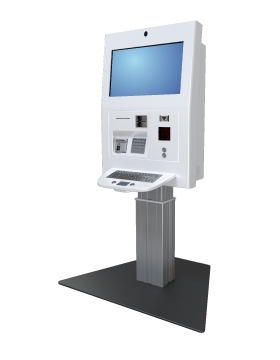 For example the friendlyway butler 22
Self-service terminal with adjustable front
Cashless payment is desired everywhere
Whether you choose a portable or a stationary credit card terminal is ultimately not decisive in your business. Rather, it is about making cashless payments possible at all. Of course the whole service package has to be right. However, if a credit card terminal on site, which accepts all major credit cards, honors the customer or guest and you will be glad to see again.
We would be delighted to discuss your terminal with you in a personal meeting with you. If you have further questions about the friendlyway products, please do not hesitate to contact our experts.