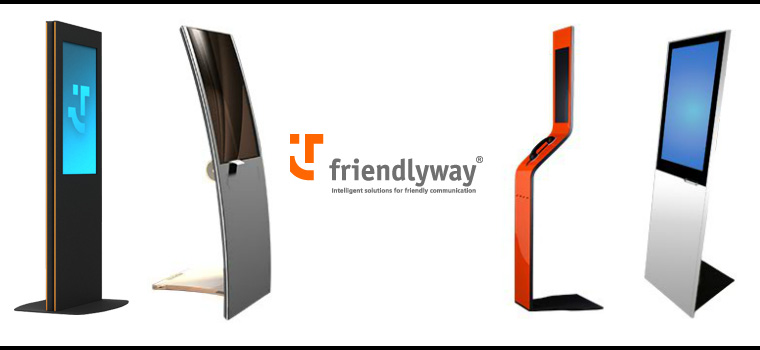 Digital Info-Steles as an orientation aid or advertising medium
Anyone who wants to market effectively and gain attention today can achieve great success by setting up up-to-date communication channels. Digital-Infosteles serve as an eye-catcher and Infoterminal at the same time, wherever they are used: to inform visitors in public facilities, as a Way Guidance System in shopping centers or as an appealing advertising medium in the outskirts of your sales location. friendlyway stands for the professional planning and implementation of Digital Signage strategies in order to address your target group on an equal footing and tie it to your brand.
Use digital information in a suitable design
For the information system to achieve the best possible optical and functional effect, we offer Digital Steles in a variety of different shapes and sizes. With screen diagonals of up to 46 inches, the advertising and information columns are impressive and enable vividly prepared presentations for passers-by or visitors. Digital infoterminals can also be used, for example, as Internet Terminals or to operate a configurator, since our devices all have touchscreens for intuitive navigation.
Visiting in an individual and captivating way
As a long-standing provider of digital signage solutions, friendlyway helps you expand your company or your organization with informational and other communication systems. Arouse the interest of your audience by showing your information imposingly and allowing a direct interaction. We would be pleased to advise you on the optimal use of our digital infoterminals and on request also create special designs according to your requirements and the sign of your corporate identity.
Enjoy with friendlyway all along the line
The advantages of our offer speak a clear language: Our Kiosk Solutions are used in several places throughout Europe, in North America and in the Middle East and help our customers reliably to more entrepreneurial success. In system hospitality, for example, digitalwayage systems from friendlyway provide daily sales gains of up to 20 percent. Likewise, in many other industries, from car dealerships to financing offers, they contribute significantly to sustainable customer loyalty. Take advantage of our modern and cost-effective networked information systems to impress potential customers and encourage them to buy!