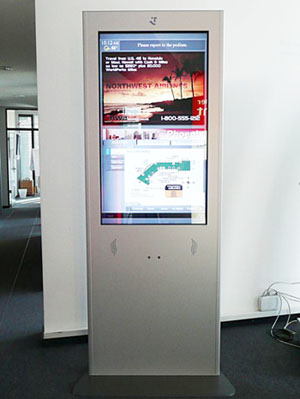 On the way to success – Wayfinding system from friendlyway
For years now, we have been well-known for establishing new innovative Presentation Systems, Kiosks, POS Displays, Promotion Stands, Marketing Displays on the market, which make the difference. We know exactly how to approach your target group directly at the point of sale. What we also know is how the targeted customers find you.
We have developed a so-called road guidance system, which can of course be adapted to your individual requirements. Such routing systems include all the necessary functions for efficient routing in complex environments.
The exact directions are provided from the visitor's location to the final destination with the animated path and a step-by-step guide.
With the friendlyway gateway system generate new customers
Our system efficiently combines path-finding, directory and advertising functionality. This digital location-finding solution is a powerful navigation tool for public institutions such as shopping and exhibition centers, airports, railway stations, libraries, banks and retail stores of all kinds. Quick location search, multi-stage interactive plan, special offers, gift guides, event announcements, calendars and other useful features Clear language with regard to our routing system, which will support you in your marketing mix.
Your target group receives all the answers in this also visually extremely appealing presentation system at a glance or click.
Take a look at our online portfolio and find out about our excellent products. If you need a solution for a large retail store, for example, we can recommend the friendlyway Store Navigator. This shows you which departments and which assortments are located in the respective floors. If the offer is converted in the floors, the contents can also be changed very quickly in the friendlyway StoreNavigator resp. Routing system. An advantage, which should under no circumstances be underestimated.
Find out more about our solutions
Path finding and advertising solution
If you are looking for publicity in the public space to attract attention, our road guidance systems are almost predestined. In a shopping mall or in other public places, the paths within the building as well as an advertising message can be presented wonderfully on an attractive Display System. If you are looking for a suitable device, which is developed according to your personal requirements, you are in the best hands at friendlyway.
Please do not hesitate to contact us if you have any questions regarding a route guidance system from our company. Our experts will always be at your disposal to answer any questions you might have.
Further interesting information: