Kiosk solutions of a special kind
If you would like to take a look at all the stops at the point of sale at the point of sale and put your company and the advertised product on the scene, you have the possibility to do so with our kiosk solutions. With friendlyway, you will surely find the self-service solutions that fit your needs exactly. Since our program is generously equipped, institutions and companies from all areas will always find something for us. Convince yourself and find out more on our website!
Self-service solutions at trade fairs, in markets, government agencies and banks
If you want to provide your customers and visitors with comprehensive services and information, the friendlyway Kiosk Solutions are just right for you! Your advantage: The new kiosk systems can be developed as you wish. We are extremely flexible in this area and can react immediately to your needs. In recent years, commercial enterprises, public institutions and / or banks have recognized the benefits of our robust terminals and high-quality systems and have not been asked twice.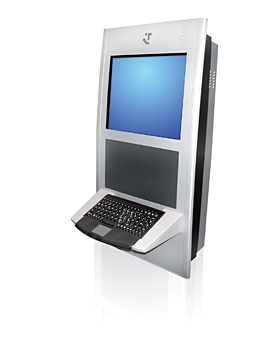 For example the friendlyway waiter 17
Self-service terminal for Internet applications, presentations and interactive programs
With the self-service solutions from friendlyway, you are in direct contact with your customers and visitors. Even if an interactive software is of interest to you, we can help you immediately. If you want to be a good trader at the point of sale, we want to give you the opportunity to do so. Register with us and describe the application area of your new kiosk systems to the experienced friendlyway experts. We have a wealth of experience and provide you exactly with the terminal or system, which is an additional benefit for your customers / visitors.
Terminals of friendlyway also for rent
Even if you are looking for a bigger event and you want to get away from the competition, you can also rent the hottest self-service solutions at short notice. Imagine: At a trade fair, all competing companies present themselves, and you stand out from the crowd because you are attracting attention with a state-of-the-art information and advertising service. Any questions about our kiosk solutions? We always advise you competently and comprehensively!