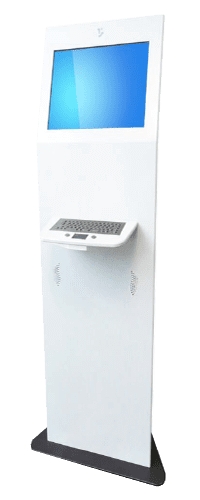 In our age, information is mostly exchanged by digital means. However, not all employees have their own PC at many workplaces (especially in the finished industry). Easy-to-use terminals ensure that your entire workforce is always up-to-date with current events and can carry out various organizational tasks in self-government.
Employee Self-Service for optimal employee communication
The term Employee Self-Service means "self-service for employees". This means that the staff at the kiosk can independently retrieve up-to-date news and further information. This eliminates the need to notify individual employees of a paper by writing.
In addition, employees can perform specific actions themselves that would otherwise require additional work in other departments. These include, for example, the submission of leave applications, the modification of the deposited personal data or the scanning of documents.
Most advanced information technology from friendlyway
The advantages of our ESS-Kiosk systems are numerous: employees can access and send information flexibly in a timely manner, while modern data protection precautions prevent the risk of misuse. Entrepreneurs profit from a cost savings in the HR area, as digital networking considerably simplifies numerous processes.
Friendlyway develops Digital Signage Solutions, which are characterized by outstanding usability and are precisely tailored to the requirements of the respective customer. If you want to reduce unnecessary work to yourself and your workforce, then choose Employee Self-Service! We develop a seamless package of hardware and software for you, install it on-site and support you during the utilization phase.
By the way: If you do not want to buy a Kiosksystem at the same time, you can also hire friendlyway for a test run.