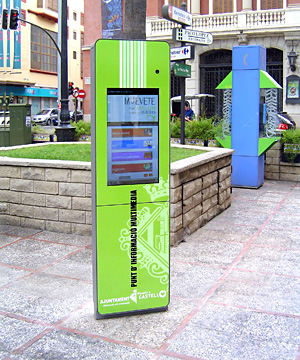 Elegant information columns flexible to user
If we ask ourselves how to attract and inspire the target group, we have the solution: friendlyway columns of friendlyway ensure the greatest possible attention at the point of sale. Such information columns are not only a pleasant sight, but also offer different possibilities of application! We have had the experience that besides banks, authorities are very much interested in our pillars and are making them available for their purposes. Take a moment to check out the attractive column offers in our program.
Distribute interesting messages through information columns
If you have been looking for a way to transfer your advertising messages visually, we can help you in any case. The professional information columns of friendlyway have already proven themselves in many ways. In the field of digital communication, we have been one of the leading suppliers of high-quality presentation systems on the national and international stages for years. And committed to success! We are always striving to advance the development of our high-quality information columns. As a result, we are continually providing you with new, state-of-the-art systems in our extensive program, which will impress you all. Talk to your customers in a targeted way – with our products you get the necessary attention.
Find out more about our other marketing displays. learn more
Inform and generate attention
Whether you need Kiosk Terminals, Internet Terminals, POS or Marketing Displays – if you have a need in these areas, friendlyway is your competent partner. Use our high-quality presentation systems to offer your customers or your target group real added value.
With the friendlyway information column grade 46 animate or inform your customers even front and back. 46-inch displays provide an exceptional presentation space that you should take advantage of. Product information and special advertising messages can be combined so wonderfully. If you would like to know more about these and other information columns, please feel free to contact us.
We put all the levers into motion so that you can be successful. Even if you have individual ideas about your new information columns, we can implement your wishes in turn. We have been working in this field for many years and we know very well what is important.
Further interesting information: