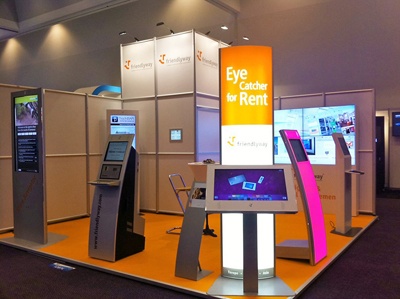 Presentation systems from friendlyway as a perfect communication tool
With our presentation systems, we raise your company communication to a higher level. And this is not all: as a trader, you are setting up an efficient presentation system from the house of friendlyway at the point of sale, which attracts attention in a professional way. At our location in Unterföhring near Munich, we are developing various presentation systems, which enable the direct target group approach. In the project sector, too, we have been successful with various terminal systems, kiosk and Internet Terminals as well as POS Displays.
Take a look at our wide portfolio and find out about system solutions of a special kind. We provide you with numerous presentation systems in our program that will impress you and ultimately also your customers, guests and visitors. The tried and tested systems and terminals of friendlyway provide real added value for you. On request also with software as a complete solution.
Win new customers with our support by breaking new ground in corporate communications. We support you with our first-class products, which are individually tailored to your needs. Use our professional terminals and displays to position yourself at the point of sale. Many years ago, banks, authorities and traders from a wide range of sectors have realized how effective and profitable the high-quality presentation systems of friendlyway are.
Please do not hesitate to contact us and we will find out which presentation system fits your company or public institution. Every company and authority has its own ideas, so we recommend that you deal intensively with this matter and get an accurate picture of various systems. We are very broad in this area, so we already expect to be able to help you as soon as possible.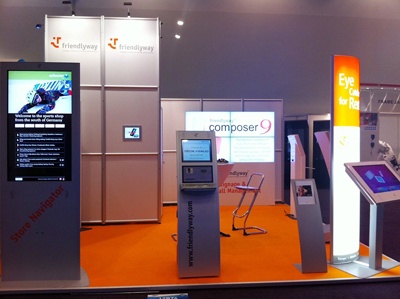 Direct customer contact makes you pay
If, in the near future, you also want to rely on digital advertising displays and highly responsive self-service terminals, positive feedback will not be a long time coming. Designated customers and guests are addressed in the "place of the happening" in a pleasant way and animated to deal with the product or the information.
If you would like to know more about our selected presentation systems, please contact us at any time. Get expert advice from experienced experts. We are at your disposal and will provide you with an individual offer!
Other interesting topics:
With Instore-TV, the greatest possible attention is generated by the customer
Digital Kiosk Systems in various designs
Infoterminal in Business Day – a wide range of applications