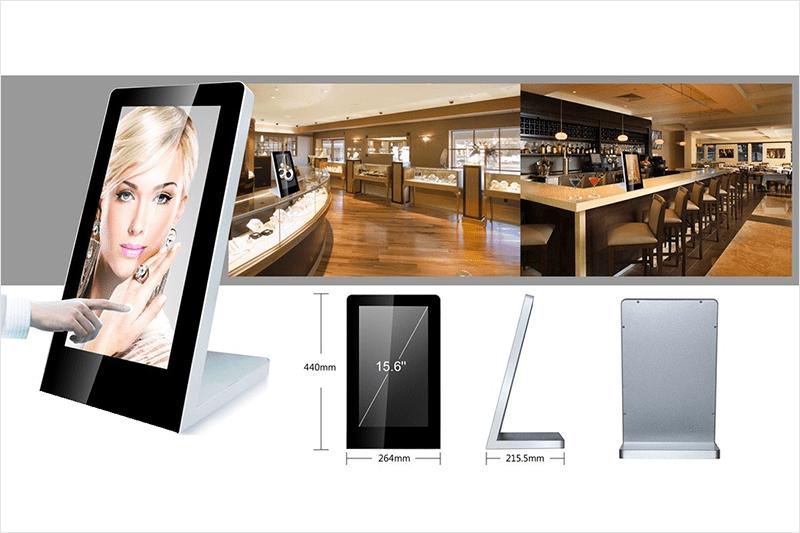 PROJECT DESCRIPTION
Android counter display with integrated Android Player
New and elegant 15.6 "Android counter display with integrated Android Player offers comprehensive usage possibilities for your point-of-sale / -of-interest.
The Full HD Monitor (available with / without PCAP-Touch) can be used as a playback device as well as for digital signage applications (APPs / CMS). The Internet connection is via WIFI, RJ45 or 3G module (optional).
Universal and flexible use for your shop / hotel / trade fair applications.
Highlights
15,6″
Full HD resolution
with/without PCAP touch screen (10 fingers)
Powerful Android PC
Compact design
Versatile mounting options
Robust housing
On and offline operation
Simple content management via the friendlyway composer software
Customer Service
Optimal application of your products directly on the shelf
Your end customers are actively supported in product selection
Different forms of advertising, such as video, sound and applications are possible thanks to a fully-fledged computer system
Thanks to its compact design and versatile mounting options, your valuable sales floor is minimally affected
A detailed resonance statistics provides information about the attractiveness of your offer and location
Low operational costs due to the possibility of remote maintenance and remote content management Thanks to the friendlyway composer software
Application Examples
Customer support for product selection: Interactive customer support in choosing the right product.
Product overview system: Database-based product overview for extensive product palettes.
Advertising system right at the point of sale: Sales support, digital output system of multimedial content