Using a POS Monitor to strengthen customer relationships
For the new customer generation, a POS Monitor from friendlyway can provide the decisive impulses. Use a POS Terminal from our portfolio to communicate directly with your target group! First of all, take a look at our product list and familiarize yourself with the high-quality POS Displays, terminals and various software solutions. If you want to restructure your company communications and look for new ways to put your own brand in the spotlight, you can rely on friendlyway.
Trendy POS monitor presents your advertising
Those who want to score points at the point of sale should choose a presentation format that is not necessarily everyday. After all, one wants to stand out from the competition in trade and direct the public interest to its own products. A POS Monitor is a tried and tested marketing tool, but it is not limited to new customers. With such a POS System from our company, you also intensify the relationship with existing customers. Your customers will be grateful if they are provided with additional information at the location of the incident. And if the advertising film is then presented in an attractive Display System, nothing really stands in the way of the advertising success. For your project, the screen friendlyway d-sign 32/40 is suitable. This full HD industrial display is a real eye-catcher. The complete system with an integrated PC can, of course, be aligned to your needs and represents the ideal solution for a highly modern product and company presentation. If you are also interested in first-class POS Payment Systems, we are also your reliable contact.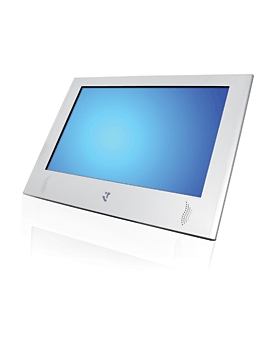 Screen for displaying interactive product presentations or advertising films
Presentation systems of a special kind
Get in touch with your customers with excellent offers, first-class services, a targeted approach and brilliant marketing measures. Strengthen your brand and revive yourself. You will quickly recognize that these measures are responsible for increasing sales. Advertise on a POS monitor – we know how to attract the attention of potential and existing customers to your company and your products.
For the attractive implementation, numerous Presentation Systems such as the POS monitor are available in our program. Please contact us if you have questions about our digital communication products. The experienced friendlyway experts will help you if you want to expand your marketing mix.
Other interesting topics:
Display Advertising increases brand awareness
POS Marketing – the fast way to the customer
Self-service kiosk system for direct customer contact