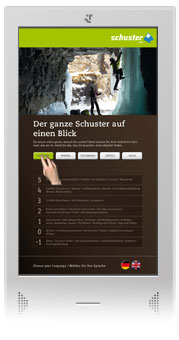 The friendlyway Store Navigator is a turnkey solution for retail stores that makes it much easier for visitors to navigate in the house. Visitors can search for assortment, brands and services and are guided through the house in a digital way.
The friendlyway Store Navigator features a modern, attractive touch-screen application that runs on the friendlyway touchscreen steles or displays. The application provides visitors with an assortment, brand and service catalog as well as the ground plans of the respective floors.
On the contrary to classical information, the solution offers much better possibilities for the presentation of the existing product range. The content of the ads can also be changed quickly at any time via an administration interface.
Features
Display of an interactive assortment catalog
Search by product range, brands and services
Presentation of contextual advertising content as a slideshow, animation or video
Extensive administration interface for easy content modification
Central data management for several terminals
Application of the product range spread over several locations
Presentation of brands and services
Detailed, interactive ground plans of the floors with display of the respective departments and services
Comprehensive evaluation tools for the number of clicks on selected product groups, brands and periods
Modern, attractive touchscreen-capable user interface with animation elements
Import of the assortment data from Excel files
Customized graphic and data customization
Advantages
Improve the image of the house as a modern and innovative company
Increased sales through better searchability of the assortment and advertising content
Increase customer satisfaction by providing necessary information
Improve the quality of customer care by evaluating visitor behavior