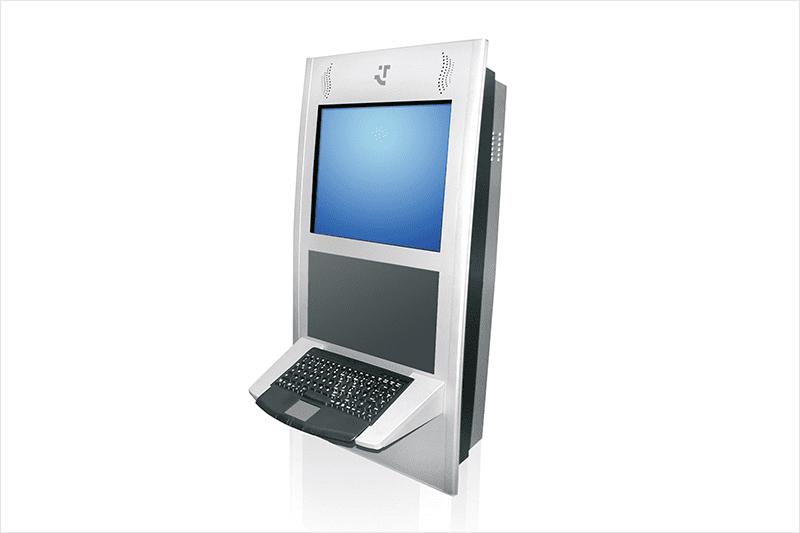 PROJECT DESCRIPTION
Kiosk solution for wall mounting for internet applications and interactive programs
The compact kiosk solution friendlyway waiter 17 gives you a great appearance even in the smallest space due to space-saving wall mounting
The slender silhouette of the system is underlined by the tapered side profiles.
The retrofit multifunctional plate of the friendlyway waiter 17 allows you to install additional hardware components, even afterwards.
Thanks to the optionally integrable heating system, the system can be retrofitted for use in weather-protected outdoor areas.
The friendlyway waiter 17 is a timeless all-rounder that can easily adapt to all everyday requirements.
Highlights
Compact wall mounting system
Semi-outdoor use
Flexible and retrofittable
Robust housing
Suitable for clinics and public areas
Space-saving design
Made in Germany, Manufactured according to ISO 9001
Customer Service
Any extensibility, with components of your choice, via the integrated multifunctional plate
Integration into the smallest spaces thanks to space-saving wall mounting
"Semi" -Outdoor capability through the installation of a system heating system
The modular design of the system, combined with the high space availability, ensures almost any extensibility
Implementation of your functional and operating concepts through the individualized system front
Best presentation of your content via the bright 17-inch display with brilliant picture reproduction
Particularly simple system maintenance by conveniently accessible front unit
Space for the installation and operation of transaction units (cash, EC & credit / RFID cards)
Optional security mechanisms for cash management
The appearance fits in any ambience and can be individually customized (color, logo, customer-specific design, etc.)
Perfect as a complete system for use at the point of sale, in the public environment or in your company
Ideal for the realization of different project scenarios thanks to extensive choice of options
Long-term use of your system, thanks to high-quality and stable processing
Application Examples
Receptionist: As a virtual receptionist, the system finds application in foyers and entrance areas thanks to the integrated telephone option and the built-in display.
Credit Card Credit in company kantines: Cash on canteen cards.
Self-service system in restaurants: Order and payment processing is carried out independently by the customer via the system.
Employee Information System (MIS): Output of company-internal information to employees.
Customer Loyalty System (Coupon): Expressing coupons and vouchers for customers.