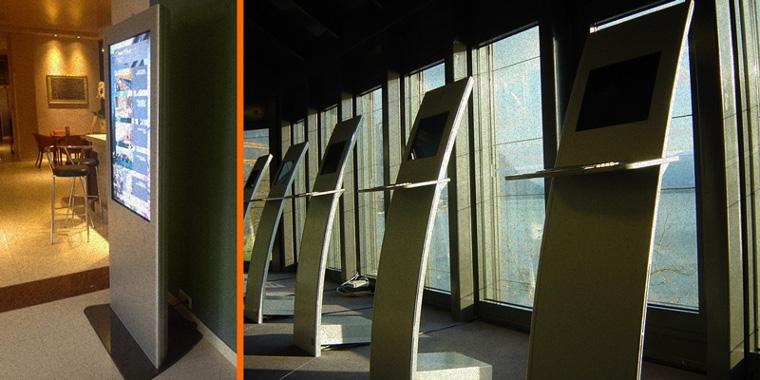 Interactive Digital Signage animates customers and visitors
Who at the point of sale takes on customer requirements and animates to the interaction, establishes a direct connection to the target group. In the area of "Interactive Digital Signage", we have been strong for years and are happy to show you how you can approach new customers. You need a first-rate digital signage software as well as POS terminals or displays, which convey your advertising messages and product information impressively. Both the Presentation System and the software solution are available in various designs at fantastic conditions. Browse our product categories and familiarize yourself with the attractive top offers.
In terms of Interactive Digital Signage, we know each other
We will show you how to use the "Interactive Digital Signage" area efficiently for your needs. This allows you to draw attention to yourself at the POS and in the public space and to leave a lasting impression on the target customer. The digital signage, which invites you to interact, is an excellent marketing tool that can easily be adapted to individual needs. Take a look at the segments "Kiosks & Steles", "Software" and "Solutions" and get inspired by the offered systems. If you have any questions, do not hesitate to contact us. If you are also interested in an outstanding Video Wall Software and the accompanying screen as well as a Wayfinding Software, which we also provide according to your ideas, we have just the right thing for you.
With Digital Signage you are attracting customers
Interactive digital signage solutions are often used at airports, train stations, shopping centers and, of course, in smaller stores. If you would like to interact interactively with visitors / guests and customers, you are on the safe side with such a system. Several terminals, which are equipped with the Digital Signage Software, can also be managed wonder- fully in a network, the so-called Digital Signage Network.
Have we piqued your interest? If you would like to benefit from a convincing friendlyway solution for interactive digital signage, please feel free to contact us at any time. We support you in strengthening your corporate brand.