Visitor management is the process of welcoming visitors and/or employees onto the premises of your business and managing their presence. Visitor sign-in, registration, or check-in is only a small part of the overall process.
Other elements include visitor safety, security, arrival notifications, tracking, and acceptance of compliance regulations – all of which are unique to an organization's specific facility/building, industry, and visitor scenarios.
How Digital Visitor Management Systems Work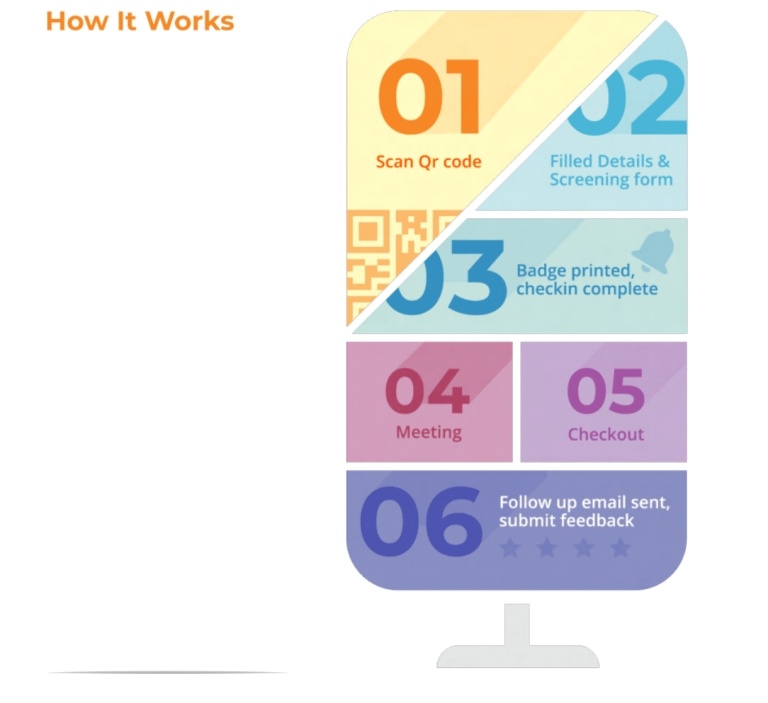 What Are Visitor Management Systems?
Visitor management systems allow organizations to efficiently welcome, keep track of, and manage the visitors of a building, facility, office, place of business, or other location. There are three general categories of systems: on-prem, cloud-based, and manual.
Make an outstanding first impression – every day
Delight your guests, visitors, and employees with minimal wait times, intelligent access processes and a high-quality appearance.
Types of Visitor Management
Below are overviews of the two most common types of visitor management scenarios.
Guests & Visitors
Office buildings, hotels, transportation centers, and even big manufacturing facilities all share one thing in common: they receive a large number of visitors to their premises every year. Structuring an efficient guest management process, and deploying the right tech stack, are crucial aspects of delivering a positive brand and visitor experience.
For example, friendlyway undertook a visitor management transformation project for a multinational manufacturing client in Europe. The company received thousands of visitors each year and desperately needed to streamline and modernize their outdated paper-based visitor management system.
By migrating to our cloud-based software and kiosks, the company was able to maximize operational efficiencies and streamline the check-in and check-out processes (all while remaining fully compliant with industry safety regulations and eliminating a tremendous amount of paper and resource waste).
Instead of performing a manual check-in, needing to physically sign liability papers, and interface with staff members, visitors can now complete nearly all of the check-in process at a self-service kiosk. Additionally, staff members no longer need to directly manage visitor check-ins or check-outs, leading to an increase in staff productivity. That is what visitor management is all about – making the process easy for the visitor and valuable for the business.
Employees, Contractors, and Temporary Employees
It's possible to use a visitor management system for full-time employees, contractors, and temporary workers as a way to consolidate staff registration, check-in, check-out, clock-in/clock-out, and access control processes.
Additionally, most modern cloud-based systems can be integrated with compatible access control systems (e.g. in-building turnstile hardware), providing organizations with a fully comprehensive software/hardware integration.
In many cases, initial employee onboarding (e.g. badge or ID card creation, filling out employment forms, etc.) can also be completed using the same visitor management system via a self-service kiosk. Employees can print their ID badge right at the kiosk, with the kiosk automatically syncing their data into the access control system's database (for automated employee turnstile access).
Being able to automate employee and temporary employee onboarding, building registration, and check-in/check-out processes via integrated self-service kiosks can greatly enhance an organization's operational efficiencies.
Typical Step-By-Step Process
The friendlyway cloud platform offers an intuitive, quick, and user-friendly process for creating, editing, and managing events, adding visitors, editing visitor lists, and overseeing the entire visitor management process. Here's how it works:
1. Planning Events and Adding Visitors
Users can create, schedule, and manage events via the friendlyway cloud platform.
Building visitor lists for specific events is intuitive, fast, and simple – visitors can be added directly on the platform or in bulk by uploading an excel file.
After visitors have been uploaded or added on the platform, the system automatically generates unique visitor IDs for each person and updates the event's main visitor list. The platform can also be used to automatically attach visitor photos to corresponding names on the list (for ID badge creation).
2. Visitor, Event, and Invitation Management
After an event has been created and visitors added to the event list, users have access to several visitor list and event management functionalities including the ability to remove specific visitors from a list, cancel or reschedule events, update lists with additional visitors, and upload visitor photos.
If an event needs to be canceled or rescheduled, or certain visitors need to be added/removed from an event, the platform makes it incredibly easy and fast. Events can be deleted directly on the platform. Visitors can either be deleted on the platform or via the event's excel list.
Event invitations can be custom designed, set up for multiple languages, and sent in bulk by email or text message. In the case of an event cancellation or rescheduling, the system automatically sends an event cancellation email or text message out to the event's visitor list. Email invitations can be sent with Microsoft Outlook through a downloadable plugin.
3. In-person and online visitor check-in
Visitors initiate the check-in process by presenting a valid ID at the check-in kiosk. If the visitor is not on the list they will be denied access.
4. Visitor's COVID questionnaire, compliance, and document signing
Agreement forms, compliance documents, COVID questionnaires, and other documents can be added to the check-in process for visitors to sign prior to completing the check-in process and receiving their access cards/ID badges.
Note: The entire check-in process is fully customizable via the "settings" section on the friendlyway platform. Steps can be added, removed, or customized according to event-specific needs. Custom forms, documents, and questionnaires can easily be created or uploaded and added to the check-in process on the cloud platform.
5. Badge printing or access card/fob disbursement, or provision of access via mobile app
Visitors who are on the event list will be able to print an ID badge directly at the kiosk.
If a visitor arrives early for their event, they can "pre-register" (if the option is activated) and still receive an ID badge.
Visitors who are late to an event can still check-in and receive their badge.
6. Physical access to building/designated areas using access badge/card/fob
After completing the check-in process at the self-service kiosk/terminal and receiving their ID badge or access card, visitors can enter the building/event by swiping or scanning their printed badges at entrance/exit turnstiles in the building.
If the visitor is checked-in for any of the day's events they will be granted access at the turnstile. If there is no record of the visitor being checked-in for the events, they will be denied access to the building/event location.
7. Managing, supervising, and tracking visitor activity
Users can track visitor activity (e.g. check-ins, check-outs, etc.) directly on the cloud platform under the "Visit Log" section. Detailed check-in information, questionnaire answers, signed documents, etc., can all be viewed online in real-time.
8. Visitor check-out
When an event has ended, or it's time for a visitor to leave for the day, their ID card/badge can be swiped at the building's turnstiles upon leaving. If the visitor was registered/checked-in for the event, the system will automatically check them out. If there is no record of the visitor checking-in, they will be denied exit access.
9. Post-Event Emails and Notifications
After an event has finished, or a visitor has checked out, users have the option to send follow-up emails. For example, asking a client to leave feedback, sign additional forms or documents, or share links to additional content.
10. Reporting
The platform features numerous reporting capabilities such as detailed visitor information (e.g. visitor check-in and check-out times), which areas of the facility/building were visited, when certain areas were accessed, etc. Additionally, custom reports can be made based on the content that was displayed to visitors (such as questionnaires and interactive forms).
Professionally manage all phases of the visitor journey
Elevate your visitor management with friendlyway top-notch, smart solution.
Solution Components
Software: Powered by the Cloud
Cloud-based software serves as the backbone of any modern visitor management system. The friendlyway cloud platform provides organizations with the ability to create, edit, manage, and display a wide variety of content and experience types – created, edited, and managed remotely via the internet.
The creation and publishing of visitor management-related content, services, and processes are completed via the friendlyway platform, which is then sent to and displayed on the kiosk screen for visitors to interact with.
Hardware: Touchscreen Kiosks, Displays, and Terminals
Our line of self-service kiosks and touch display hardware are fully integrated with our cloud-based software solutions, and also feature integrations with numerous other types of hardware including barcode scanners, printers, ID card/badge printers, cameras, microphones, and sensors.
The friendlyway platform automatically syncs to a locally-installed agent running on each kiosk. The agent downloads the content from the cloud, after which it is displayed on the kiosk (available for end-user interaction). Imagine being able to simultaneously update all of the kiosks or displays in a building with custom content from a singular platform over the internet. That's the power of cloud-based visitor management, and the power of friendlyway.
Benefits of Contactless Visitor Management
Automated, Streamlined, and Quicker Visitor Check-Ins
One of the biggest advantages of implementing a self-service visitor management system is that check-in, check-out, and visitor registration processes automatically become a lot more streamlined and efficient. Self-service kiosks minimize the need for additional front desk, security, and support staff members, which translates to lower operational costs.
By allowing visitors to check in via self-service contactless kiosks, front desk and admin staff no longer need to be bogged down by visitor management duties. The automated system seamlessly logs visitor data, grants the appropriate privileges, prints ID badges, and welcomes the guest into the building.
Fully Customizable According to Building-Specific Needs
Cutting-edge visitor management systems, such as friendlyway's cloud-based offering, are fully customizable according to the specific needs of an organization. With one of the largest feature sets in the industry, our cloud-based platform empowers companies to deliver smooth, quick, and interactive visitor experiences to guests, staff, and non-employees alike.
Multi-Language Support
Using a VMS with multi-language support completely eliminates the potential for language-based miscommunications. For example, friendlyway's cloud platform supports numerous common languages, meaning that whoever is visiting your building (and no matter what language they speak), they will receive the same gold standard visitor experience as everyone else.
GDPR and Visitor Management
Companies found to be non-compliant with globally recognized data standards (such as GDPR) can potentially face fines of close to $11 million, or 2% of their annual revenue. And that's for non-compliance considered to be "low-level."
One of the major benefits of utilizing a modern visitor management system is that it can greatly assist in the management (and automation) of ensuring proper data and privacy compliance. GDPR has a direct application to visitor management scenarios, which is why it's essential to make sure that your organization is compliant with GDPR best practices.
Using a cloud-based visitor management system can greatly minimize an organization's effort in becoming and/or remaining compliant, compared to traditional/manual visitor management processes (which are prone to human error and general inefficiency).
Why Contactless Visitor Registration and Self-Service Is Growing In the Post-COVID Economy
The push towards self-service tech and contactless services was occurring long before the pandemic, but COVID-19 accelerated digital transformations across nearly all industries – which in turn caused a dramatic rise in the adoption of contactless and self-service technologies.
The pandemic pushed customers to become more digitally savvy, CX expectations evolved at a rapid pace, and organizations needed a way to meet this newfound demand for quick, seamless, contactless experiences. Per Deloitte, the contactless economy is on track to become a multi-trillion dollar market, with self-service solutions playing a crucial role in the market's global growth.
Who Can Use a Visitor Management System?
Visitor management systems can be used for a wide range of scenarios across numerous industries. From hotels, transportation centers, and government buildings, to offices and industrial facilities – if your organization operates a building or location that receives visitors, implementing a modern visitor management system is highly recommended.
Apart from checking in visitors or registering guests, many companies also use visitor management software and kiosks for employee-related management. For example, organizations can use a self-service kiosk for employee or contractor onboarding, building access registration, and staff check-in/check-out purposes.
How Digital Visitor Management Can Help
Digital visitor management can help businesses streamline and automate the way they interact with, manage, and engage with visitors and guests. With the explosive increase in digital transformation spending post-pandemic, it's important to be able to deliver engaging, digital experiences to visitors, guests, customers, and workers alike – digital visitor management systems can effectively transform an organization's visitor experience.
Global spending on technology that enables digital transformation is expected to exceed $2 trillion by 2023. System and platform modernization, including visitor management, will continue to play a role in global DX investments across all industries.
Features of an Integrated Visitor Management System
The term "integrated visitor management system" commonly refers to visitor management systems that are integrated with an organization's access control system. By using an integrated system, organizations can exhibit more control over visitors and guests (from a security perspective) by granting them appropriate access privileges to secure areas, notifying security staff of their arrival, tracking visitor activity, etc. Other typical features of this system type include:
Integration with mobile technology (e.g. granting a visitor temporary access privileges via their smartphone)
Remotely unlock doors, communicate with guests, and send notifications
Security data logs, reporting, and analytics on visitor activity
Ability to grant temporary security privileges for guests
Integration with building security and access control systems.
More security and compliance
A professional visitor management solution optimizes your company's legal and operational security.
Business Benefits of Visitor Management
Implementing a modern visitor management system can directly translate to improved staff productivity, lower operational costs, insightful visitor data, and streamlined check-in/check-out processes. Some of the other major benefits of visitor management for business include the following.
Increased Compliance
Data regulations like GDPR have transformed the expectations of how businesses collect, process, and store data. Digitized visitor management systems allow businesses to become (and stay compliant) with new data regulations.
Better Security
Using a visitor management system allows organizations to know exactly who is planning on coming to their building, who has already checked in, as well as where exactly visitors are (and what they're doing) within the building. Having a more informed view of visitor activity means having a more secure building, especially if the system is integrated with a building's access control solution.
Potential for Lowered Costs
Self-service kiosks with registration, check-in, badge printing, and other features can greatly streamline the visitor management process. Streamlined workflows and a decreased need for human oversight can lead to lower operational costs and higher productivity from staff.
friendlyway Solutions: Software and Hardware
Software
The friendlyway cloud platform is where content, modules, and screen flows are created, edited, managed, scheduled, and deployed to display hardware.
In addition, the cloud platform can be used to manage connected hardware and devices, view reports and analytics, as well as perform user and role management/administration. Other notable features include:
Compatible with Windows and Android hardware
Pay-as-you-go licensing model
Quick setup and deployment of numerous customizable modules including check-in, registration, wayfinding, and other self-service scenarios
User, role, and permission management
Create, edit, manage, schedule, and publish content from a singular platform to multiple devices and device types
Compatible with printers, barcode scanners, sensors, cameras, and audio/video devices
Reporting and analytics of visitor activity including compliance and audit logs
API integration with third-party hardware and software
Our cloud-based solution consists of two integrated parts: the friendlyway platform and friendlyway player. The player serves as a client software that's installed locally on your Windows or Android-based hardware. Data transmission back-and-forth between the cloud platform is fully automated, with the player receiving updates every 10 minutes and sending data back every 90 seconds.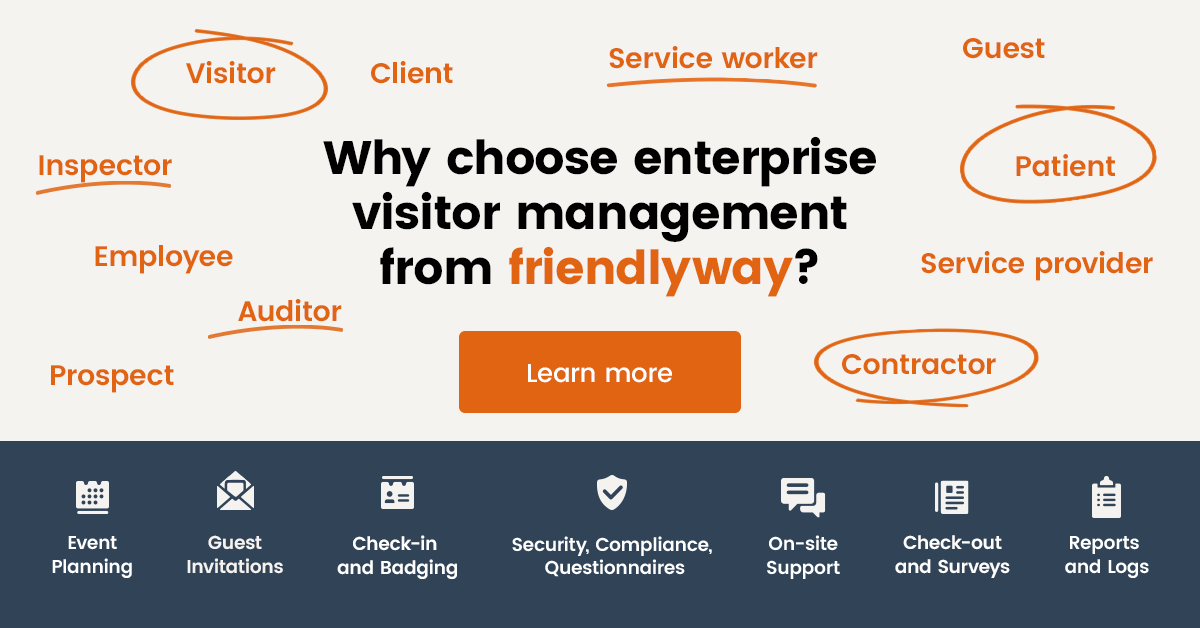 Hardware
Our cloud platform is fully integrated with our diverse line of hardware solutions, making friendlyway one of the few end-to-end solution providers in the industry. Kiosks, tablets, multi-touch displays, videowalls, and several other hardware types – all designed and engineered in Germany.
Numerous external devices can be installed onto and integrated with our hardware including:
Printers
Peripheral devices
QR scanners
Sensors
NFC readers
Keyboards
Multi-touch interfaces
Video cameras
Payment terminals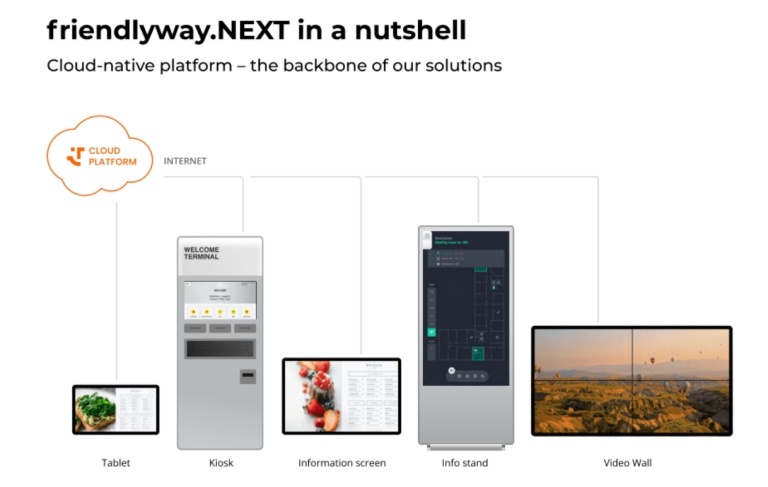 Verdict
Using a cloud-based system allows organizations to automate a large portion of the visitor management process. Visitors can complete a quick check-in process, receive detailed information on their visit, and gain entry to a building all from a self-service kiosk.
As a leader of the digital signage software and hardware industry, friendlyway has worked with dozens of innovative, household name brands around the globe to improve their CX, increase efficiencies, and deliver cutting-edge digital experiences.
Ready to elevate your CX and transform your visitor management system? Get in touch today.
Contact us
Get a free consultation on visitor management solutions, including software and required devices.
What Is Visitor Management Software?
Visitor management software is a type of computer application used by organizations to manage visitors, employees, and temporary workers entering an office, facility, business, or similar location.
How Can Visitor Management Be Improved?
The visitor management process can be improved by companies transitioning to a fully digitized self-service system that is powered by the cloud, which would allow organizations to fully automate their specific visitor management processes while simultaneously delivering a higher quality (and more modern) visitor experience (VX) to guests and/or employees.
How Do You Manage Visitors?
Being able to effectively manage visitors, guests, and other persons entering the premises of a business comes down to knowing how to combine the appropriate tools (i.e. software) with the right processes (i.e. visitor management best practices). Cloud-based solutions alleviate much of the issues commonly associated with visitor management (e.g. smooth check-in/check-out, visitor tracking, arrival notifications, data storage, compliance, security, etc.).
What Are the Benefits of a Visitor Management System?
One of the primary benefits of a visitor management system is being able to transition from manual check-in, registration, and access processes to a fully automated all-in-one system. Switching from a manual process directly translates to streamlined VX on the front-end, and increased efficiency plus smoother workflows on the business side.
What Is the Visitor Management Process?
The process of managing visitors covers the entirety of a visitor's experience – from checking in and out, notifying appropriate staff of their arrival, and their activity during the visit, to checking out and leaving the premises. The complexity of an organization's visitor management process depends entirely on the location, type of business, purpose of visit, who the visitor is, and numerous other factors.
What Is a Guest Management System?
The term "guest management system" is verbiage commonly used to describe a hotel's visitor management software and hardware tech stack.
How to Choose a Visitor Management System?
Choosing the right system for your organization's specific needs is an important step in improving your visitor management process. The system should be scalable, cost-effective, easy-to-use, and as robust as possible. Selecting a tech partner that's established in the industry and offers a wide range of both software/hardware solutions is generally recommended.