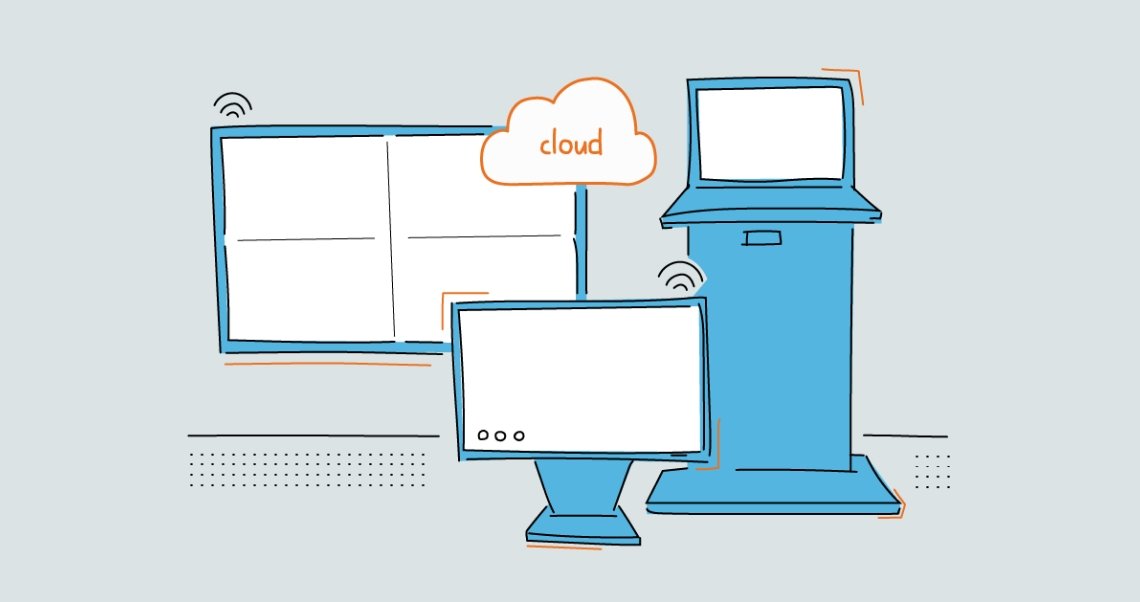 The pandemic forever changed the trajectory of the digital signage industry. Organizations of all types had to quickly adjust to the new normal – contactless services, digital-first CX, and self-service experiences.
Over the last two years, organizations have invested in digital signage solutions to enhance the way they communicate with workers, employees, visitors, and customers. However, many are finding it challenging to onboard employees without technical backgrounds into serving as signage content and device administrators.
If the solution that a company chooses is too complex for non-tech users to quickly adopt and start utilizing, users will be adverse to actually using the solution – or the company will look for another, easier-to-use technology.
We recommend ensuring that whatever signage management software your company chooses features an intuitive, easy-to-navigate UI that makes it easy even for non-technical employees to use. Below are some of the top reasons why choosing a modern, simplified signage software solution can benefit your organization.
Simple and Easy to Use
The point of digital signage is to enable brands to create more personal, interactive, and engaging experiences with customers, visitors, guests, and workers. An overly complex solution that's difficult to manage and inefficient on the back end doesn't motivate employees to leverage the solution to its fullest potential.
If a solution is too complex, or the UI isn't user-friendly enough, brands will often move to a different technology altogether – resulting in wasted resources, money, and time.
Platforms like friendlyway.NEXT utilize a simple and intuitive drag-and-drop interface that allows content managers and administrators to quickly create, edit, customize, and publish engaging digital content directly to their signage or self-service hardware devices.
By choosing a simple yet highly modern solution, brands can onboard employees faster, manage devices easier, and push new signage/content experiences to their user base much more efficiently.
Solutions like our all-in-one platform friendlyway.NEXT make it incredibly easy to manage devices, create new content, publish content across numerous devices, and manage all of your content experiences from a singular cloud-based platform. Content and experiences can be fully customized, and the solution also comes packed with multiple pre-built modules that can have your signage campaign(s) up and running within minutes of initial installation.
Web-Based Access and Management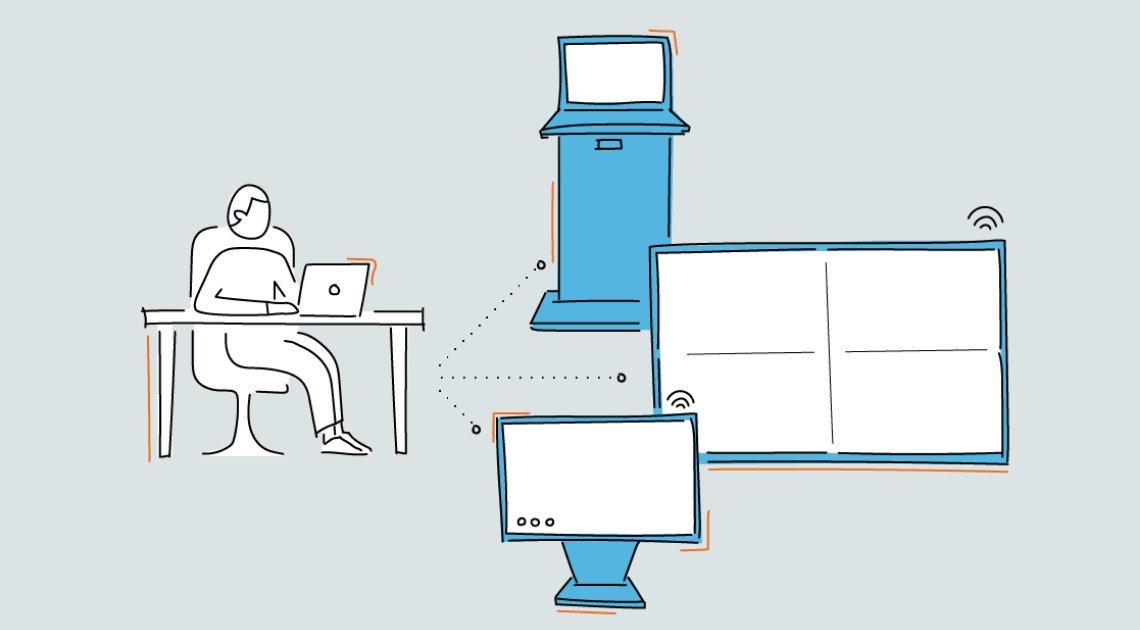 Platforms used for content and signage management often require consistent updates to protect against security vulnerabilities and ensure smooth user experiences. With traditional or on-prem digital signage software, maintenance and security updates can quickly become operational bottlenecks that often come with hidden costs. Web-based signage management platforms are different.
By using a cloud-based solution, organizations don't need to worry about maintaining or updating their locally installed software – all updates are completed via the web and performed by the vendor. Another major advantage that cloud-based solutions provide is fully remote content management that's accessible from any device with a web browser.
With a true digital signage SaaS platform, signage content can be created, edited, published, and managed with just a few clicks of a mouse. Platforms like friendlyway.NEXT also provide users with detailed reporting and analytics that provide a comprehensive overview of device activity, how users are interacting with content, and more.
Increased Security and Access Control
Security has been a top concern for businesses that use digital signage since the technology first started being utilized. With modern digital signage software, especially SaaS solutions, you should be able to define and set permissions for different user bases.
For example, a content creator should have a different permission level than a content manager, an administrator, and so on. Ensure that your digital signage SaaS provider provides this capability.
Additionally, some platforms may offer third-party access (depending on their functionalities), and in this case, it's essential that the software solution offers a tiered account function that only provides third-party access to data and information directly relevant to them.
An example of this is our contingent labor management module, which provides staffing agencies access to temporary worker schedules, work shift history, and related data for billing/invoicing and scheduling purposes.
Wrapping It Up
When researching a digital signage and self-service experience management platform, look for the following functionalities:
Intuitive UI and easy to use for all types of users
Web-based, fully remote access via the cloud
Drag-and-drop content creation and management tools
Permission-based user roles and accounts for varying levels of access
Modern software design using the latest frameworks and languages
APIs for integrations