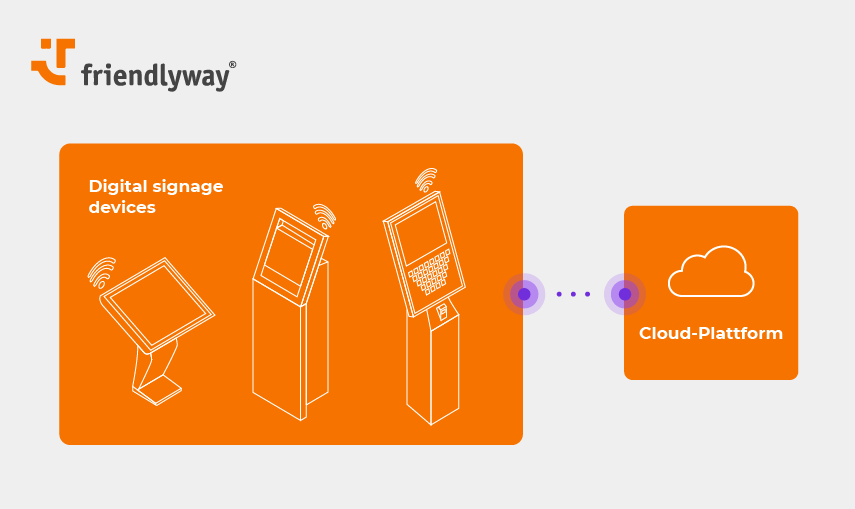 The global digital signage industry is on track to be worth over $27 billion by 2026, an $11+ billion increase from 2021.
The industry is always evolving and growing. Even as little as five years ago, screens had much lower resolutions, colors in videos and images were less vibrant, and there were even different standards for cabling. Digital signage cloud-based solutions have also evolved.
It's not uncommon for customers to have never used a true SaaS product for digital signage. While their old systems might have looked and felt like SaaS, at their core they were really just traditional on-prem or locally hosted applications.
SaaS solutions in digital signage have come a long way and fortunately have made everyone's much easier – from vendors to customers and end-users alike.
Digital Signage SaaS Is a Game-Changer
SaaS in digital signage has been a game-changer for companies across numerous industries and of all sizes, from SMBs all the way to enterprises. The sheer effort involved in managing a complex fleet of signage devices, all on their own networks, with locally installed systems, has been replaced with the seamless, scalable, and high-efficiency power of cloud-based signage software.
The problem in today's marketplace, however, is finding a provider that offers a true, unfettered SaaS experience. Finding a good SaaS signage provider can be difficult, which is why we've produced this short, handy guide on the key attributes you should search for when partnering with a vendor.
Finding a Quality SaaS Signage Provider
friendlyway has been an innovator in the digital signage hardware industry since 1998. For over two decades we have been analyzing, collecting, and implementing industry best practices into our hardware, and now we have packaged those best practices and our broad industry experience into a comprehensive, multi-purpose digital signage SaaS platform – friendlyway.NEXT.
Many of our customers have never used a true SaaS signage platform before. The software they were using was typically on-prem and installed locally on their signage hardware. The difference that SaaS can make is transformative, but how can you tell you're getting a true SaaS platform?
Here are three key attributes to look for when searching for a cloud digital signage platform:
True SaaS is highly scalable and flexible – scalability is one of the key traits of cloud-based solutions. There should be zero issues in quickly scaling up or down across numerous device types.
Software upgrades and patches are performed by the vendor – in SaaS, software security is managed entirely by the product vendor and should come with no added charges.
Creating new accounts and new users should be seamless and fast – you should be able to easily get the software up and running on your entire fleet of devices within a short period of time – not days or weeks. Adding new accounts or users should not be a long, drawn-out process either.
The software should be integration-ready and capable of integrating across a wide range of third-party software and hardware options.
Scalability Matters
SaaS is highly scalable, it's one of the reasons why cloud computing has come to dominate the business and tech worlds over the past 10 years.
Digital signage SaaS is no different. Getting your signage cloud platform deployed across your company's device fleet should be no different, whether you have five devices or 500. Similarly, scaling down should not be a complex process either.
True SaaS enables flexibility and allows organizations to resize to suit their current needs.
For example, friendlyway.NEXT is:
Easy to install on any number of machines and devices – no matter how large or small your fleet is, or whether your devices are Windows or Android-based.
Able to be installed and up and running in just a few clicks, minutes away from delivering engaging, interactive customer and worker experiences.
Enables organizations to manage and control their entire fleet of signage devices and kiosks from a central cloud platform, accessible from any device with a web browser.
Learn more about friendlyway.NEXT here, or get acquainted with some of our custom pre-built modules such as our visitor management solution.