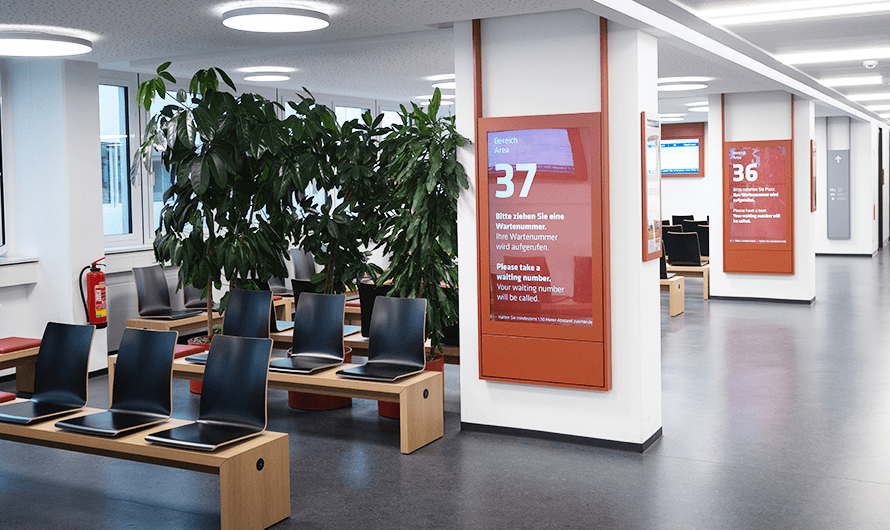 With almost 19 million people working at local, state, and federal levels (roughly 5.7% of the population), the US government is the country's primary employer. Given an even larger number of people that visit public offices annually, it makes sense that they are looking for new ways to improve the experience for both employees and visitors. One of these ways is using digital signage. Its popularity has been growing steadily over the past years: the global digital signage market is expected to reach USD 45.94 billion by 2030, an 8% compound annual growth rate from USD 26.76 billion in 2022. More government agencies should consider using it in their everyday operations. Here is why.
Why government agencies need digital signage
There are many benefits of using digital signage for government institutions. The most significant of them include:
Better communication
Important information from government institutions usually comes in the form of long formal texts, published either online on specialized websites or as printed materials at public offices. Either way, it is hard to come across, and, as a result, they fail to reach a large audience. Digital signage can display important information in a dynamic and engaging way, in multiple languages, in multiple places at once, thus greatly improving the reach and efficiency of public communication.
Time and cost savings
Updating digital signage in public offices is quicker and more cost-effective than printing and distributing new materials. All devices (or groups of devices) are generally managed from a single location in the cloud and can be updated instantly. It can help save money on printing costs, paper, and ink, as well as personnel time needed to produce and distribute paper materials.
Increased accessibility
Screens and self-service kiosks can be placed in high-traffic areas and at a variety of heights, making information more accessible to a larger audience, including people with disabilities. For example, screens can be placed at wheelchair-accessible heights or heights that can be easily read by people with vision impairments.
Support in unattended locations
In remote areas where it is impossible or unreasonable to have public offices, digital signage provides people with up-to-date information and support, ensuring uninterrupted access to necessary public services for people that wouldn't be able to access them otherwise.
Application of digital signage solutions for government offices
Digital signage solutions can be used to streamline a multitude of processes in government institutions. They are already widely used for public information, navigation, visitor self-service, managing room schedules, administration and support services, and more.
Let's delve deeper into seven common use cases of using digital signage for government offices that have a proven track record of success, and one that is not-so-common but can be equally successful.
1. Queue management
If you ask people what they hate the most in the world, the odds are the answer will be: waiting in a line. Digital signage can help make this experience more enjoyable (or at least less painful) for visitors. Real-time communication of queue information to people via digital signage, such as calling visitors forward, providing them with directions, and updating them about estimated waiting times, can reduce the perceived wait time by 35%.
2. Wayfinding and directional signage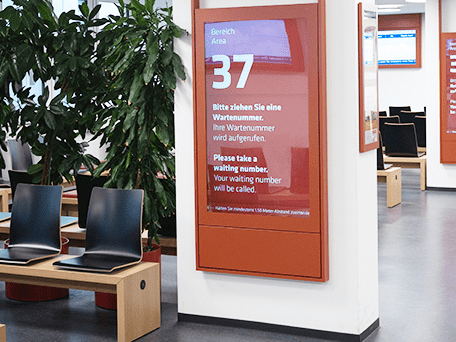 Busy public buildings tend to have many offices across several floors that can be difficult to find for first-time visitors. Well-organized government signage placed at entrances and decision points can help can guide visitors to the appropriate offices. Wayfinding displays can not only provide directions but also show interactive maps, which is especially helpful as the human brain processes visual information 60,000 faster than text.
The navigation information can be easily changed by employees through digital signage software. For example, friendlyway's cloud platform provides a wayfinding module where they can simply upload a new map when needed – the information will be instantly updated on all devices, groups of devices, or individual devices.
3. Public information
Digital signage in government buildings is used to share information about new public programs, public event schedules, new legislation, and so on. It is an effective way to keep people informed about the office's work. The content can be designed to be visually appealing, featuring photos and videos, making it more likely that people will stop to read it. The use of images and videos can also help people who have difficulty reading or understanding text.
For local government, digital signage plays the vital role of sharing information about the local community, cultural events such as concerts or festivals, charity initiatives, public transportation schedules, and much more.
Digital signage can also be used to display PSAs that promote public safety or public health initiatives, such as information on how to prevent the spread of a disease, how to prepare for an emergency, or how to access public services, helping officials to reinforce the importance of these measures and encourage people to follow them.
The information on government displays can be updated easily and fast. Modern platforms, like friendlyway, provide content management modules where employees can create the content via drag-and-drop and define where and how it will appear on the screen. They can also quickly update it in a centralized location in the cloud and push updates to all devices instantly. friendlway also supports multiple languages out-of-the-box, ensuring efficient communication with foreign visitors, too.
4. Compliance and access control
There are a lot of regulations that public offices must comply with, and digital signage is an effective instrument to ensure that such regulations are adhered to.
It can display compliance reminders such as privacy policies, health and safety rules, and other legal requirements. Visitors can also be asked to confirm that they have been informed about such rules and requirements and consent to them, as well as urged to fill in questionnaires and complete surveys.
Digital signage is also used to control access to restricted areas in public offices. Let's consider this real-life example of access control for courts implemented in the friendlyway platform: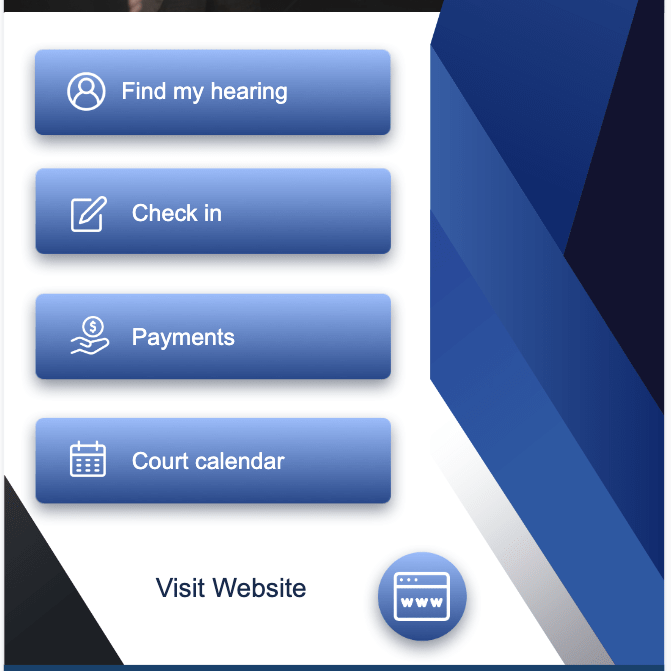 a person comes into the court building
presses the "Find my hearing" button of the menu on the self-service kiosk
Searches for their hearing by name or hearing number and checks in
in case the person has an invitation to the hearing, the two previous actions can be replaced by simply scanning the QR code on the invitation
the person receives the ticket with the number of the room they need to go to, as well as the directions
in case they need an escort, a message is sent to a clerk responsible for it.
Thus, compliance with the court procedures is ensured.
5. Event and visitor management
Another way digital signage can be used in public offices is for event and visitor management. In this case, it fulfills several important functions at once.
Registration and check-In
Digital signage platforms can be used to register event participants, and visitors can check in themselves upon arriving at the event. This can help streamline the check-in process, reduce wait times, and improve the overall visitor experience.
Compliance and questionnaires
Digital signage can be used to inform visitors about the rules of the event and office regulations and ask them to sign necessary compliance documents. Event participants can also be asked to fill in questionnaires and provide feedback.
Event information
Digital kiosks, screens, video walls, and other digital signage devices can be used to display event information, such as schedules, maps, and speaker bios.
Directing foot traffic
Digital signage can be used to direct foot traffic and provide clear directions to attendees, helping them navigate the venue. This can include directions to specific sessions or areas of the event, as well as directions to nearby amenities like restrooms and food vendors.
Sponsorship info
Government agencies can display advertising and sponsorship information, which can help fund the event and provide visitors with additional information about relevant products and services.
For example, using the check-in module in the friendlyway platform, employees can invite and register attendees, allow people to self-check in, show them necessary guidelines before the event, print registration cards with directions to the event room, and so on.
6. Room signage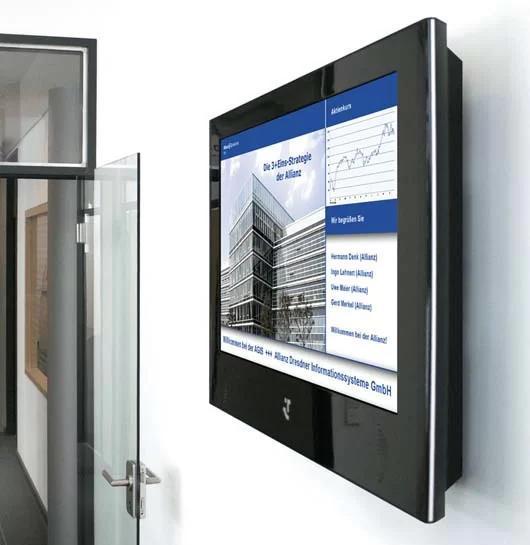 Digital signage can be used to display various information about the public office's rooms, such as room schedules, working hours, office rules, and planned events, as well as important news and announcements. The content can be updated in real-time, making it easy to change room names, schedules, and other information as needed.
The friendlyway cloud platform provides a separate Room Signage module that allows to manage the content displayed on room signage screens from a single location.
7. Displaying emergency alerts
Video walls, digital kiosks, and other digital signage devices can be used for real-life communication of emergency alerts. For example, in case of a natural disaster, important information can be quickly transferred from command centers to all public offices. The emergency alert will override regularly scheduled content to inform employees and visitors about the actions they need to do, evacuation routes, and emergency contact information, helping keep citizens informed and safe during a crisis.
friendlyway platform provides the capability to push emergency alerts to multiple devices with a single click. Different alert messages can be displayed on different groups of devices, for example, depending on their location.
Advertising
While governments don't typically engage in traditional advertising, digital signage solutions can be used in public offices to display information on historical and cultural sites, monuments, and landmarks. This can help promote local tourism and support local businesses.
friendlyway has a long history of helping organizations improve their visitor management with digital signage, including government institutions. One of them is Munich Regional Administrative Office. With more than 5000 visiting its premises daily, it needed an improved system for visitor navigation and information, including better accessibility for disabled visitors. It selected friendlyway as the vendor because we were able to deliver an end-to-end solution and had large expertise in the field.
Now, the building is equipped with 294 digital signage devices managed remotely via the friendlyway cloud platform. This solution provides: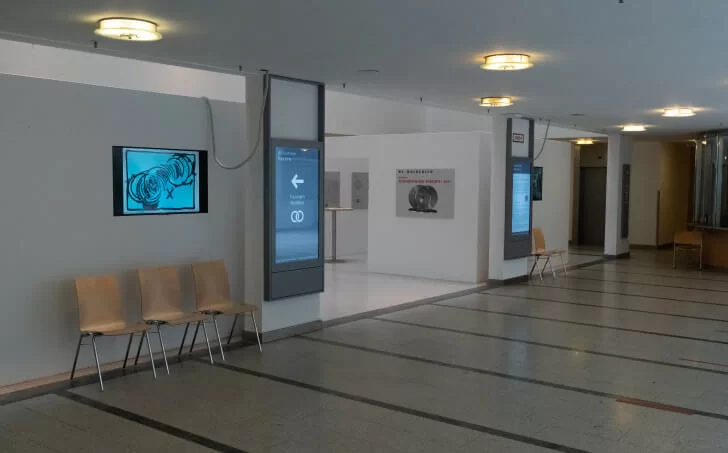 outdoor & indoor navigation for visitors, including support for disabled visitors
signage for the staff training center, displaying room schedule, information about office events, and announcements
elevator and staircase signage to help visitors navigate through the building
visitor management system for the civil registration office
Overall, Munich government digital signage has helped to streamline administrative procedures, optimize foot traffic, and improve the efficiency of its administrative processes.
Read more about this project here>
Conclusion
As you can see, there are many advantages to using digital signage for government institutions. It's a great way for them to connect with people who visit their offices, create a better working environment for employees, build trust with citizens, and reach out beyond their physical location to share information with the public at large.
If you are interested in a powerful and highly customizable digital signage solution for government buildings, feel free to reach out to us!