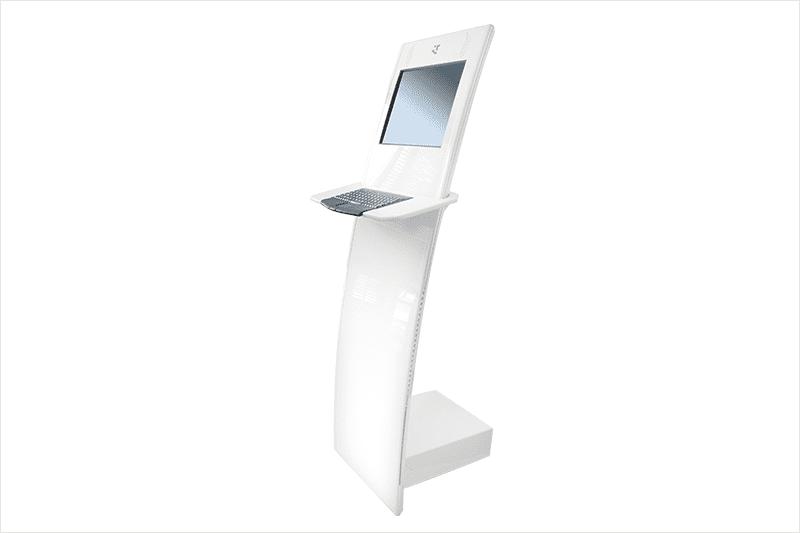 PROJECT DESCRIPTION
Classic self-service terminal for Internet applications, presentations and interactive programs
As the first friendlyway product, the friendlyway classic 19 has been known worldwide for the classic form of self-service terminals for years. This makes it the model of modern information technology.
The lightly curved, slim body made of anodised aluminum creates a timeless appearance. An individual appearance is created by high-gloss lacquering or foil bonding.
The system can be used for all classic and internet-based computer applications. As a complete system, it considerably reduces your installation and transport costs.
Each unit is manufactured and equipped according to your wishes. The extensive selection of options makes it possible to extend the functions of the terminal. Touchscreen, stainless steel keyboard and loudspeakers are particularly popular.
This makes the friendlyway classic 19 a system that meets all your modern requirements and completes every ambience through design and elegance.
Highlights
Design Classics
Fits in any ambience
Very resistant housing
Easy to transport, and therefore suitable for use on trade fairs
Customizable by foil bonding
Made in Germany, Manufactured according to ISO 9001
Customer Service
Best presentation of your content via the bright 19 inch display with brilliant picture reproduction
Perfect as a complete system for your events and trade fairs
Customer surveys and opinion surveys can be implemented quickly and easily via the touchscreen
Design your very own terminal with our numerous additional options
Image enhancement through the use of state-of-the-art technology in an exclusive design
Fits in every ambience and can be combined with all styles
Long-term use of your system, thanks to the high-quality and stable processing possible
Application Examples
Product and information presentation: Active and passive product presentation with optional operation by the user.
Measuring terminal: Expansion of the trade fair presence through modern information systems.
Internet terminal: Internet access in public areas via tamper-resistant hardware and software.
Employee Information System (EIS): Output of company-internal information for employees.
Customer information system in the entrance area: Output of information for visitors and customers.