Visitors, suppliers, and new employees, companies or other organizations often need to make security briefings. The legal requirements for this are constantly increasing. Doing this paper-based can be very tedious for everyone involved:
Staff cost for the company as well as time restrictions for visitors due to break times of the reception, suppliers losing time by having to enter the building and possibly having to stand at the reception. Is the document available in the guest's native language? Is there still a printed copy around? And is this one the last valid version?
Manual effort is required to verify the identity of the person and to file any signed documents. However, it is not immediately apparent if every visitor or supplier has undergone the instruction, because a receptionist easily may overlook this step. In insurance case, the document with the corresponding signature must again be searched for manually, no reports and statistics are available.
Now Friendlyway has finally eliminated these and other process difficulties with a complete modular hardware and software self-service solution.
Unterföhring, 14.05.2019
friendlyway offers a combined solution of self-service kiosks in different sizes and configurations, depending on the complexity and scope of the requirements. Based on the proven and continuously developed hardware portfolio from 20 years of friendlyway experience, as well as the thousandfold installed "friendlyway Composer" and "friendlyway Player" software.
The standard features include:
Visitor data capturing directly on the touch screen
Display of relevant safety information
Acknowledgment of the instruction by visitors before release
Multilingual user interface
Securing the desktop, screensaver, additional information and breaking news (fw Secure Player)
User-friendly Content Administration, Remote Monitoring, Maintenance, and Software Updates on Employee's PC (fw Composer)
Indoor and outdoor kiosks
Individual colors and stickers with customer logo and symbols
Available as options:
Pre-registering and sending a QR code, which is scanned by the visitor on the device
Printing a temporary visitor badge on paper or plastic card
User identification via passport, ID card and driver license reader
(video) phone calls with staff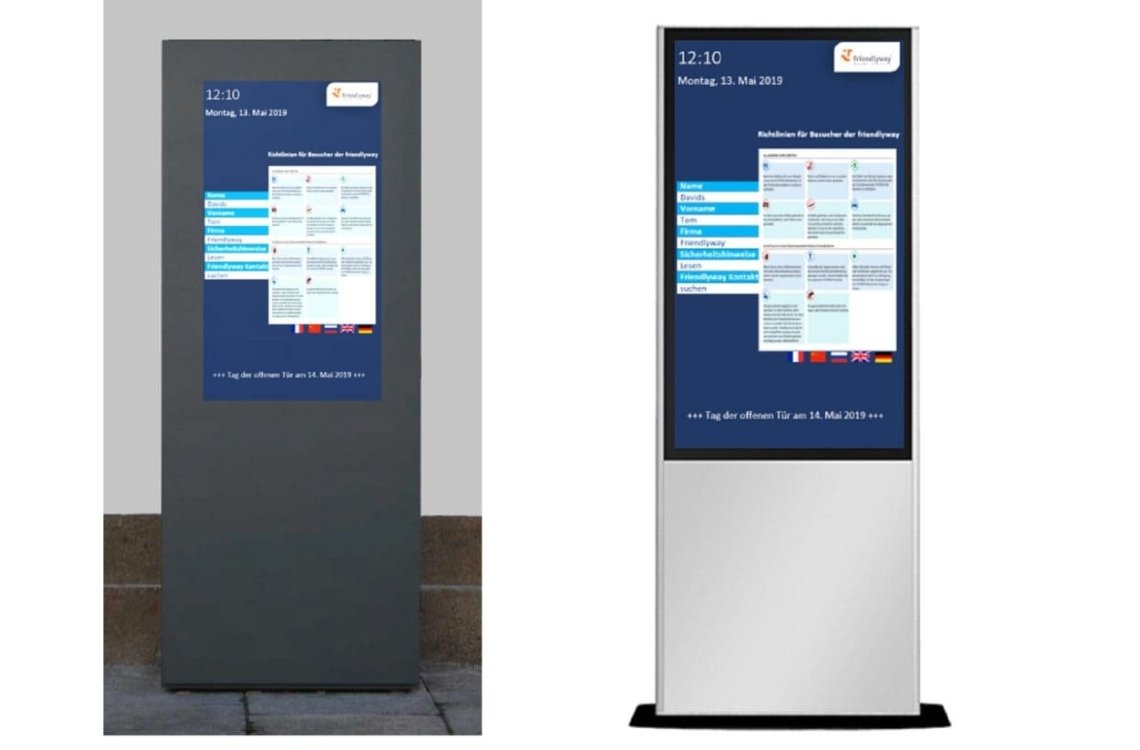 Examples of outdoor and indoor kiosks
"Thanks to the preconfigured, adaptable solution from friendlyway, our customers do not need to reinvent the wheel but quickly come to the rollout of the digital safety briefing. Expansion modules in both the software and the kiosk, as well as our maintenance offers mean that your investment is protected over the long term, not just the visitors. With our valued worldwide support, we do not leave our customers out in the rain after installation", says Klaus Trox, founder and CEO of friendlyway.