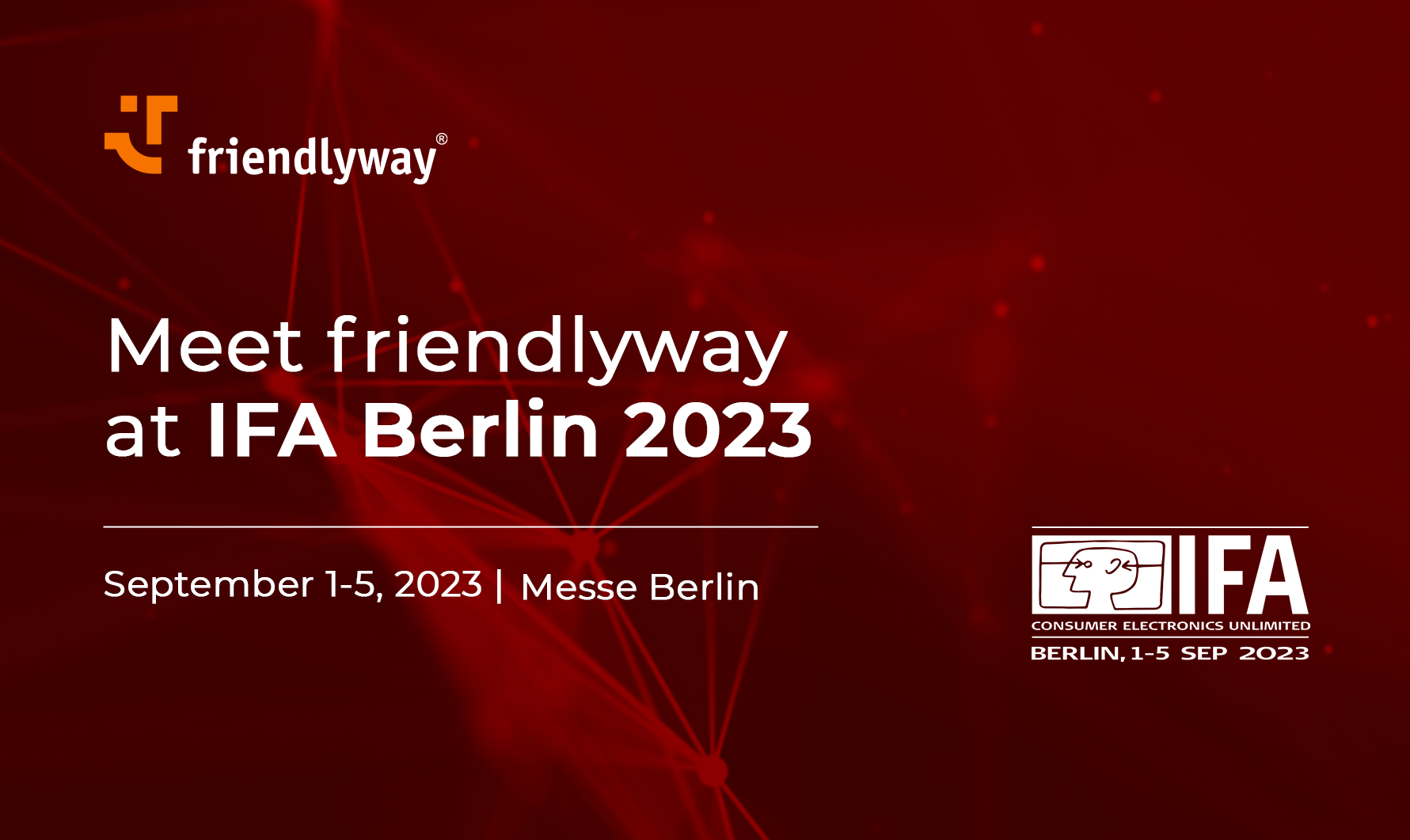 The friendlyway team is set to visit IFA Berlin, a leading global tech event scheduled for September 1–5, 2023 in Berlin, Germany. Seize this opportunity to meet with our representatives in person and discuss cooperation options.
About IFA Berlin
IFA is an annual trade show that was first held in 1924 in Berlin. Today, the event brings together thousands of manufacturers, decision-makers, and researchers from over 150 countries, providing an ultimate platform to showcase their latest strides in consumer electronics.
This year, the organizers invite attendees to explore a diverse array of themed areas, encompassing:
Audio
Communication & Connectivity
Computing & Gaming
Fitness & Digital Health
Global Markets (a B2B sourcing platform, bringing together OEMs, ODMs, suppliers, component manufacturers, etc.)
Home & Entertainment
Household Appliances
Image & Video
IFA Next (a zone for innovators, research institutes, promising startups, and forward-thinking businesses)
The prominent participants of previous years include Microsoft, Logitech, Samsung, Deutsche Telekom, Garmin, Electrolux, to name a few.
About friendlyway
friendlyway stands as a leading provider of digital signage and interactive kiosk solutions with a two-decade presence on the global market. The company offers both hardware and software products, distinguished by their user-friendliness and customization opportunities to cater precisely to the unique requirements of diverse businesses.
A combination of our cloud-native platform and hardware solutions (kiosks, terminals, tablets, displays, etc.) is used across various industries, including:
Manufacturing
Healthcare
Hospitality
Transportation
Retail
Organizations seeking to implement visitor management and wayfinding, streamline contingent workforce management, automate workflows, decrease service expenses, and elevate customer experiences through state-of-the-art digital technology will find friendlyway to be an invaluable collaborator.
Meet us at IFA Berlin 2023
Our team of specialists will be available at the event on September 1–2, ready to share insights on the array of products and services we provide. IFA Berlin 2023 is an ideal opportunity for you to explore friendlyway's solutions and learn how they can effectively address the current challenges your business faces. Simply complete the form, and we'll promptly reach out to provide more details.