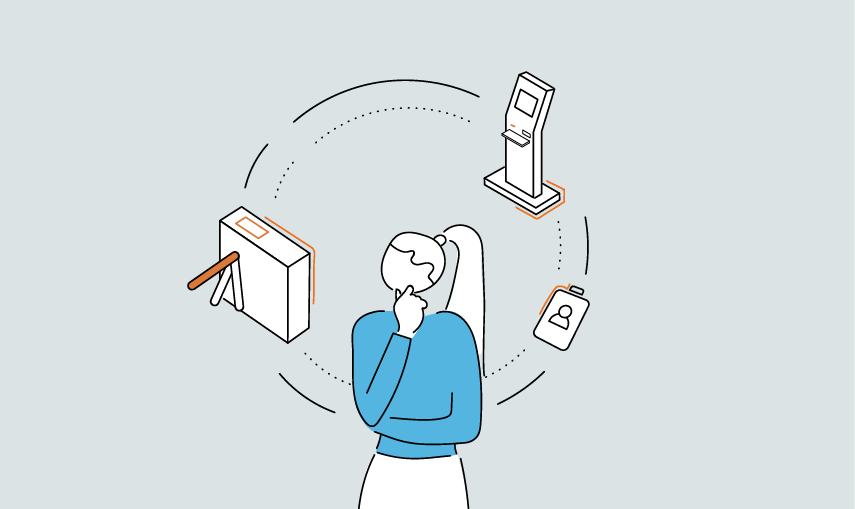 Visitor management software platforms enable companies to streamline and automate the way they manage visitors, guests, contractors, or workers at a facility, office building, or other business location.
How a Visitor Management Solution Can Help You
There are numerous business advantages to deploying a visitor management system – organizations can automate registration, check-in, check-out, and onboarding processes, streamline visit tracking, lower operating costs, increase compliance, and improve building security. The benefits of software for visitor management are numerous and can have a tremendous impact on a company's bottom line, operations, and overall brand experience.
Factors to Consider When Choosing a Visitor Management Solution
Choosing a visitor management solution doesn't need to be overly complex or difficult, but many companies don't know which specific factors to consider when researching potential solutions. Here are some important considerations and questions to factor into your decision-making process:
Do you want to pay with a SaaS-based model (i.e., subscription-based), a licensing fee, or another type of pay structure?
Do you require a cloud-based platform or a traditional on-prem solution?
Does the solution need to have API integration capabilities to connect to other software or hardware systems?
How will you be using the system? Is it only for visitors, or do you need additional capabilities?
Which operating system (OS) does your organization use, and which OS can be installed on your hardware devices?
Features to Look for in a Visitor Management Solution
Below are some of the top capabilities to look for when purchasing a visit management solution for your business.
Pre-registration feature for quicker visitor registrations and check-in.
Contactless capabilities such as QR code scanning or NFC integration.
Ability to easily integrate with third-party hardware and software platforms.
Option to deploy the software via the cloud or on-premises.
Web-based back-end access for all admin functions.
Strong data security and storage standards.
Pre-built software modules for fast deployment and easy management.
User-friendly and intuitive user interface (UI) and user experience (UX).
Safety and Security
One of the most common reasons that an organization deploys visitor management software is to increase the security of its building/location and enhance the safety of its employees. Visitors management software adds an extra layer of security between your building and the outside world – only allowing the visitors and guests that are approved for entry access to your building.
Modern visitor management solutions can increase safety and security through:
Guarding your business location from unwanted, unregistered, or restricted visitors and guests
Only allowing pre-registered or pre-approved guests access to your building
Safeguarding the data of visitors, guests, and workers provided during the registration and check-in processes
Being able to block certain people from using the visitor management system
Using cameras, audio recorders, sensors, and other common features to track all visitor activity.
Cost
Cost is one of the primary factors a business considers before selecting which visitor management solution to purchase. There are numerous solutions available on the market, and each has its own pricing structure and system – some are SaaS products, which means they offer a monthly or annual subscription plan, some are only on-prem solutions, some charge a one-time flat rate, and others have mixed pricing options.
It's important to think about the features, capabilities, and functionalities that you want in a solution. If you require numerous functionalities, the software platform will most likely be more expensive than a solution with basic capabilities. We recommend researching multiple software providers and comparing each product to the other – not only on price but on features, company trustworthiness, company experience, product functionalities, and whether or not the product meets your desired capabilities.
System Integrations
VMS platforms rarely exist in a vacuum. Businesses typically have numerous other hardware and software systems that the VMS will need to integrate with to maximize its business value. For example, if your company deploys a VMS and wants it to be directly tied to your building security access system (e.g., a tripod turnstile), the platform will need to be able to integrate with that hardware.
Solutions like friendlyway's visitor management software module feature API integration capabilities that allow you to create a seamless visitor management experience from end to end. It's important to confirm with your chosen VMS provider that its software has API capabilities, or can otherwise be connected with third-party hardware and software.
Branding and Customizations
Being able to customize your VMS platform and create custom visitor scenarios specific to your company's needs is a vital aspect to think about when researching solutions to purchase. Most modern platforms offer different levels of customization – some may provide little to none, and others may offer countless customization tools and options through advanced built-in content management systems (CMSs).
For example, the friendlyway visitor management module, part of our friendlyway.NEXT platform, offers numerous branding customizations as well as the ability to fully customize numerous types of visitor scenarios through all steps of the process (pre-registration, registration, check-in, check-out, etc.). When looking for a VMS platform, take note of the level of customization and branding the product provides.
Why Choose friendlyway as Your Visitor Management System Partner?
With over two decades of industry experience, friendlyway has positioned itself as a leader in the VMS industry. We've been empowering businesses of all types to deliver cutting-edge visitor experiences for over 20 years – and with the creation of our friendlyway.NEXT cloud platform, we've raised the bar on industry standards.
Our cloud-based visitor management system, one of the pre-built modules available in our friendlyway.NEXT platform, was designed to help organizations fully automate, streamline, and optimize how they interact with and manage visitors, guests, and workers.
Learn more about what makes friendlyway an industry leader on our visitor management solution page.
Conclusion
Choosing a visitor management solution doesn't need to be a difficult process – this guide was developed to help enable you to make an informed decision on which product you choose. To recap, consider the following questions to ask and things to look for during your research and buying process:
Is the software cloud-based, SaaS, or on-prem (or all)?
How much will the software cost, and what is the payment model?
What specific functionalities your business requires
Customization tools, capabilities, and features of the product
Third-party hardware and software integrations
Industry experience and company history of software provider
Case studies featuring the product and how it benefited other businesses.