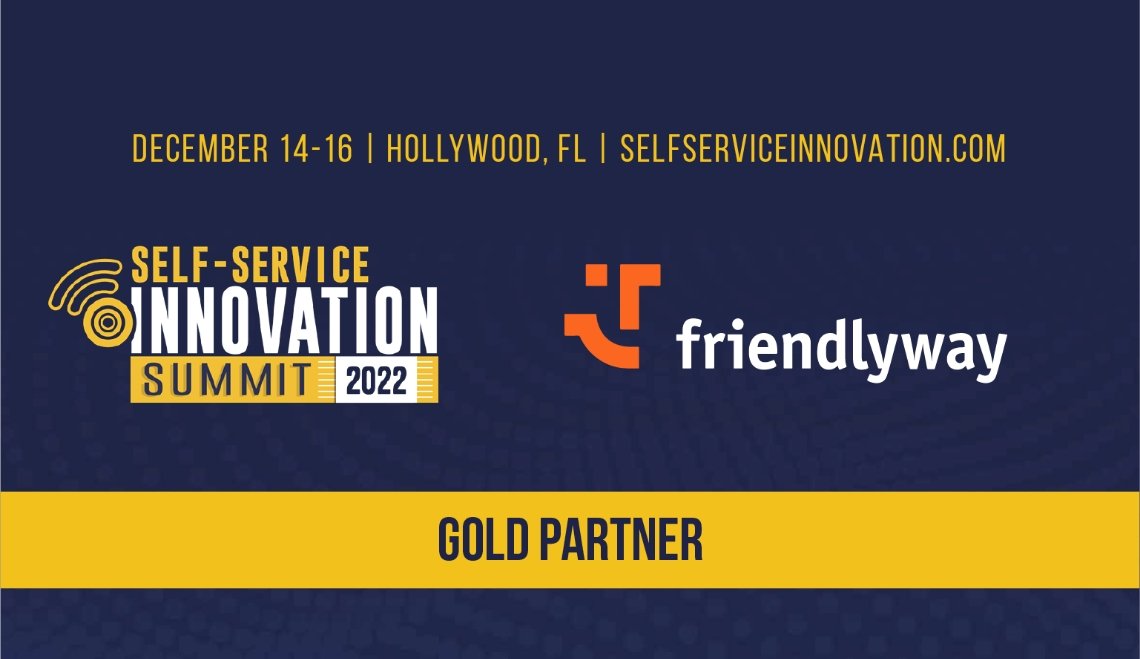 In December 2022, the friendlyway USA team attended the 2023 Self-Service Innovation Summit in Hollywood, FL. The event is an annual conference that brings together the self-service industry's innovators and game-changing companies. Dmitry Koshkin, managing director of friendlyway USA, joined the summit's wayfinding panel to provide his thought leadership on the business impact of wayfinding.
Wayfinding Panel members included:
Anna Williams, VP of marketing, Dacra
Laura McLaughlin, VP of specialty leasing, Brixmor
Patrick Sherry, managing partner/co-founder, Liquid Outdoor
Dmitry Koshkin, managing director, friendlyway USA
Wayfinding Panel Topics: Industry Trends, Value-Add, User Engagement, Privacy & Security
Dmitry Koshkin leveraged his years of experience at friendlyway USA to provide insights into what industries are leading the self-service innovation charge, how visitor management is a gateway to value-add, and the increasing importance of providing end-users with real-time and interactive information. Koshkin also touched on how crucial it is to ensure that companies using self-service tech employ stringent data security and privacy standards to ensure compliance with government regulations.
Government Orgs Leading the Way In Self-Service
Koshkin touched on the fact that friendlyway's largest recent customer is the City of Munich's government administration center (Munich KVR – read the case study here). Fellow panelist Patrick Sherry, co-founder of outdoor advertising firm Liquid Outdoor, agreed and observed that smart city initiatives have contributed to the industry's strong growth, along with retail and entertainment venues.
Wayfinding as a Value-Add
All of the panelists touched on how wayfinding solutions serve as a "gateway to value-add" – delivering added value to end users. Koshkin mentioned how visitor management is a prime example of this, "you've planned your event, you've sent invitations, and that person comes to the event and checks in, and then we tailor the map of how to get to certain locations…it's pretty much the same with football, with games, with sports, with airports — we can integrate it with any system that creates barcodes or QR codes. And a customer can or a visitor can go closer to a kiosk, scan his barcode, and the system will show him how to navigate to a certain location."
Koshkin summed up two next-generation wayfinding value-adds, real-time and interactive information, through the example of a sports stadium. A sports stadium client that wants to increase concessions revenue from vendors far from main entrances, could use real-time information coupled with wayfinding to provide guests/visitors with real-time details on what the current wait times or queue lengths are for vendors across the stadium, along with interactive directions on how to get to those vendors. That is the power of next-gen digital wayfinding solutions – real-time information with seamless, interactive navigation instructions.
Safety, Security, and Data Privacy
Other main topics covered during the panel were security, safety, and data privacy. From the security and safety standpoint, Koshkin mentioned how friendlyway's wayfinding and self-service solutions feature integrations with security access systems, and can provide real-time alerts, messaging, and emergency notifications across an entire fleet with just one click of a button.
Another hot topic in the industry, data privacy, was also discussed by the panel. Self-service solution providers must carefully ensure that their hardware and software technologies align with local, state, and federal data collection and storage regulations. Koshkin concluded that it's essential for solution providers to have a top-notch legal team in place to ensure compliance, especially in regions and subregions with varying laws and stipulations (e.g., the United States).