For manufacturing decision-makers who want to streamline visitor and employee access management at their facilities, increase security, and drive efficiency through contactless self-service solutions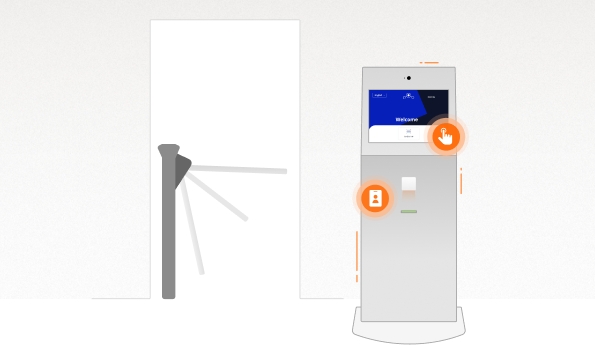 Managing Temporary Workers, Visitors, and Employees In a Post-COVID World
The US manufacturing industry faces an uncertain future. Workforce gaps, digital transformation, severe supply chain problems, and a multi-year pandemic have shaken the industry's roots.
Despite this, the industry has been recovering from its pandemic-fueled lows of 2020 and is still projected to raise production output over the coming years. Even in 2020, US manufacturing had a gross output of 5.5 trillion dollars.
Both organizational and operational flexibility will prove to be vital assets for US manufacturers moving forward. The manufacturing industry faces unique workforce challenges – which is why organizations across the country have turned to contractors and temp workers to fill their workforce needs, a trend likely to continue into the future.
Before we dive into how manufacturers can transform their visitor management solutions with self-service kiosks and cloud-based solutions, and why it's important they do so, let's establish some context on COVID's impact on the industry.
Below are the main issues the industry faces, what this means for manufacturers in the US, and how visitor management ties into it all.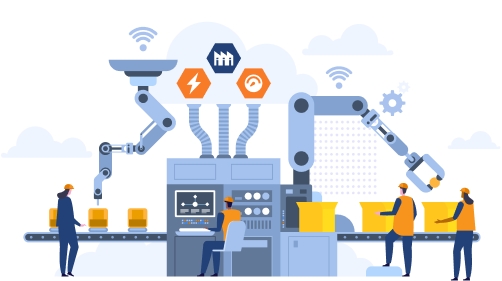 Manufacturing Industry and COVID: The Main Issues
Even prior to the pandemic, the manufacturing industry was suffering from a workforce shortage. The number of private sector manufacturing employees in the US has been steadily dropping since 1985, reaching its second all-time low during the pandemic's height in 2020.
Finding talent for filling both skilled positions and entry-level jobs is a major issue for US manufacturers, and the problem isn't going away anytime soon. Add to that the rapid digital transformation the industry is experiencing, and the problem continues to compound. The skills that will be needed in a digitally-enabled manufacturing facility are far different than the traditional skills of the past.
Digital Transformation in Manufacturing
The pandemic hit manufacturing hard, but it also accelerated digital transformation initiatives and pilot projects at an incredible pace. Research and consulting firm Gartner projects that manufacturers will invest more than $625.8 billion on IT projects by 2025. Below are some of the top tech trends in manufacturing for 2022 (and well into the future):
Digital twins
IIoT
Predictive analytics and maintenance
Machine learning
Artificial intelligence
Cloud and edge computing
Augmented reality
Smart robotics
COVID taught many organizations the importance of emerging tech solutions and their relation to marketplace agility, which has been one of the major silver linings of the pandemic. For example, the use of industrial robotics is on the rise (with 2.7 million robots deployed worldwide), and 400,000 new robots being deployed each year.
Investing in new technologies and digital solutions is important, but the industry still has a workforce shortage to contend with, something that will remain an issue well into the coming years.
Workforce Flexibility, Shortages, and the Skills Gap
The cost of the manufacturing industry's skills gap could come at a price of $1 trillion (per Deloitte), and that's just for the year 2030. Finding the right workers (with the right skill sets) was a challenge before the pandemic, and will remain one of the top concerns for manufacturing leaders in a post-COVID landscape.
COVID cost the industry 1.4 million jobs, and 63% of those jobs have since been recovered, but even with the record-breaking number of job openings after the height of the pandemic, filling those roles has been difficult. Deloitte predicts manufacturers in the US to have over 2.1 million unfilled jobs by 2030.
This is a large reason why manufacturers have turned to temp workers and contractors. Some might see it as a quick fix, and in most cases not something that can solve the skills gap, but these workers have become an essential facet of operations for numerous manufacturers across the country.
The increased reliance on temp workers, staffing agencies, and contractors has led to a problem that numerous companies need to solve – being able to effectively manage the large number of non-employee workers at their facilities.
Visitor and Worker Access Management Solutions
It's not uncommon for mid-sized manufacturers to rely on hundreds, or even thousands, of temp workers to facilitate production and fulfillment. Although not a manufacturer, Amazon is an example of a major enterprise that relies on temp workers in its fulfillment and warehouse facilities, and this cross-industry trend extends to most US manufacturing organizations.
With this continued rise in facility visitors and temp workers comes the need for organizations to have a streamlined, self-service visitor management system for worker registration, onboarding, check-in, clock-in/out, and tracking. And if that system is integrated with building access control hardware, the process can become even more streamlined and efficient.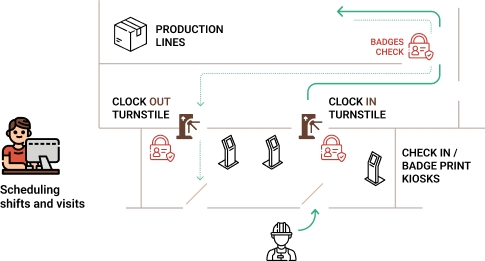 Why Modernized Visitor Management Is Important in Manufacturing
Utilizing the power of staffing agencies an0 temp workers has become an important (an0 necessary) part of US manufacturers' operations. The problem that many organizations face, however, is being able to effectively onboar0, register, check-in, an0 track these temp workers in the most efficient way possible.
Some organizations are doing it right by utilizing contactless kiosks, cloud-based visitor management platforms, and related technologies to automate a large portion of the process. Many others in the industry have not yet modernized their outdated systems and processes, which can have a significant impact on operational efficiency and costs if not addressed.
Production inefficiencies are often thought of as the bane of manufacturing organizations, but inefficiency isn't limited to the production line or supply chain. If a manufacturer isn't working to efficiently modernize and digitalize how it manages temporary workers, the issues can easily bleed over into production output, HR, facility security, and even the bottom line.
The common issues that manufacturers face when managing hundreds or thousands of temp workers include:
Relying on traditional, paper-based, and/or manual processes to register, check-in, onboard, and track workers;
Requiring employees to oversee the aforementioned processes, leading to inefficient and sometimes costly operations (as well as wasted resources); and
No way to effectively streamline and automate the process, since no modern digital solutions are deployed.
In a post-COVID world, there are additional issues to consider:
Being able to provide contactless, self-service options to avoid unnecessary (and typically inefficient) human-to-human interactions;
Having temp workers digitally sign regulatory documents, health/safety forms, vaccination agreements, etc., without the need for manual oversight;
Being able to safely perform health screenings, whether for COVID or other health concerns, via contactless temperature scanners (e.g., a self-service kiosk with built-in temperature scanner); and
Having the capability to manage and track all aspects of an ever-changing influx of temp workers and facility visitors/guests.
Below is an overview of self-service kiosks, cloud-based visitor management software, and other integrated solutions that when combined into one robust system, can fully transform the way your organization manages its temporary (and often changing) workforce at its facilities.
Self-Service Kiosks and Cloud-Based Visitor Management Platforms
In regards to manufacturing, the combination of self-service kiosks and cloud-based visitor management platforms offers organizations a unique, modern, and efficient way to streamline the registration, scheduling, onboarding, check-in, facility access, and clock-in/out of temp workers. The following sections provide overviews of each solution and its benefits for manufacturers.
Self-Service Kiosks
The self-service kiosk market was valued at $12.05 billion in 2020. In 2027, it's projected to reach over $21 billion. Self-service kiosks provide numerous value adds to an organization, and their use is not limited to retail, travel, or hospitality as was common in the past. Some of the technology's main advantages include:
Increase in staff productivity and decrease in wasted resources (human, capital, etc.);
Ability to provide fully contactless services to visitors, employees, contractors, and temp workers;
Streamlined processes for increased operational efficiency;
Integration with cloud platforms for remote management, tracking, analytics, and reporting;
Fully self-service registration, check-in, check-out, clock-in/out, document signing, and more.
Our line of commercial-grade, German-engineered kiosks can be used across a wide range of business scenarios, and when combined with our .NEXT cloud platform, the possibilities extend far beyond traditional kiosk solutions.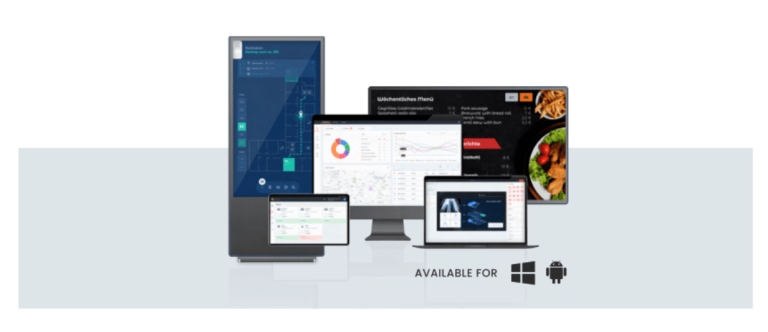 Leveraging the Cloud for Visitor Management
The capabilities of today's visitor management platforms are much further reaching compared to platforms of the past. Welcoming visitors, providing static digital information screens, and being able to check-in visitors is fine, but compared to a modern cloud-based platform, the difference is profound. Here are some of the top capabilities of cloud-based visitor management systems:
Can be deployed much faster than traditional systems
Ability to manage the entire visitor or temp worker management process entirely from the web;
Ability to create interactive digital experiences that can engage, inform, guide, or provide business-specific services to end-users;
Integration with facility access control systems and hardware (e.g., security turnstiles);
Minimal maintenance, with software updates being managed by the vendor;
Instant access to visitor and worker analytics, data, reporting; and
Easier to stay compliant with regulatory requirements.
friendlyway.NEXT in a nutshell
Cloud-native platform – the backbone of our solutions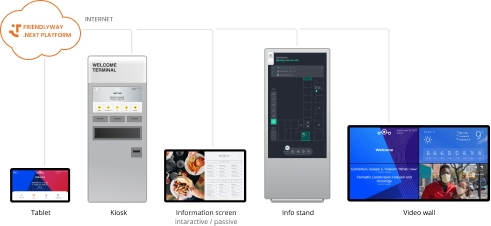 Workforce Management In the Cloud: Complex Workforces Made Easy
One of the most common issues that organizations have when employing temp workers is being able to effectively manage a constantly changing workforce. Staffing agencies are typically used as intermediaries between manufacturers and temp workers, with a majority of manufacturers utilizing not just one staffing agency but several.
For example, a mid-sized manufacturer might use two or three different staffing agencies to fill hundreds or thousands of temporary positions across its facilities. One manufacturer trying to efficiently manage rotating schedules of temporary workers across separate staffing agencies, each with different procedures and systems, can lead to several potential problems:
Significant lack of control over shift scheduling
Discrepancies in data such as scheduling, billing, and worker details
Increased risk of security vulnerabilities (e.g., unauthorized facility access, theft, and misconduct)
Decreased compliance with data storage/management regulations
Inefficient operations (leading to increased costs)
friendlyway .NEXT Workforce Management Module
The workforce management module of our .NEXT cloud platform allows organizations to efficiently manage hundreds or thousands of temp workers from multiple staffing agencies all at once.
The module is directly integrated into the entire visitor and temp worker management system including kiosks, turnstiles, parking systems, and the .NEXT cloud platform. Features and benefits of the workforce management module include:
Cloud-based worker records management
Recruiting workflow automation
Accurate reporting for end-users and agencies (more accurate billing)
Ability to efficiently plan shifts and schedules for complex, fluctuating workforces
Significant cost reduction
Enhanced security and compliance
Improved operational efficiency (more precise production planning and resource allocation)
Staffing agencies can also use the module to easily (and securely) manage their worker rosters and billing information, as well as view reporting details (e.g., visit/activity logs, timesheet reports, etc.). Changes are automatically shared across the entire system, and agencies only have access to their own information (i.e., they cannot view or access data of other agencies, or access data of the end-user/organization).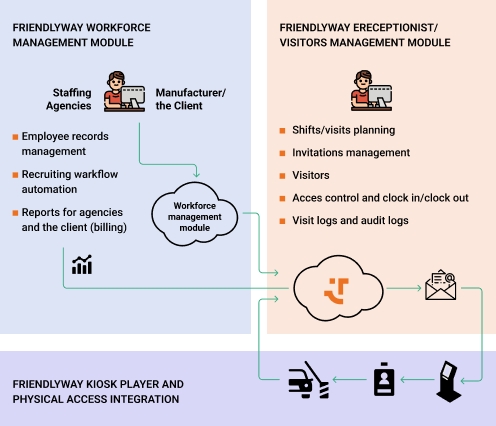 Workforce Management Module: How It Works
Effectively managing your organization's temporary workforce doesn't need to be complicated. Rather than trying to coordinate between several staffing agencies and manually update worker schedules, the workforce management module provides an intuitive, centralized system for organizations to have full control over all aspects of their temporary workers.
Below is a visual example of the smooth, efficient workflow of our workforce management module in the context of roster management. A process that in the past would have taken considerable coordination between organizations, as well as time and effort, is now a simplified and intuitive cloud-based workflow.
Roster Management Workflow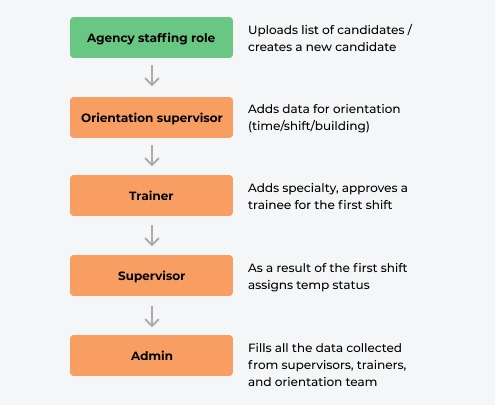 Common Scenarios Where Contactless Self-Service Visitor Management Can Transform Operations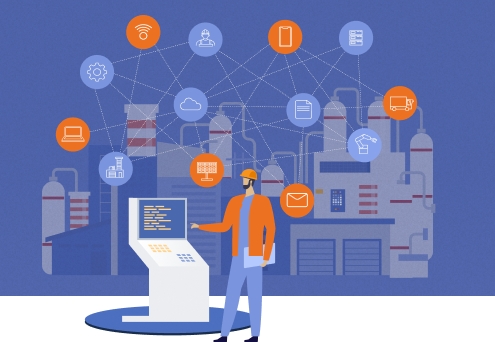 Below are overviews of common scenarios where manufacturers can leverage self-service kiosks and cloud-based visitor management systems to streamline, automate, and transform how they manage temporary workforces.
Each section details how friendlyway's .NEXT cloud platform and self-service kiosks can empower manufacturers with large amounts of facility visitors and/or workers to become more efficient organizations.
Scheduling Visits, Managing Visitor Lists, and Invitations
Scheduling Visits. Scheduling the visits of facility guests and temp workers is much easier to manage when using a cloud-based platform. Accessible from any device with an internet connection, organizations can utilize the .NEXT web platform to quickly schedule lists of new or recurring visitors and temp workers.
Managing Visitor Lists. Organizations that rely on temporary workforces often find personnel management to be a complex, inefficient process. The .NEXT platform eliminates the complexity of managing facility visitors and temp workers by digitalizing the entire process. Visitor and temp worker lists can be managed entirely from the web via our intuitive, easy-to-use platform. Edit, create, and manage lists in bulk, or make specific adjustments on the fly – planning visits has never been easier.
Invitations. The .NEXT platform allows invitations to be sent via email which can then be presented upon check-in at a self-service kiosk. Invitations are sent with a one-time-use QR code or barcode, unique to each visitor, which can then be scanned at a kiosk for registration, check-in, and facility access.
Engaging With Visitors and Workers: Contactless Interactions
Contactless and self-service solutions might be synonymous with retail to some, but the technologies are being utilized across countless industries by brands looking to deliver engaging experiences without the need for human-to-human interaction.
Checking in to an office or facility, onboarding, agreement and document signing, questionnaires, badge printing, access control – the applications are endless when commercial grade self-service kiosks are integrated with our robust, leading-edge .NEXT platform.
Contactless Worker Interactions. The time and resources it takes for a new temp worker to be registered, onboarded, checked in, and granted facility access can be dramatically minimized if the process is digitalized and transformed into a fully automated system. Related benefits of deploying contactless kiosks with our .NEXT platform include:
Employees no longer need to provide direct, resource-consuming oversight to the temp worker check-in/registration process.
Legal or compliance documents, COVID questionnaires, safety forms, and other documents can be signed digitally (and much faster compared to manual processes).
Security badges or ID cards can be printed directly at self-service kiosks during the check-in process.
Organizations can automate the entire worker registration, check-in, and clock-in/out process.
Data entered into and collected from kiosks and integrated security hardware is automatically stored in the cloud for quick access, reporting, and analytics.
Contactless Visitor Interactions. Visitors to your facilities or offices can enjoy a much more optimized and seamless experience with self-service solutions deployed. When using a platform like .NEXT, applications extend far beyond visitor check-in, including capabilities such as:
Interactive digital wayfinding to empower visitors to know exactly where to go and how to get there;
Video and audio calling to allow visitors to both make and receive calls from the kiosk;
Ability to display engaging, interactive digital signage to visitors and guests;
No need for time-consuming manual check-in processes or employee oversight; and
Fully self-service visitor registration, check-in, and security/ID badge printing.
Ensuring Facility Security
Access Control. Due to the nature of temporary workforces, it's important that organizations prioritize facility security and access control. By integrating self-service kiosks and our .NEXT cloud platform with facility security hardware (e.g., turnstiles), manufacturers can increase security, automate access control processes, and deliver seamless visitor experiences. Access control capabilities and features of our solutions include:
Visitors and temp workers can use their unique ID/barcode, printed during check-in at a kiosk, to gain access to a facility or area by scanning it at an integrated turnstile.
Visitors and workers to a facility will only be able to enter and exit that facility if they are on the schedule for that day and/or time.
Organizations can efficiently track, view, and manage worker data collected from kiosks and access control hardware (e.g., time worked, break periods, areas accessed, etc.).
All data is securely and automatically stored in the cloud.
Credential Verification. The .NEXT platform, when integrated with self-service kiosks and security hardware, represents a powerful, efficient, and modern solution capable of both streamlining and securing facility operations. Credential verification features include:
IDs/barcodes are generated daily, unique to each temp worker or visitor, and cannot be reused.
If a visitor or worker is not on the schedule for that day, or they are using an invalid barcode/ID, they will be denied entry (or exit) at the security turnstile.
Back-end management of visitor and temp worker credentials is managed via the .NEXT platform.
Conclusion
Manufacturing in the US has been hurt by the pandemic, the subsequent supply chain issues, and a long-term talent shortage – yet organizations are still persevering and working hard to bounce back. Digital transformation efforts will spur the industry into a new era of smart facilities, digitally-enabled workers, and more efficient operations.
Temp workers, contractors, and staffing agencies are playing a large role in the industry's return from its record employment lows of 2020. And as the industry's diminished talent shortage is expected to remain well into the future, it's important for organizations to optimize how they utilize their temporary workforces.
Self-service, contactless, cloud-based solutions are on the rise across all industries, and the combination of these technologies represents a robust, modernized method for manufacturers to effectively automate, streamline, and manage their temp workers and visitors.
Why Choose friendlyway?
65% of manufacturers have accelerated their digital transformation initiatives since the pandemic, and will invest more than $625.8 billion on IT projects by 2025.
As a leader in the digital signage industry, friendlyway has been delivering enterprise-grade hardware and software solutions for over 20 years – empowering CX innovation, digital transformation, and facilitating growth for organizations across nearly all industries.
Some of our trusted clients include Boeing, Mercedes Benz, BMW, Rolex, Microsoft, and many more.
Deploying a modernized, contactless visitor management system powered by the cloud can transform your organization into a highly efficient and streamlined operation. Our all-in-one solution for visitor management, interactive digital signage, and workforce management is the most comprehensive platform of its type on the market.
For a free consultation, cloud platform demo, or to learn more about our line of German-engineered interactive hardware offerings, contact us today.