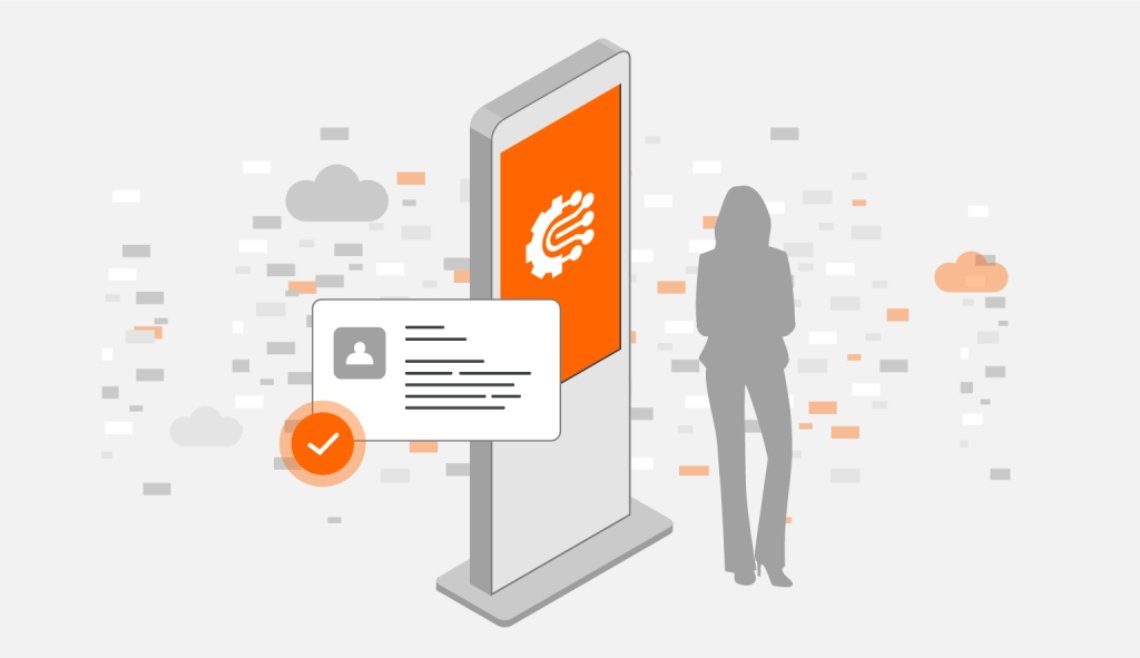 From retail, hospitality, and travel, to healthcare, manufacturing, and government, self-service kiosk adoption has exploded since the onset of the COVID-19 pandemic. In 2015 the global self-service technology market was worth $16 billion – by 2023 it's projected to be valued at over $42 billion.
A recent study by SOTI found that 73% of retail customers now prefer self-service experiences, and per Harvard Business Review, over 80% of customers try to solve problems on their own prior to asking for help.
But the trend isn't just limited to retail. Companies across nearly all industries can benefit from adopting self-service kiosks and transitioning to contactless service models.
Interactive kiosks offer companies the chance to deliver unique, personalized, and engaging digital experiences to customers, guests, or visitors. And apart from enhanced CX, self-service technology can also be leveraged for streamlined operations, greater workforce productivity, as well as scaled data collection and analysis.
Self-Service Kiosk Case Study: Transforming Visitor Management for a Multinational Manufacturing Organization
The client, a Swiss manufacturing company with a global presence, required a complete digital transformation of its visitor management operations.
With locations across 10 countries and numerous visitors per year (per location), the company required an efficient, automated, and easy-to-manage system for checking in visitors, collecting/processing data for regulatory obligations, and providing visitors with appropriate safety/facility information.
The company's guest and visitor registration process had numerous pain points:
The check-in/registration process was largely paper-based, leading to numerous inefficiencies.
IT resources were being used for visitor management operations and support, draining the IT department's capability to focus on tech-driven responsibilities.
Human data entry operators were required for data processing, increasing the likelihood of data entry mistakes.
Safety information provided during the check-in process was presented in one language across 10 different countries, increasing the risk of language gaps and safety violations committed by visitors.
Self-Service Kiosk Adoption for Automated Visitor Registration
To achieve their digital transformation goals, the client selected friendlyway's eReceptionist solution – a cloud-based software system that allows visitors to easily check-in, print information, and view facility-specific details and/or safety information directly from self-service, interactive kiosks, and/or touchscreen display terminals.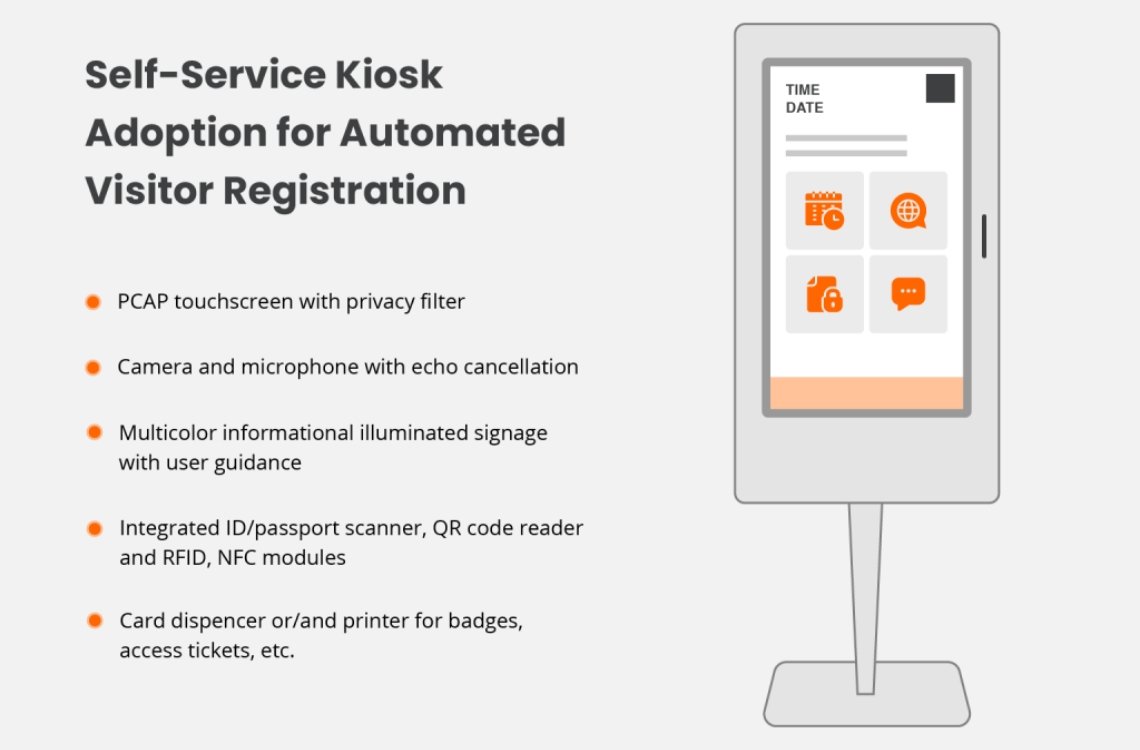 The solution is managed entirely from friendlyway's web-based platform (friendlyway.next), and features numerous functionalities:
Cloud-based SaaS platform accessible from any web browser
Deep customization options
Multi-language support
Automated data collection and analytics
Quickly deployable
Easily scaled
Compatible with Android and iOS-based hardware
Pre-configured and fully customizable software modules for additional interactions and scenarios (e.g. wayfinding, information displays, welcome messaging, etc.)
Hardware integrations (e.g. QR scanners, printers, cameras, microphones, etc.)
The eReceptionist module by friendlyway can be applied across several use cases, such as hotel check-ins, event registration, temporary workforce access management, visitor management, and other scenarios.
Maximizing Efficiencies & Delivering Engaging Customer Experiences
By moving to a modern, cloud-based visitor management solution, the client was able to completely transform their entire visitor check-in process, as well as improve operational efficiencies.
Increased Transparency
Compared to the client's previous visitor management process, one of the most recognizable differences the company experienced after implementing friendlyway's solution was increased transparency.
By using the eReceptionist module, the company's entire visitor management process became automated, digitized, and most importantly – fully trackable. For an international manufacturing company, transparency is a crucial aspect of following the industry's stringent (and numerous) safety regulations.
Automated and Efficient Data Collection
Another notable improvement came from the solution's real-time data collection and analysis capabilities. The company no longer required human data entry clerks to process and digitize visitor data. Because the solution automatically collects, stores, and processes visitor management data, administrators are now able to view and manage real-time data regarding every aspect of the visitor check-in and check-out processes – all from friendlyway's web-based platform.
The company's IT department was also freed from time-intensive visitor management support calls, one of the company's pain points prior to implementing friendlyway's eReceptionist software.
Because the friendlyway platform is fully cloud-based and provided as a SaaS solution, internal visitor management support is no longer needed and the IT department is now able to focus on more important tasks, while visitors enjoy a quick, seamless, and interactive check-in process.
Comprehensive Solutions for Self-Service Kiosks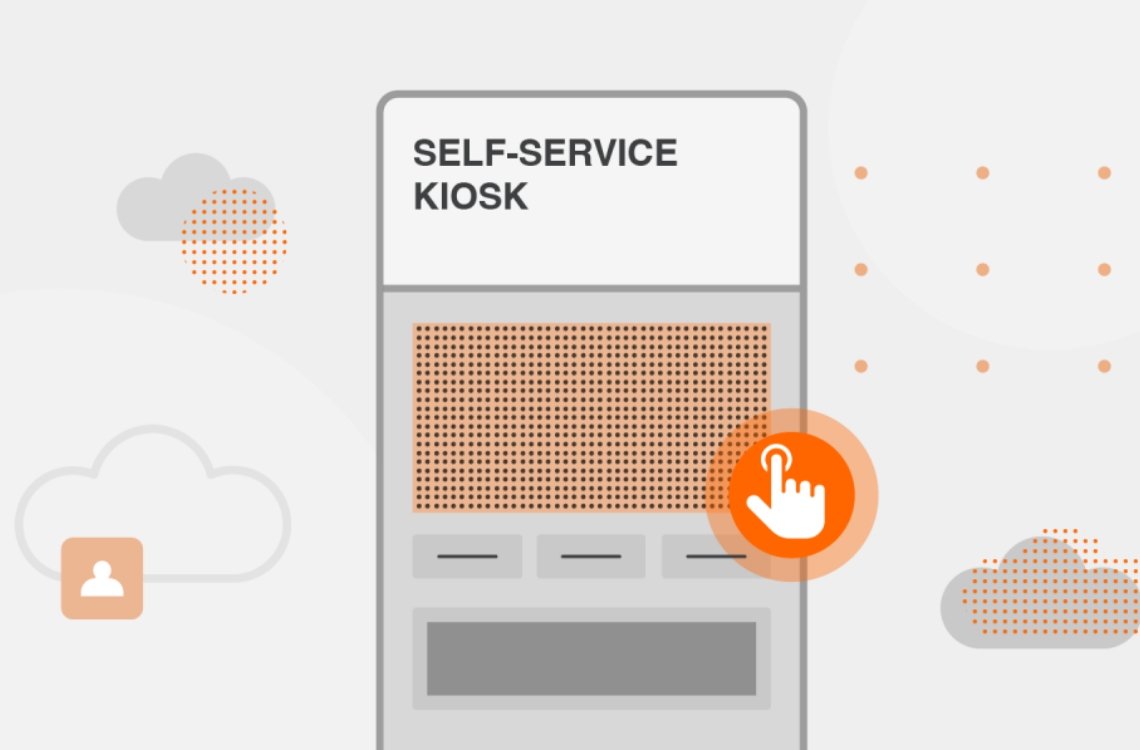 The friendlyway.next platform provides businesses with numerous pre-configured solutions that can be quickly deployed and scaled for numerous visitor management scenarios.
Apart from standard visitor check-in capabilities, the platform can also be used for digital signage, wayfinding, informational displays, event registration, and temporary workforce registration.
As a leader in the digital signage hardware industry for over 20 years, friendlyway is now revolutionizing the industry with its line of fully end-to-end hardware and software solutions.