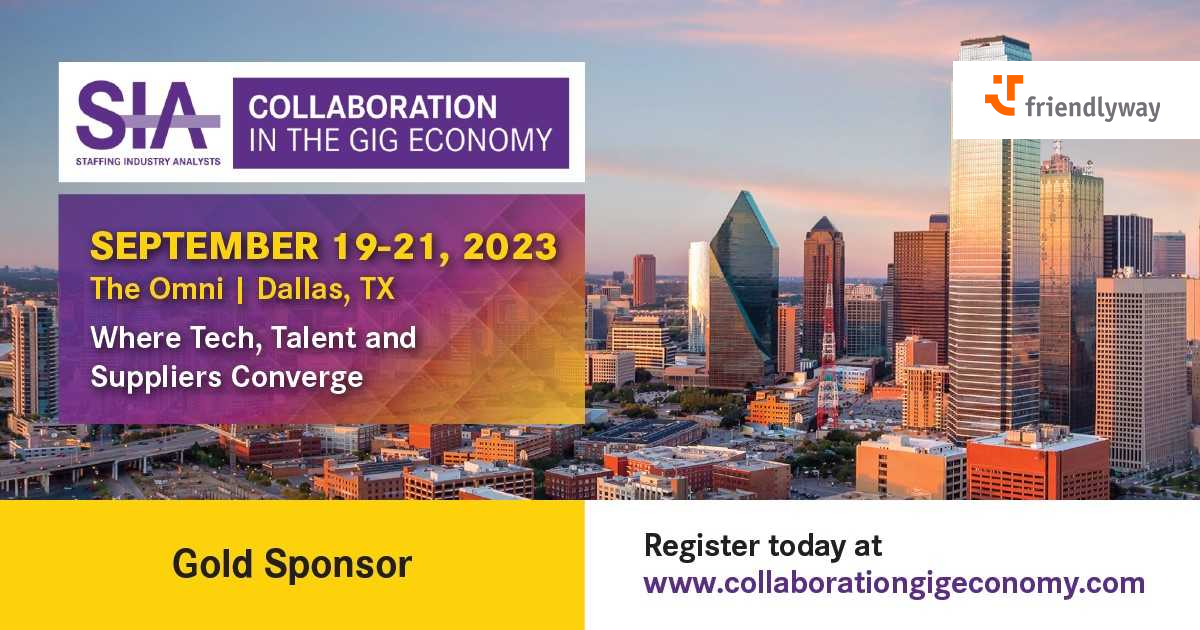 In a move underscoring its commitment to industry advancements, friendlyway is proud to announce our Gold Sponsorship of the upcoming Staffing Industry Analysts (SIA) event, "Collaboration in the Gig Economy." The conference, scheduled for September 19-21, will dive deep into the evolving intersections of technology, talent, and suppliers in the gig economy.
Along with other industry forerunners, friendlyway joins a distinguished sponsor line-up including Deloitte, Upwork, and LinkedIn.
Key Conference Highlights
The conference promises an array of sessions ranging from the role of AI in the future of work to tech-driven leadership strategies. Esteemed speakers, including SIA President Barry Asin and distinguished Professor and AI thought leader Tom Davenport, are set to share their insights on the latest trends and the transformative power of artificial intelligence in the staffing industry.
Event highlights include:
Exploration of AI's pivotal role in the workforce's future.
Sessions emphasizing tech-powered leadership strategies.
Introduction of the 2023 Collaboration Lab, emphasizing interactive discourse.
Dynamic TED Talk-style presentations.
The "Gig Economy Shark Tank," where tech pioneers present their novel ideas.
As a Gold Sponsor, friendlyway is eager to contribute to these discussions, share our expertise, and learn from other industry leaders. The friendlyway team is proud to support this key event and is excited about forging new connections with fellow industry leaders.
Harnessing Technology for Workforce Excellence
Leading the charge in Contingent Labor Management & Workforce Solutions, friendlyway offers advanced solutions tailored to Manufacturing, Light Industry, Logistics, and Retail sectors. We empower businesses with automation capabilities for managing multi-vendor and multi-cultural contingent workforce programs, ensuring efficiency, consistency, and transparency across operations.
Join us at SIA's Gig Economy Conference
Interested in discussing how our solutions can benefit your business? Fill out the form below, and we'll respond with more details.