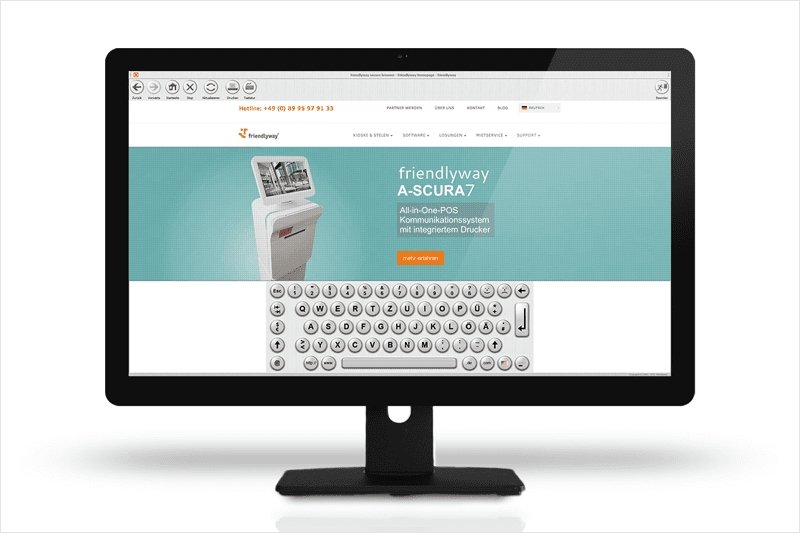 PROJECT DESCRIPTION
The friendlyway secure browser software is used to protect public Internet sites against misuse. The product prevents access to the operating system, switches off system key combinations and allows the limitation of the surfing area. The friendlyway secure browser was developed based on Microsoft Internet Explorer and allows all modern web technologies like simple or complex web pages, scripts and multimedia as well as customized navigation buttons and custom layout. In the new generation of secure browser software, the secure sending of video, image and sound emails is also integrated. If desired, a virtual keyboard for inputting address data can be displayed. The configuration of the friendlyway secure browser is very simple and requires no programming knowledge. The friendlyway secure browser software is primarily intended for use at public Internet access stations in authorities, universities, schools, hospitals, tourist facilities such as hotels, conference centers and restaurants.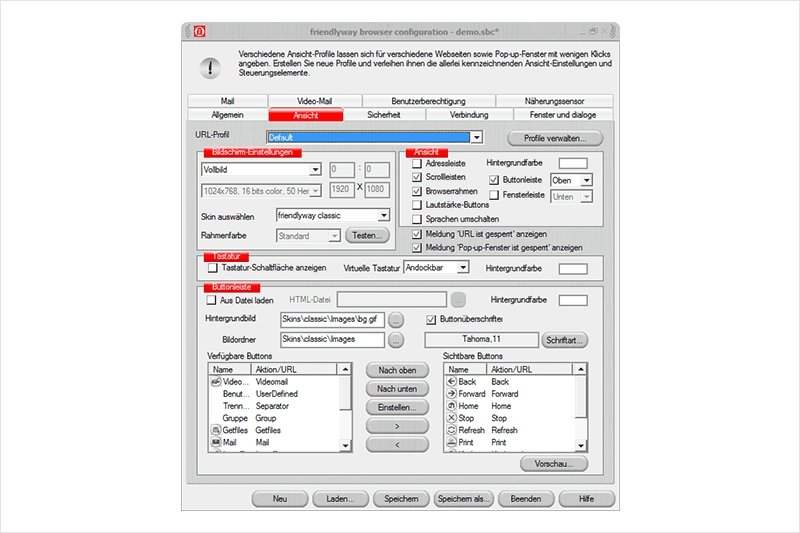 Use:
Securing public Internet stations and vending machines;
Securing access to intranets in enterprises (secure workplace);
Secure access to internet and intranet in universities and schools;
Secure internet and online banking in bank branches;
Secure paid Internet surfing for internet cafes;
Protection of trade fair information systems;
Child safety for use at home;
Safeguarding of visitors' welcome systems;
Securing of measuring terminals;
Securing contact detection terminals;
Video, photo, voice mail dispatch stations;
Protection of TV play stations.
Advantages
Reduce your administrative expenses;
Safe operation of your Internet system;
Easy administration of Internet kiosk software;
Customizable design of navigation elements;
Customizable screen saver;
Every 50 ms security check.
Functions
Lock the system buttons and prevent unwanted access to the Windows interface:
Locking the system keys makes it impossible for the user to access other applications or the Windows interface with key combinations such as "Alt + Tab". This prevents unwanted intervention on the system level.

Automatic restart of the computer by entering the time:
You can restart or shut down the computer at a specific time. This is fully automatic without the intervention of a supervisor.

Recording the user activities in a log file:
Do you want to monitor user activity? Enable this option to have all operations logged in a "log" file. This will show you exactly when a user has done what.

Freely definable control strip:
Define your own buttons and configure which buttons should be displayed and which are not.

Security settings:
Disable JavaScript
Disable access to files
Configure ActiveX controls
Disable file download

Limit navigation area:
You do not want a user to surf on, for example, chat or erotic pages? Restrict access to certain pages, simple and reliable.

Block pop-up windows:
You can prevent the loading of annoying pop-up windows.

Mail client configuration:
In the secure browser configurator, you can configure a mail server so that the secure browser users can send e-mail from different websites.

Monitoring open applications and windows:
You can enable the user to run certain applications you define and lock other applications in the opposite direction. The maximum number of open windows and the automatic closing of all windows that are no longer required can also be set via the configuration program.
System Requirements
Windows XP Professional SP3 (32-bit) or Windows Vista Business/Ultimate SP2 (32-bit) or Windows 7 Professional/Ultimate (32-bit);
Microsoft Internet Explorer 7 and higher;
Adobe Reader V. 9.2 or higher;
Microsoft Windows Media Player 11 or 12. If it is Windows 7 Versions Professional N and Ultimate N, the Installation of the Media Feature Pack (KB968211) is required. The Media Feature Pack for N- and KN-Editions of Windows 7 installs Windows Media Player and related Technologies on that Computer;
Microsoft Office Viewers 2007 (if MS Office Dokuments should be displayed).