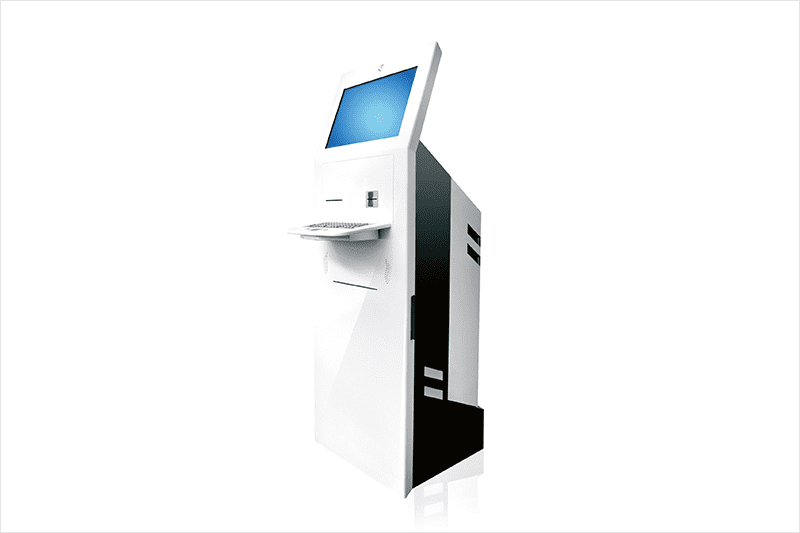 PROJECT DESCRIPTION
Extensive self-service terminal with the largest space and option offer
Some projects require a wealth of functions in a single device. The friendlyway empire 22D is the right system for this.
The housing of the friendlyway empire 22D reveals at first glance what it is about. Extensive space for a lot of options in a stable and robust housing. Easy access to the built-in components is ensured by the easy forward-forward front.
The system is designed for projects with extensive peripheral equipment. Functions such as e.g. Color printing up to DIN A4, digital information storage and retrieval on different storage media such as barcode, chip / magnetic cards and RFID are realizable. The friendlyway empire 22D is particularly suitable for payment transactions in electronic form or even with cash. Many functions that only a few systems can combine at once.
Projects with very individual and high demands on the functional diversity are best implemented with the friendlyway empire 22D.
Highlights
Complete system with plenty of space for extensions
22 inch wide-screen industrial display
Robust metal housing
Easy service access by front pull-out
Ideal for payment applications (cash / non-cash)
Appearance easily customizable
Made in Germany, Manufactured according to ISO 9001
Customer Service
Adaptation to the operating concept of the customer by freely selectable placement of the installation components
Implementation of your functional and operating concepts through the individualized system front
Best presentation of your content via the bright 22 "wide-screen display in 16:10 format with brilliant picture reproduction
Particularly simple system maintenance by means of a comfortable front unit
More than enough space for the installation and reliable operation of transaction units (cash, EC & credit / RFID cards)
Optional security mechanisms for cash management
Simple realization of projects with comprehensive document output (including receipt, coupon, bon) by simultaneous use of different printer types
The appearance can easily be customized (color, logo, customer-specific design, etc.)
Perfect as a complete system for use at the point of sale, in the public environment or in your company
Long-term use of your system, thanks to high-quality and stable processing
Ideal for the realization of different project scenarios thanks to extensive choice of options
Application Examples
Comprehensive input and output system Input, output and processing of information and content through different input forms and storage media.
Customer management system Enhanced customer loyalty through a self-service terminal according to your functional requirements.
Sales and processing system Independent processing of sales processes by your customers at the self-service terminal.
Employee Information System Output of company-internal information to employees.
Customer loyalty system (coupon) Expressing coupons and vouchers for customers.
Sales station (ticketing) Printing of tickets.