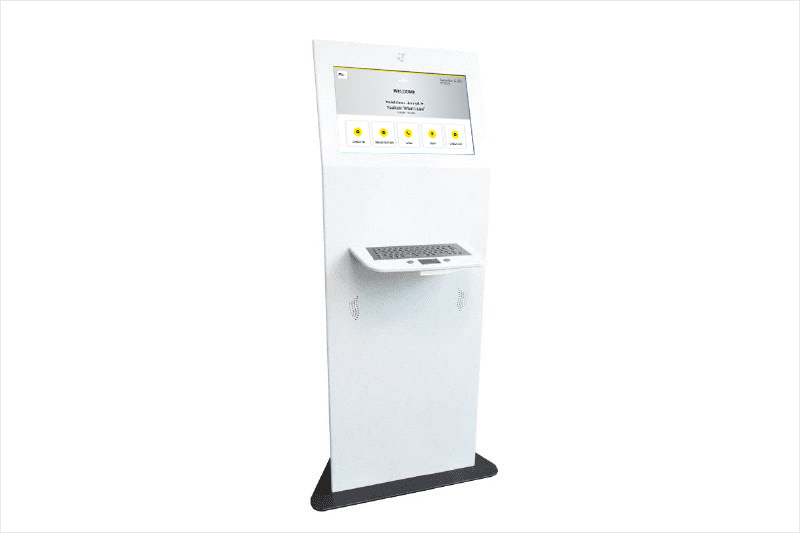 PROJECT DESCRIPTION
Simple self-service terminal for Internet applications, presentations and interactive programs
Are you looking for a simple and straightforward design? An elegant system construction at a friendly price? The friendlyway empire 19 combines all these features into one system.
The housing of the friendlyway empire 19 made of powdered metal does not thrust up. Your content is therefore your main focus. On request a high-gloss lacquer or foil gluing creates an individual appearance. The entire technology is integrated into the slim silhouette of the system.
In addition to the usual features such as touchscreen, sound and keyboard, there are many other options for your applications.
The friendlyway empire 19 represents the simplest form of modern self-service terminals.
Highlights
Compact complete system
Robust metal housing
Extensive expansion possibilities
High quality, reasonable price
Appearance slightly more individualized
Made in Germany, Manufactured according to ISO 9001
Customer Service
Friendly-priced system due to optimized design
The appearance fits in any ambience and can be customized individually
Best presentation of your content via the bright 19 inch display with brilliant picture reproduction
Customer surveys and opinion surveys can be implemented quickly and easily via the touchscreen
Perfect as a complete system for use at the point of sale, in the public environment or in your company
Image enhancement through the use of state-of-the-art technology in elegant design
Long-term use of your system, thanks to high-quality and stable processing
Extended option selection for each application
Application Examples
Product and information presentation: Active and passive product presentation with optional operation by the user.
Measuring terminal: Expansion of the trade fair presence through modern information systems.
Internet terminal: Internet access in public areas via tamper-proof hardware and software.
Employee Information System (MIS): Output of company-internal information for employees.
Customer loyalty system (coupon): Expressing coupons and vouchers for customers.