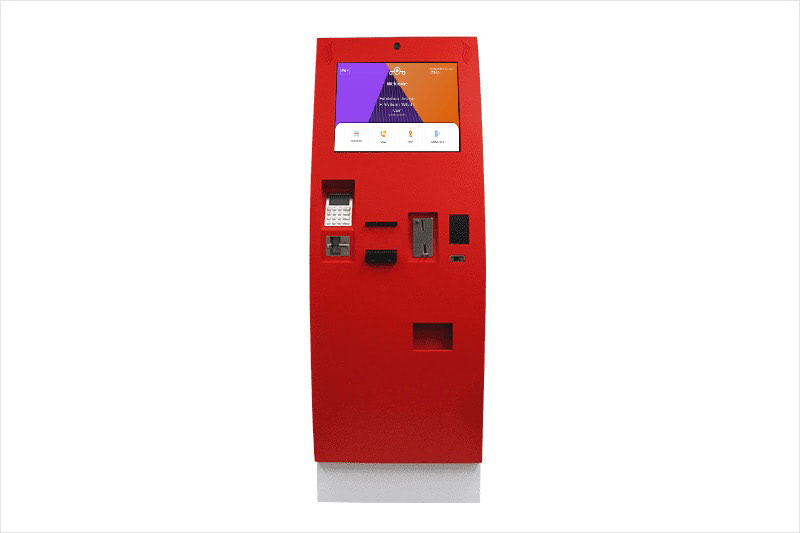 PROJECT DESCRIPTION
Our self-service "allrounder" custom 19 is a self-service ekiosk specially designed for transactions of all kinds, which leaves nothing to be desired – not even with regard to your personal design & function layout – which we adapt perfectly to your requirements.
Never before have ekiosk systems been able to make real cash or credit card transactions so compact: your customer comes, chooses his desired product or the service of his choice, corrects or confirms his input – and pays for the transaction within a few transactional hours. He will immediately receive a receipt and / or a pick-up number.
No more tedious waiting times for your customers and more sales for you – without additional salespersons.
Whether your customer wants to pay electronically with a credit card or "NFC-Payment" or with cash – ie with coins and bank notes – the friendlyway custom 19 accepts all usual means of payment and even returns the money to the user. In some countries where the custom 19 is successfully used, the custom 19 also accepts such payment methods simply, smoothly and reliably.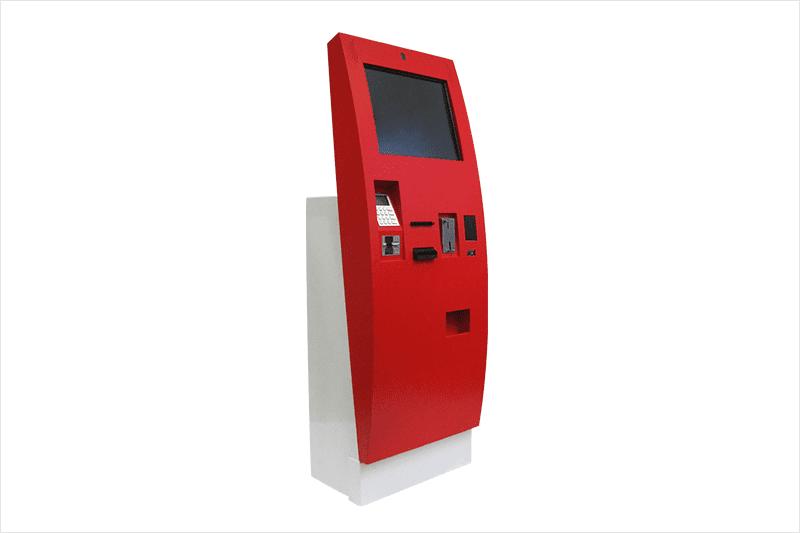 With the help of illuminated advertising surfaces (digital signage), individual gluing or colored lacquering, the design can be easily adapted to the corporate design of your company.
Each unit is manufactured and equipped according to your wishes. The extensive selection of options makes it possible to expand the functions of the terminal exactly according to your requirements. Especially popular are the multi-touchscreen, barcode reader, the 80 mm receipt printer, the high-resolution webcam and the extensive payment options.
This makes the friendlyway custom 19 a transaction system exactly tailored to your needs, an ekiosk that meets all modern requirements and completes every self-service ambience through design and function.
Highlights
Robust transaction "allrounder".
Highest processing quality
Made exactly according to your specifications, wishes and requirements
Fits exactly in your company ambience
Very robust construction, thus extremely stable and particularly suitable for use in areas with a lot of public transport
Customizability through special color, foil gluing and equipment
Designed in Germany, Manufactured according to ISO 9001
Customer Service
No more waiting times with the "EASY ORDER" "all-in-one" transaction system
The space-saving design is especially suitable for system catering
Or:
Charging of Telekom Sim cards
Printout of invoices
Payment system for electricity, heating, water
Best presentation of your sales and service items on the grand 19 "high-brightness multi-touch display with brilliant picture reproduction
Check-in, check-out and loyalty applications, customer surveys and opinion surveys can also be implemented quickly and easily via the touchscreen
Design your very own terminal with our numerous additional options
Image enhancement through the use of state-of-the-art technology in an exclusive design
Fits in every ambience and can be combined with all styles
Long-term use of your system, thanks to the high-quality and stable processing
Application Examples
Active, additional sales channel (EASY ORDER, QUICK PAYMENT): Information about product and service selection. Immediate ordering and payment. Limited sales promotions. New customer acquisition.
Product and information presentation: Active and passive product presentation with intuitive user interaction.
Employee Self Service: Employee Information System (ESS): Output of company-internal information for employees.