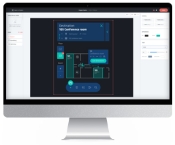 NEXT.apps Overview
NEXT.apps — One of the key strengths of the NEXT Platform is its extensibility for individual business-cases and workflows. NEXT.apps is a growing collection of interactive workflows to be carried out at the point-of-service – for indoor navigation, visitor management, shopping assistance and more.
NEXT.wayFinder
WayFinder app is a seamless extension of the NEXT.sense platform. It displays visual maps for interactive navigation and POI-search for users in buildings, shopping centers and tourist areas.
The WayFinder app brings the following capabilities out-of-the-box
Create Interactive Maps
Assign to your touch-enabled end-point devices visual, scalable maps both for indoor and outdoor navigation. An SWG-file can be used as the basis for the map layout.
Define Points-of-Interest
Define for your map any number of Points-of-interests and signs. You can create or update descriptions, categories, tags of your POIs at any time by uploading an Excel-file with predefined structure.
Deliver your Maps to Devices
Distribute your interactive map to your end-point devices at any time, just in the same way like you do with playlists and interactive content. You can also use schedule, sensors-based or programmatic triggers for displaying your maps on specific devices at specific moment.
Your Users will always find a way!
The users can browse a directory of POIs, or just use touch or input text search to find their targets, based on name or tags. They can also view additional information on each target, and the WayFinder will display visualized route and directions to it.
NEXT.eReceptionist
eReceptionist App is seamless extension of the NEXT Platform. It allows complete automation of the visitor check-in process at the eKiosk, and provides additional visitor management features within NEXT web application.
The eReceptionst comes with the following features out-of-the-box
Send invitations from Outlook
Your employees can generate invitations from Outlook to external visitors, extended by a numeric pin or QR Code. The visitor can use this code for his identification at the eReceptionist-Kiosk in the reception area.
Acceptance of Safety Instructions
You can upload PDF or text file with safety instructions at the facility. The visitor will be able to read and confirm his agreement with the guidelines.
Badge Print and Card Programming
The eReceptionist Kiosk allows you to program and dispense visitor RFID-cards, as well as to print visitor badges in custom design.
Notification, Calling to the Host
After completing the check-in process, the Visitor can call or send a message to his host right from the eReceptionist Kiosk.
Further Visitor Management Features
The Visitor Management extension of the NEXT Platform includes additional features and reports that enable human receptionists to track the status and stats on checked-in visitors, check-outs, enable/disable visitor RFID-cards remotely and further options.
Also, the eReceptionist can be complemented by the NEXT.WayFinding App to help your visitors navigate in the building complex.
You can find the catalogue of the compatible eReceptionist Devices here.
NEXT.productConfigurator
friendlyway NEXT Platform can be extended with a partner APP for visual product configuration – CanvasLogic.
Need to understand more of available features
and options? – download our feature list here.
Or just Contact us today for a demo or test
access to the NEXT Platform.