Display advertising increases your popularity
The subject of display advertising is both exciting and very extensive. There are various ways to get in touch with the targeted target group, or to meet the nerve of potential customers. If you also want to communicate with your customers by means of display advertising and put your own company in the right light, we will of course assist you. On our website you will find various examples of how you can create attention at the point of sale through interactive advertising. We provide you, among other things, with regaldisplays in various designs, which you can take advantage of at any time.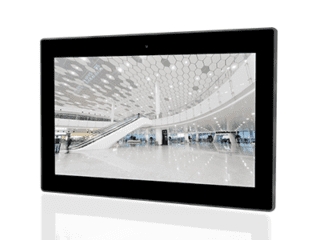 Regal display for interactive advertising directly at the point of sale
Display advertising convinces at POS
If, for example, retailers are attracted by attractive Infoterminals, Display Advertising is a tried and tested means of direct customer engagement. Friendlyway has been one of the leading providers of digital communications both nationally and internationally for several years. Benefit from our many years of expertise in Presentation Systems and place your advertising messages exactly where interested customers are located. In this way, the acquisition of new customers is nothing to prevent.
Check out our online program and familiarize yourself with the various high-quality displays and terminals. The example of the "friendlyway a-sign 10 pro" display demonstrates how to actively involve customers in the event and thus generate profitable effects. In any case, the customer deals with the product and remembers it later. Should this be somewhat unclear and if you need further details, you can contact our specialists at any time. You can reach us under the following telephone number: +49 (0) 89/95 97 91 – 33. Please let us know how you will be able to present the digital customer approach in the future. We can certainly find the optimal solution!
POS displays expand your marketing mix
Discover the direct route to the customer with targeted marketing measures. If you would like to broaden your reach in the area of digital customer communication and use further potential in this area, please do not hesitate to contact us. With an emotional display advertising you arouse the interest of your customers. We have been successfully active in the communications sector for many years and know what is important at the point of sale. Take advantage of our products and our know-how and take your company news into the offensive – your customers will thank you. Contact us at any time!
Other interesting topics: